Aug 19 2010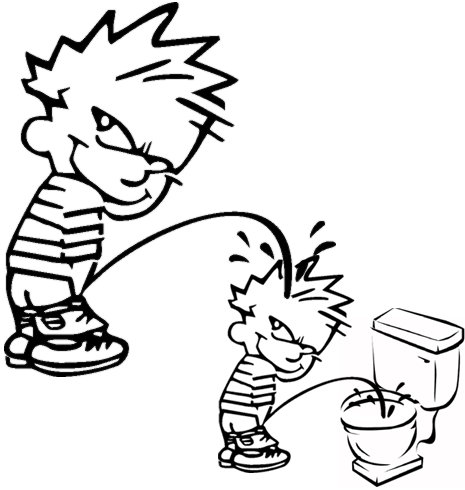 Yeah, that's right, I'm a man and I pee sitting down. Deal with it!
It all started in high school when I realized I could sneak an extra 15 seconds of sleep if I took a little pee-nap on the toilet during my morning piss. It was these brief, relaxing moments that led to my impressive pee-sitting career.
Soon I began to notice all of the advantages to lounging while peeing. Without the distraction of standing and aiming my stream into the bowl, my mind was free to contemplate important issues. Let's do the math… If I pee-sit 2 times a day for an average of 15 seconds per session (not including pee/poop combos) and multiply that by the approximate number of days I have been a pee-sitter (about 9,490) we are talking about 79 hours and 8 minutes of free mind time. That's 3.29 days! And where did I figure this all out, on the toilet while peeing of course.
The next advantage of sitting while peeing is the reduction of piss noise. This usually only comes into play when you have guests or while you are a guest at a friend's house that has one of those annoying bathrooms placed right near the action, like just off the kitchen where everyone is hanging out. Guess what, I don't want you to hear my powerful racehorse pee stream as much as I don't want to hear your piss splashing all over the place. Nobody needs to hear that while trying to enjoy a delicious nacho a mere few feet away.
But even without the relaxing, brainstorming and reduced noise, pee-sitting is worth its weight in gold for this reason alone… it's neater! I don't mean neater as in "OMG, that's so neat," I'm talking about reducing the amount of human piss that splashes all over your bathroom. When a man takes a leak standing up I would estimate about 1% of the pee ends up out of the bowl. Only 1%? What's the big deal? If you ask me, even one drop of piss out of the bowl is too much!
Now, let me very clear about this, I do not pee siting down in a public bathroom. Public bathrooms are standing room only, hence the huge amount of piss covering every surface.
OK go ahead, start calling me names, I know you are dying to, but I can tell you this, tonight I sleep soundly in a home free of wayward piss.
I am proud to be a pee-sitter!
74 comments to "I pee sitting down and I'm proud of it!"