Aug 20 2010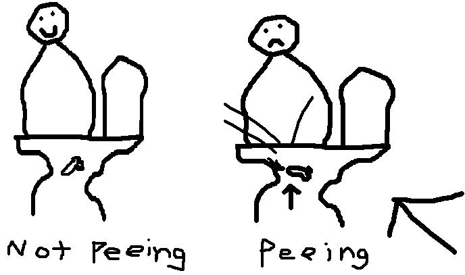 Full disclosure …..I am drunk.
Wow, what a day it has been! so much talk of pee and poop and balls. I am overwhelmed by the care and detail given to the subject of peeing while sitting. I now know what it is like to win an Oscar.
So (thanks to beer) I would like to say that I am so impressed, and sometimes intimidated, by the readers and commentors on this website. Your comments are often better than my lame attempts at humor or social commentary or whatever it is I do here. To be honest, it kind of pisses me off when I read comments that are better than what I wrote. Only sort of though.
Really I am proud that, for the most part, the people who waste their time reading my bullshit are so smart and funny. When I write a post I feel genuine fear and pressure to deliver something good because I know most of you guys are funny and smart. Writing does not come naturally to me so writing each night can be a daunting task. (I wish you could see how hard spellcheck is working to keep me on track right now). I would like to point out that the recent comments on my scrubbing bubbles post are not included in the "smart" category.
The point is, I just want to say (thanks to being a happy drunk) I genuinely really appreciate you guys for wasting your time reading my bullshit. I'm only saying this because I'm drunk, starting Monday I will be calling you all idiots again.
(for the record, it took me approximately one million hours to write this)
I'm awesome! FUCK YOU!

19 comments to "My readers!"
#

Yours Truly

on 20 Aug 2010 at 6:27 am

Nice. You should drunk post every Friday, you know, for a change of pace at the end of the week. Plus, the hatred for inane things ( the fraud John Edward, that lube fat people use to keep their thighs from chafing when they walk, that piece of shit con man John Edward) skyrockets when you're drunk, and more hatred = more comedy.

And it will be a valid excuse when friends and family accuse you of being an alcoholic. "I have to drink; my fans are counting on me! The whole WORLD is counting on me!"

#

Xina

on 20 Aug 2010 at 9:03 am

Yours Truly- I don't have a blog and that's been my excuse for drinking for years now. The pressure of being awesome really is staggering. I totally understand what Listy is going through.

#

caleb

on 20 Aug 2010 at 9:42 am

well stated, Listy. yesterday's comment thread is indeed epic. one for the ages.

#

Dom

on 20 Aug 2010 at 9:58 am

YJMML: You have even inspired some readers to start their own blogs. I remember this one person who started a "douchbag ranking" blog. The blog was incredibly lame and full of cliches, but you can still call yourself "inspiring".

I
am
so
hungover
I
want
to
die

#

Tommy

on 20 Aug 2010 at 10:41 am

good work pal.

#

rachel

on 20 Aug 2010 at 10:58 am

you're welcome, asshole.

#

Rebecca

on 20 Aug 2010 at 11:13 am

I think you're just about my favorite person alive right now. You're fucking hilarious, douchebag, don't forget it.

PS. Sounds like you are feeling today how I felt yesterday. You have my sympathy.

#

Erin

on 20 Aug 2010 at 11:48 am

Please tell me that those are your illustrations at the top of the page! They made me laugh out loud in my office… so thanks.
Take 2 excedrine migraine and drink a bottle of Blue Power Aid and call me in the morning.

Erin – No, that brilliant drawing was sent in yesterday by a reader during the peeing debate. Take a look a yesterday's comments.

#

Erin

on 20 Aug 2010 at 1:01 pm

Awww, that is too bad! I must have left work yesterday before the commenting went crazy. No wonder why you wrote this post today… Some funny folks. Myself not included. Feel better soon.

#

Erica

on 20 Aug 2010 at 1:56 pm

Listy – I think there is call for us to have a "You Just Made My List" gathering! We could have an annual gathering and call it "The Fucking Cock Shit Balls Urine Feces Hatred Society". Mabye Fylleguppe can create our crest? And we should be a non profit so I can create an .org.

I love you Listy…you better my days with this blog! Now fucking get writing the next entry!!!!

#

ffaf

on 20 Aug 2010 at 2:10 pm

A youjustmademylist party would be the most outrageous, disturbing, and awesome event of our collective lifetimes.

Wait, are we talking about a You-Just-Made-List-Con?

#

Erica

on 21 Aug 2010 at 4:24 am

I am Ambien posting now…forigve me…but here is a brochure I put together for the "You-Just-Made-My-Fucking-List-Con" :

http://i34.tinypic.com/2a5gj2w.jpg

Fucking ambien is really kicking in now…nightie night

#

Paul from Saint Paul

on 21 Aug 2010 at 11:18 am

Erica, so many good times ahead. Postings of the arrest records alone would take up a month's worth of blogging.

Erica – Thanks for taking on the important roll of poster designer. I like that there is a typo in the title, somehow I think it's appropriate for this site. I just worry that Joe, who used to comment a lot, will show up and rape me as he always promised. Fingers crossed.

#

Erica

on 21 Aug 2010 at 10:21 pm

Anytime my List liege! Sorry about the typo. I am shocked that it was the only typo on the poster! I was on Ambien + wine and coming off an Xbox Limbo session…I have no clue what the fuck I was up to!! 🙂

Oh and does Joe still post? I don't recall seeing that name since I became a minion.

FUCKING LIST-CON, YEAH!!!!!!!!!!!!