Aug 23 2010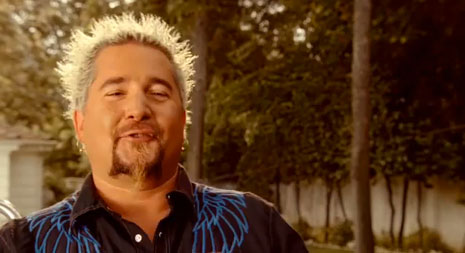 Fuck me.
From as far back as 2008, the entertainment world has been clamoring to find a talent impressive and worthy enough to appear side-by-side with the always impressive Guy Fieri. Well, I don't know how they did it or what kind of crazy backroom deals went down but they finally found a personality to rival the great Fieri. I am speaking, of course, of the Aflac duck.
Not since Lennon & McCartney, Scorsese & De Niro, Bert & Ernie or Zack Morris & A.C. Slater has the world seen such magical chemistry explode all over its face from an on-screen duo. Imagine if David Lee Roth and Jesus Christ formed a band… Yeah, it's THAT good.
I have to admit, I never thought I would ever see anyone match the staggering charisma of Sir Guy Fieri but that duck manages to somehow hold his own and, dare I say it, he even manages to out-act Fieri in a few scenes. I know, I know, it's sacrilege to suggest anyone's talent could equal Fieri's but please understand, I'm not saying Guy Fieri wasn't brilliant in this commercial, I merely have to give credit to the duck for a truly brave performance.
Hey Guy, Billy Idol called and he wanted to let you know the Stray Cats called and they want their bowling shirts back.
21 comments to "The new Guy Fieri Aflac commercial!"
#

Jeff

on 23 Aug 2010 at 4:40 am

I saw Guy, in person, cooking at a supermarket in Pittsburgh. The line I remember him saying was:

'Emeril, you see, is the king. Rachel, now she's the queen. Me? You can just think of me as the court jester!'

About 100 people laughed out loud at that. God, I wish you had been there…

#

Jim Jones

on 23 Aug 2010 at 6:18 am

Guess they needed someone more annoying than Gilbert Gottfried for their commercials.

#

Amy Louise

on 23 Aug 2010 at 6:30 am

"Billy Idol called and he wanted to let you know the Stray Cats called and they want their bowling shirts back."
HAHAHAHAHA!!!!

#

sara

on 23 Aug 2010 at 7:23 am

I'm cacelling my dental

Listy, everytime I think I couldn't love you more, you show us your dislike & disgust for Gut Fee-eddy and prove me wrong.

Oops, I meant "Guy". But wait, "Gut" works too.

Kathy – "Gut" Fieri… I think we have a new nickname for that piece of annoying crap.

#

rachel

on 23 Aug 2010 at 9:24 am

does anyone else see a fat Corey Feldman? i smell a bio-pic!!

Jeff – Why am I just learning of this news now?!?

Yeah, Jeff, you've been holding out on that for a long time.

#

eddkatz

on 23 Aug 2010 at 8:02 pm

I try to avoid that asswipe at all costs, first he's sticking his nasty hands into people's plates at restaurants?

Now he's hawking insurance?

I hope he gets the same fucking bad eggs and the food poisoning I got during the Egg Recall in the Summer of 2010.

That way he'll be off the air and can collect his AFLAC paychecks.

I used to like the Aflac Duck, Now I hope GF makes pate out of it's liver and they both check out.

#

Steph

on 23 Aug 2010 at 8:25 pm

I hate that asshole as much as you do, Listy. I have to say, however, that by googling "Guy Fieri is a douche", I found your awesome site. Jeeze, do I owe him an apology?

#

eddkatz

on 23 Aug 2010 at 9:34 pm

Fieri's real last name is FERRY……go figure.

#

Jeff

on 24 Aug 2010 at 3:46 am

I didn't know who Mr. Fieri was at the time…

#

Ben

on 24 Aug 2010 at 6:21 am

His grandfather's name may have been Fieri but Guy's definitely a Ferry.

#

Quinchbottom

on 27 Aug 2010 at 10:55 pm

Do you think he offers AFLAC to his employees at his crappy restaurants? (I dunno if they are crappy or not)

I don't think he even has a restaurant, but if he does, I GUARANTEE it sucks cock and balls and ass.

#

Jonathan

on 30 Aug 2010 at 3:51 pm

Wow, it sucks cock and balls AND ass? A triple-header!

PS: Why the fuck does that commercial have a slate on it? Did you steal it from the post-production house so you could destroy the only copy and save the world from ever viewing that gel-haired abomination? If you did, bravo, sir. Bravo.

#

Fred

on 13 Sep 2010 at 7:32 pm

He burned his foot and stuck his head in the jar?

#

lola

on 15 Sep 2010 at 2:58 pm

That poor Duck! When Billy Idol called why didn't he ask for his hair gel back?

#

mustansar

on 24 Nov 2010 at 9:34 pm

lola you r poor duck, but guy…..guy good,great and wonderful personalty and good host but need more work.