Sep 01 2010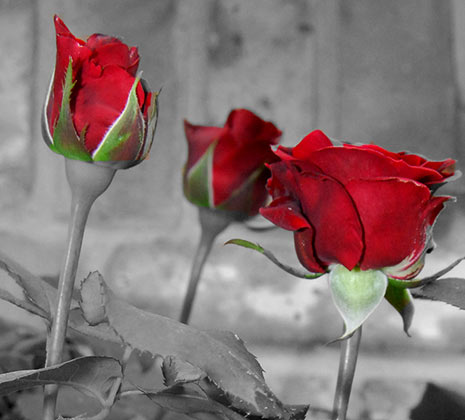 You know what would be like so cool and like totally show like how poetic and deep my photography is? Totally imagine this, it's like a black and white image but like there are roses that are like totally still red? Yeah yeah yeah, I know, right? It's like the world is ugly and like dying but like the beauty of the rose lives on? It's like the innocence of children but like also dangerous because of the thorns? Also like vampires and Wicca and like blood but like beautiful and timeless and delicate but also totally strong? You know? It's like I'm the single red rose and my parents are the desolate world trying to like totally make me wilt but I'm too bold and bright to be like… ignored?
Gallery of shit
25 comments to "Black and white photos with red roses!"
#

rachel

on 01 Sep 2010 at 6:52 am

how did this phenomenon creep into the new millenium? it's just so '80s.

#

Creature of Habit

on 01 Sep 2010 at 7:00 am

So. Totally. 80's.

This made me scratch my eyes out. Thanks Listy.

I wish this was confined to the 80s and 90s but this "art form" lives on today!

Do you think that Walmart lady no longer allows men to pull out and jizz on her back?

(how is it possible that I don't have a book deal?)

Roses are red
Violets are blue
Artsy photos are stupid
And I hope the world gets hit by a comet

I blame the movie 'Schindler's List', which was the early 90's, but it either invented this stupid shit, or made it wildly popular.

Roses are red
Violets are blue
I'm schizophrenic
And so am I

SanFran – Are you fucking kidding me? There's a red rose in Shindie's List?

I had the DVD from Netflix for about a year but at the end of a long day I never felt like a fun evening of human extermination. I sent it back, unwatched.

Pete – I hope that comet lands right on my face, I want to die first.

#

Jonathan

on 01 Sep 2010 at 9:36 am

The only place this is cool is at the end of the "November Rain" video, and it gets even cooler when the color fades from the rose. Too bad Axl Rose has actually gotten less cool over the years.

Cheese…

As a photographer, I hate when people ask me to do that type of photo. That or B&W with blue eyes…YUCK!

#

Erin

on 01 Sep 2010 at 10:06 am

Jonathan- I agree with the November Rain video comment, although I don't think Axl was ever cool. I think he has always been a douche and has just gotten douchier over the years.

Oryx – Do you at least kick them in the balls when they ask? Try it, it might help.

Jonathon – Shit, you found a loophole!

#

Sarah in Minneapolis; a tribute

on 01 Sep 2010 at 11:15 am

Oryx you should definetely be subbing the blue eyes for the red in those photos… Or kickinging them in their Ann Getty loving balls.

Thanks for the tips Listy and Sarah, I'll make sure to remember that for next time I get that type of request

#

Erin

on 01 Sep 2010 at 1:47 pm

Listy- I think it is time to write a post about greasy, dirty, skinny jean wearing, bike riding hipsters… Some doucher hipster rode his bike across traffic today and I had to swerve to miss him and broke my passenger side mirror off my new car!! I wish I had broke it hitting him unfortunatly it was a delivery truck! Arrrhhhhh I am so angry right now!!! Ugghh I think I am going to have a coronary I am so pissed. Stupid hipster douche!

#

starr

on 01 Sep 2010 at 1:58 pm

hipster douches have already been on the list, i think more than once! your not the only one who hates them!

Erin – Sorry to hear that but yes, I have written about my hatred for bike-riding hipsters many times. They are worse than Hitler.

#

Paul in Saint Paul

on 01 Sep 2010 at 4:57 pm

Listy is the new Glenn Beck!:
http://www.thedailyshow.com/watch/wed-may-12-2010/back-in-black—glenn-beck-s-nazi-tourette-s

Listy, no rose in Schindler's List, but that whole scene, which was admittedly pretty moving, of the little girl in the red jacket amidst the black & white devastation?

I just also noticed your "gallery of shit" fine print.

Brilliant.

Sorry – meant to collect this into the previous thought, but it's 4:21 PM (PST) and I've got a buzz going.

http://fleuredelise.files.wordpress.com/2009/06/red-coat-22.jpg

Yeah, I guess I should see it one day.

I'm jealous of your buzz.

I have a bottle of The Dalwhinnie 15 Single Malt Scotch on my desk, next to the vintage lava lamp.

It's my end-of-project bottle, which got a bit of a workout today.

#

Erin

on 02 Sep 2010 at 12:36 pm

Opps… sorry I must have missed those posts. I am ashamed that I even suggested such a thing without reviewing the archieves first. My bad Listy… My bad.

#

SuperSlut

on 05 Sep 2010 at 8:20 pm

they are all missing the ultra-blue eyes, though…

or better yet…

http://2.bp.blogspot.com/_G0rMgmpROPc/TEaLSjDn4_I/AAAAAAAAApE/XsOoAHRs-PY/s1600/black-parents-white-baby-2.png

@rachel – That people of walmart is probably the best one I've ever seen, mostly b/c of the caption. Amen.

That said, people are still doing this? Why? When will society evolve to the point where people realize there's more to photoshop besides the lasso tool and desaturation? And that when striving to create something unique, you cannot draw your inspiration from something you see all the time in popular culture and the media? NEVER, humanity is fucked, that twilight thing clinched it. 😀 yay

[…] Black and white photos with red roses! Sep 1, 2010 … You know what would be like so cool and like totally show like how poetic and deep my photography is … […]

It's great, unique & easy by AdoBe Photoshop,,,
best of luck,
Raheel-0313-4129933.