Sep 03 2010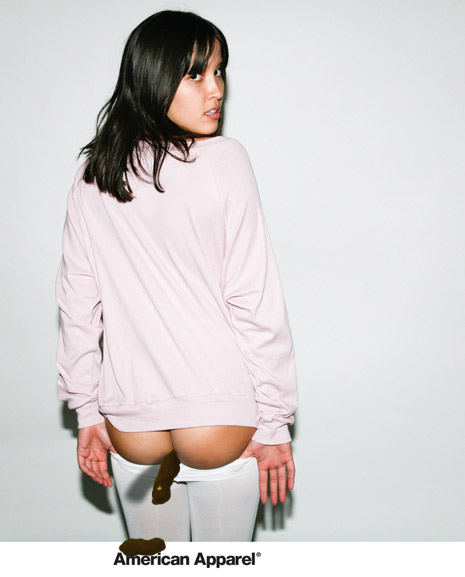 Shit, where will I buy my fanny packs and shiny disco leggings now?
Ironic hipsters and flat-chested teen runaways (AKA future American Apparel models) the world over are freaking out because dressing like a fucking asshole is about to get a little harder. Seems that Dov Charney's business model of sitting around masturbating all day and rehashing every fashion mistake of the 80s is not working out too well.
You'd think a company that sells satin jackets and features vaginal penetration in their ads would be around longer.
Bye bye now.
31 comments to "American Apparel is going bankrupt, praise pretend Jesus!"
#

Jeff

on 03 Sep 2010 at 6:14 am

You keep saying this and that about AA, but last time we met you were wearing this: http://tiny.cc/ukx1v

What gives??

#

Fartface

on 03 Sep 2010 at 6:46 am

I have to admit, I was a HUGE fan of American Apparel. Thanks to an article in Jane Magazine on this new apparel company with a so-called "forward-thinking" business model where everyone gets fair wages and vacation time and the owner looked like a sleeze ball. I was in my early 20s, into buying what I could online, and was a big fan of simple, brandless garments. So, I bought a bunch of skirts and, on an AA high, started promoting it like crazy to everyone I knew.

And, if I remember correctly, the original models weren't all 12 year old meth addicts, I remember most being curvy (braless and unshowered, yes, but curvy.)

Then the stores opened. Then the 80s happened. Why? Why couldn't they stick to simple cotton clothing and the concept of fair wages?

It really makes me sad. I still wear my skirts, but cry a little inside each time.

#

sara

on 03 Sep 2010 at 7:24 am

damn your good a drawing poo.

A salesman dropped off a company uniform catalog yesterday and it had American Apparel options. Realy?!? You want the people who represent you to look like that?

http://www.marriedtothesea.com/083110/adoption-confusion.gif

Jeff – That's not fair, you know how much I like to show off my hair, all of it.

Fartface – Agreed, they started off with a great idea but soon turned it into a rambling ironic hipster nightmare.

Sara – Thanks, I worked really hard on that poo.

#

Erin

on 03 Sep 2010 at 8:14 am

Thanks Listy… I needed this post. I really like the lone corn kernal in the poo, nice touch!

Erin – Thanks. I'm so happy people are appreciating my amazing poo drawing abilities. And my dad said I would never amount to anything… TAKE THAT DAD!

I can't help to like their underwear and especially their T-shirts, amazing quality and fit. I'm actually writing this comment wearing a pair of pee stained American Apparel boxers. I also have to admit that 90% of the stuff there looks like shit, I mean look at these: http://cdn.thefrisky.com/images/uploads/skankyaa.jpg
But hey! What's wrong with you americans? Most men don't complain when they see T&A in an ad. I will miss that the most.

Ps. I loved the poop-pic.

Fylleguppe – I love T&A (especially T) in ads but not the American Apparel style. I don't like that "I'm about to be raped" style of erotica.

I am writing this comment in my Hanes boxer briefs. It's nice to know the internet can bring us together like this.

#

pgdoor

on 03 Sep 2010 at 9:23 am

WHAT?? thats not real poop??I already jerked off twice, thats like false advetisment or something!

#

pigdoor

on 03 Sep 2010 at 9:27 am

i and r

This news has no impact on my day, my life, or my fashion 'sense'…

If you make your way through the shiny leggins and acid washed jeans they have great, simple, handmade, hip, clothes at a reasonable price. In a brand/graphic saturated fashion world AA is a breath of fresh air. The ads are degrading, and the owner should be thrown in jail for sexual crimes. But it is a far lesser evil than having our clothes made in sweat shops just so they cost us less.

AA has a great market for people who want to buy tees in bulk to print on, ie uniforms. But catering to just one little group of people (hipsters) was a terrible idea. AA doesn't have that mass appeal that Urban Outfitters does. Don Charney recently said he doesn't want to market to hipsters anymore, basically because it is lame and not making any money. Unfortunately, too little, too late. And we are going to lose a great clothing company.

#

Erica

on 03 Sep 2010 at 12:33 pm

Not sure what is more disturbing now…the pic of the old fucker from yesterday that looked like Kurt Douglas in his death throes or this pooing model pic. I think the poo-poo model wins here.

As for America Apparel, I fucking hate them. Their tees are so thin that I might as well just slather my chest with New-Skin, it would offer more coverage. It is time start taking a page out of North Korea's book and all just dress like the Dear Leader:

Mike – A word about sweatshops. Yes, you are correct when you say American Apparel had very good working conditions (if you don't mind getting jerked off on by the boss) but it is a misconception that factories in other countries are mostly sweatshops. I know this first hand. I can tell you this, every factory I used tried to use locally in Chicago was a sweatshop with sub-par conditions. I eventually gave up on trying to find a good factory in America and ended up in Mexico. It was night and fucking day! Not only was their factory amazing, clean and modern but their product and prices kicked ass all over any domestic factory I used.

I'm not saying you were claiming that other countries are filled with sweatshops, I'm only bring it up because your comment made me think of the subject.

Also, I used to work closely with American Apparel and they were the WORST company to deal with. The employees are a never-ending rotation of "hot" girls who know nothing and were only hired because they look good on the beach.

Yeah, Listy I definately can not speak about sweat shops with any authority. Good to know a little bit more on the subject. As for hiring inadequate young beautiful girls instead of qualified business savvy people, I can see that happening a lot in the "hipster" side of the fashion world, The retail stores used to have the worst service. Nothing like going into a retail store and the emaciated sales clerk is too cool for their customers. Though that changed instantly once they recently started paying commission, but once again, too little too late.

#

kidda

on 03 Sep 2010 at 2:16 pm

I have no idea about American Apparel but I thought it might have been drunken Friday with drawings and talking of poo

Just noticed the poop's shadow, nice touch of realism. Well done, Listy, well done.

#

pigdoor

on 03 Sep 2010 at 5:38 pm

The shadow! thats what fooled me! whatever, its still Hot!

#

rachel

on 03 Sep 2010 at 6:51 pm

in other news:

http://omg.yahoo.com/news/kat-von-d-jesse-james-go-public-with-relationship/46636?nc

#

pigdoor

on 03 Sep 2010 at 9:48 pm

Hey! Lets keep the topic on poop, Rache.

#

Phil

on 04 Sep 2010 at 6:42 pm

Augh, I hate American Apparel. Even their t-shirts. Everything they make is overpriced low-quality trash for tall skinny people who live in LA. As a chunky midwestern hipster who keeps all that PBR on as weight to weather the long Ohio winter, I need something a little sturdier. Here's hoping the next purveyor of clothing to companies that will screenprint nonsense on my shirts will have a realistic idea of what constitutes a Large.

#

poopdoor

on 05 Sep 2010 at 2:12 am

Next time Listy, do one of a chick pooping on ANOTHER chick! Who new you were a genius erotic arteest too! man of many talents.

#

butt

on 05 Sep 2010 at 12:18 pm

Look, American Apparel does suck, it's true. But damnit there is nothing wrong with masturbating all day.

Amen, Phil. I can squeeze into an AA XL but it ain't pretty. Even their XXL is a bit tight, forget it of you machine dry them.

#

pigdoor

on 06 Sep 2010 at 2:09 am

POOOOOOOOOOOOOOOP!!!!!!!!!!!!!!!!!!!!!

#

pigdoor

on 06 Sep 2010 at 9:56 am

Erica- I would like to see a pic of u in that new skin deal…IF your hot, that is…ARE you hot?

#

Kasi

on 06 Sep 2010 at 11:00 pm

Dear You Just Made My List Dude,

I discovered your site after googling "Celtic Thunder sucks" and I wanted to tell you that I think I'm in love with you.

That's all.

Kasi

It is I who loves YOU, Kasi.

#

pigdoor

on 07 Sep 2010 at 1:36 am

"it is I who loves YOU"…Stroke much Kasi?? Listy loooves that…gag!

You're so Jealous Pigdoor.

#

pigdoor

on 07 Sep 2010 at 7:57 am

If Kasi just new who I REALLY am inside maybe she'd love ME more.