Sep 10 2010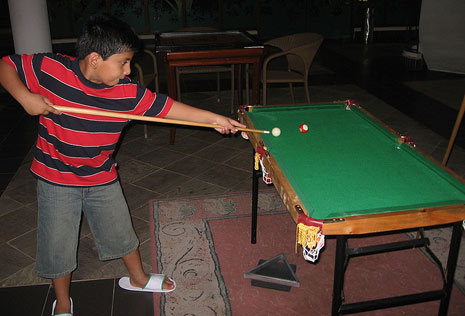 OK, if you are a female you might as well tune out right now because I think this might be a boys-only kind of rant. Maybe I'm wrong. Maybe this is a me-only kind of rant. Who cares, I just suffered through an hour and a half of Project Runway and I'm cranky thanks to an accidental nap. I fucking hate naps.
Look, shut up for a second, all I'm trying to say is that when I was a kid I would stare at the toy section of the Sears catalog until my eyes would bleed and every year they would feature a mini pool table. I would stare at it and imagine myself setting up an entire room of mini pool tables in my basement, turning it into a dark and smoky mini billiards hall with mini Asian men gambling in the corner and mini blues musician types shooting pool and drinking Scotch while a mini George Thorogood bad-to-the-boned his way around the room. How could it not be great?
Well guess what, it was all a lie! If you want to see a child's dreams die just watch them play miniature pool for the first time. Fuck you Sears!
Nobody cares. Why are you even reading this?
25 comments to "Mini pool tables!"