Sep 13 2010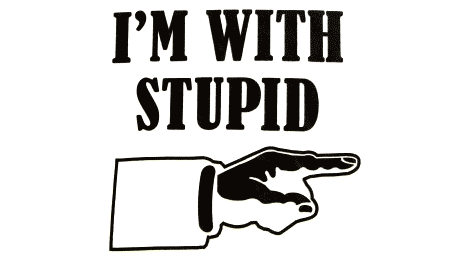 I rarely (maybe never) personally call out people who leave moronic comments on this website, mostly because a majority of the comments I receive are pretty decent. When I say "decent" I don't only mean people who agree with me, there have been plenty of intelligent comments that disagree with my opinions (even though I am always right). But the thing most of my readers do not realize is that I am flooded with comments on old posts on a daily basis. There are some crazy back and forth arguments that go unnoticed by most readers.
At this point I should admit that I LOVE hate mail, I honestly do. The hate mail I receive is some of the most entertaining reading material I get to experience and it usually just reinforces my awesome opinions on any given subject.
I realize it's kind of lazy for me to write about this subject but I wanted to share a comment I received this weekend concerning those prancing, lip-syncing turds, Celtic Thunder. Actually I get a lot of funny hate mail on that one but this one really made me happy. It's not the craziest comment I have seen but it still made my day. I don't even need to explain why it's ridiculous, just site back and enjoy…
WHAT THE FUCK IS WRONG WITH THIS PERSON CELTIC THUNDER ARE THE BEST SINGERS IN THE WORLD (ESPECIALLY DAMIAN AND RYAN) AND WHO EVER WROTE THIS ARTICLE I'M GOING TO HUNT YOU DOWN.!

YOU LITTLE IMMATURE FREAK SHOW GET A FUCKIN LIFE YOUR JUST JEALOUS BECAUSE THEY HAVE MORE TALENT IN ONE HAIR STRAND ON THERE HEAD THEN YOU DO ON YOUR WHOLE ENTIRE BODY. JUST SHUT THE FUCK UP YOU SHIT HEAD, FUCK OFF, THEN GO AND EAT SHIT OUT OF A DITCH YOU SHITTY ASSHOLE!!!!!!……SUCK THAT…..WHAT!
34 comments to "Idiots!"
#

Jay

on 13 Sep 2010 at 4:46 am

"even thought I am always right" Not a good place for a spelling error.

Love the hate mail, especially the last couple of lines.

#

Jeff

on 13 Sep 2010 at 7:19 am

Is that your 'WHAT!' at the end? If not, then WHAT! do they mean?

(well spotted Jay)

#

detergent

on 13 Sep 2010 at 7:36 am

i just killed two flies having sex. on my shoulder. hahahaha

#

Yours Truly

on 13 Sep 2010 at 7:37 am

Don't feed the trolls! C'mon, Listy! If you don't give the trolls any attention, they realize that "there" just whiny 13 year old fanboys who can't spell and they'll go back to listening to terrible music, stalking people on facebook, and posting on some obscure forum about how unfair "there" parents are. I mean, damn.

#

pigdoor

on 13 Sep 2010 at 7:53 am

"I realize it's kind of lazy for me to WROTE about this subject" Really? you attacked the dudes grammar?? thats the best you could do? and your proud of that??….And you gotta admit the kid does have a point Keltic thunder DOES rock. And you ARE kind of a Botard…..If you make fun of my spelling and grammar I'M gonna hunt you down, ya big Silly!

Jay & Pig – Typos. Sorry, blow me.

Jeff – That mysterious "WHAT" was in the original comment.

#

Erin

on 13 Sep 2010 at 9:46 am

I just went back and read the old Irishit Dancing Post… wow Amanda was a fiesty one, huh? Way too much pent up aggression in her. Maybe she should get some of those pens you mentioned a few days back?

#

pigdoor

on 13 Sep 2010 at 10:02 am

Shut up Erin.

#

Yours Truly

on 13 Sep 2010 at 10:08 am

Arrgh not this again.

Seriously Pigdoor, calm down and don't try to start shit. I am the ONLY shit-starter here!

Also, I realize this post is lame, in fact I realized it was lame as soon as I started writing it, but I was too lazy to stop. For this I am sorry.

I should have taken the HUGE amount of time needed to compile all of the best hate mail but as I said… lazy.

#

Erin

on 13 Sep 2010 at 10:18 am

Sorry to have offended anyone… that was not my intention.

Erin, you didn't offend anyone, pigdoor is just a little on edge these days.

#

pigdoor

on 13 Sep 2010 at 10:24 am

Eeeaasy little ones. Everything I say, I say ONLY with love.

I'm feeling very cranky today. Listy did not get much sleep this weekend.

"GO AND EAT SHIT OUT OF A DITCH "

What does this guy have against ditches?

#

kidda

on 13 Sep 2010 at 12:24 pm

The "….WHAT!" bit made me laugh the most

#

Fucker

on 13 Sep 2010 at 2:19 pm

I think the person who asked for help with Scrubbing Bubbles was way funnier, because that was likely an adult. This person here sounds like they are a young teenager trying to fit in by acting angry. If you read it with a lame cool guy voice you can almost hear the bong hit he took in between paragraphs when he paused to watch more Celtic Thunder (because that definitely needs some enhancement, but weed is obviously not enough), anyways, it seems like he took a big long hit, gaped out for a moment, and then remembered he was mad and wrote paragraph 2.

Fucker – Oh yeah, that shower sprayer comment was maybe the craziest one I ever got. I forgot about it.

#

BeLL

on 13 Sep 2010 at 3:04 pm

Well, according to UrbanDictionary.com, the meaning of the "What" may have been this….

what:
In hop-hop, it's often used as a sort of taunt after a proclamation has been made.
"South side runnin' this bitch! What!"

But again, that's Urban Dic's words.. Not mine. 😛

#

Yours Truly

on 13 Sep 2010 at 3:43 pm

Urban Dic sounds like a porn star name.

I'm trying to come up with a rap song with the incessant chorus:

"Suck that WHAT!"
"Suck that WHAT!"

with some dope beats underneath. Little help?

#

Andra

on 13 Sep 2010 at 9:46 pm

I was imagining the "hater" throwing his tiny white hands up in a fake gang sign while he shouted the final WHAT! at Listy.

#

Erica

on 13 Sep 2010 at 10:31 pm

Wow, really? This person is that invested in Celtic Thunder?? It must be someone FROM Celtic Thunder that wrote that post Listy. Otherwise I fear our civilization is descending into more madness than I previously thought!

I wonder what would happen if they piped Celtic Thunder into that Chilean mine?

Erica, That's a great idea! They would claw their way to the surface in less than 10 minutes. You should win an award or something for saving their lives.

#

BeLL

on 13 Sep 2010 at 11:23 pm

I bet you they could do it 5 MINUTES if they threw in some classic "Lawrence Welk", too! XD

#

Ed

on 14 Sep 2010 at 8:57 am

Yours Truly,
"Your" right on the money.

#

ffaf

on 14 Sep 2010 at 9:56 am

OMG the scrubbing bubbles comments are AMAZING!!!! How did I not know about this previously?

#

elgati

on 14 Sep 2010 at 12:57 pm

@pigdoor
"Wrote" is not the correct tense for that formation.
Even if he had it wrong and corrected after your comment, I think he has a pretty decent record of using proper English, as opposed to something that sounds like this: "YOUR JUST JEALOUS BECAUSE THEY HAVE MORE TALENT IN ONE HAIR STRAND ON THERE HEAD THEN YOU DO ON…"
I mean, come on… Do I really need to quote the whole thing for you?
Secondly, I was happy I did NOT know about this group. Now I am forced to analyze what I just saw, and wonder whether it is only the group members who are pedophiles, or their entire audience as well.
Really, if you call that shit talent you are either 6 years of age, OR mentally impaired, OR a pedophile. There are no other alternatives… :/

#

pigdoor

on 14 Sep 2010 at 10:58 pm

elgati- As for Celtic thunder. You ARE aware of sarcasm, correct?

#

pigdoor

on 15 Sep 2010 at 2:11 am

elgati-And the very point I was trying to make was that Listy could have destroyed this momack on so many levels, he should not have made a simple snide comment about grammar. Listy DID write "wrote" initialy, then fixed it, that should be obvious. If i didn't call him on that I would'nt be doing my job as the douchebag that i am…I undrstand your confusion, because you probably don't GET pigdoor…….I am pigdoor and I am more important than everyone.

Pigdoor – It was a fucking typo. The "i" is next to the "o" and I just hit the wrong key. I know the proper usage of "write" vs. "wrote." Get off my case.

#

pigdoor

on 15 Sep 2010 at 8:30 am

Listy, like i said I was just being a douchebag. re read Elgatis comment and you will see that he was correcting ME. I was just setting him straight.

#

lola

on 15 Sep 2010 at 1:59 pm

I have to hand it to you Listy. I don't know how you handle some of that mail. Granted it is so out there it's comical, but Me I would cry if someone told me to eat shyt. Especially out of a ditch! Not even off a plate! I would totally cry. in fact, I'm pretty sure the last time I was told to eat Shyt I cried. You are brave. And for all the grammar critics out there, the y in shyt is intentional. That way it doesn't get bleeped out on certain sites. I hate when my passionate swearing gets bleeped out!

WHAT! I DON'T KNOW! YOU WITH THE SUCK, SUCK THE CELTIC MORE AWESOME YOU NOT WITH COOL ME LIKE THE THUNDER GAAAH SUKK ON AIDS DONKEY PENISES OR … UM. SUCK!

Anyways great post man. I think the what at the end was supposed to be like the wigger's ubiquitous 'STEP!', meaning "What are you going to do about it, my big brother can beat you up nerdface stupid head." Who let these kids on the internet, honestly. If they are going to waste their time replying to someone who doesn't care about their opinions instead of discovering porn, like I did, they should'nt be allowed on at all. 🙂