Sep 14 2010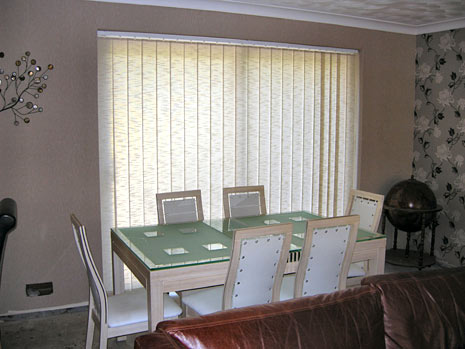 Unless you make a living shooting 80s porn in your home or hope to one day rent your house out to Chris Hansen's cock-block-a-thon "To Catch A Predator" series, I would suggest avoiding vertical blinds. They only lead to bad things.
Sure, passing through vertical blinds is like walking inside a giant tickley mustache, and who doesn't love that? And yes, it's really awesome the way they gently knock everything off your plate as you attempt to navigate your way through them at your family reunion, but is that enough? IS IT?
Vertical blinds are like elderly security guards, they sort of get the job done but ultimately just end up making everyone sad who has to be in their presence.
17 comments to "Vertical blinds!"
#

Erin

on 14 Sep 2010 at 7:40 am

Ugghhh… when my husband and I bought our house two years ago the picture window in the front of our house had vertical blinds. I hated them but my husband thought they looked cool and modern. All I could think of is my office at work… nothing cool or modern about that. Ultimatley one day while he was gone I took them down. He was sad, but I was finally freed from livingroom hell.

Erin – Keep an out on on that husband of yours, his judgment seems clouded at times.

#

Erin

on 14 Sep 2010 at 8:28 am

Listy- I really try to do my best to keep my husband from making any decorating decisions, if he had it his way everything in the house would be either plaid or camouflage.

#

Tommy

on 14 Sep 2010 at 11:13 am

Did you have a little accident listy?

#

Erica

on 14 Sep 2010 at 11:43 am

Yes vertical blinds are horrendous but nothing beats the saloon doors to the kitchen!! I was in a friends home a few months back (built in the 1980's) and they still had those fucking saloon doors!!!

http://i54.tinypic.com/650f41.jpg

Unless I am visiting a ghost town with the name "dead man/dead eye/gulch" in the title, these fuckers are NOT ALLOWED IN A HOME!

#

pigdoor

on 14 Sep 2010 at 1:18 pm

Having a little rant of our own are we Erica?

#

Erin

on 14 Sep 2010 at 1:48 pm

Erica – Ewww, so many disturbing things going on in that kitchen, the saloon doors are by far not the worst item in that pink mess.

#

sara

on 14 Sep 2010 at 3:54 pm

Give that room credit. I'm pretty sure thats one of those globe/ secret bar things in the corner…why else would they have a world globe in the kitchen. Then again my kitchen's wallpaper is all old maps we've collected.

My idea of Decorating Disaster, according doors to save space in bathrooms. You know how easily a toddler just bashes them down?!! NO PRIVACY

#

Paul from Saint Paul

on 14 Sep 2010 at 5:59 pm

Sara, pocket doors are the best solution. I have only one in my current home, but my old apartment was riddled with them – including the bathroom. The take up no space and completely confuse guests when pushed all the way in.

I confess a nostalgic fondness for the cheap accordion door, which was my bedroom door in college. It was made of plastic and might as well have been cloth in terms of keeping out noise. I hated it and loved it all at once. Now I want one to complement the pocket door.

Erica, that fucking kitchen needs to be dynamited. The saloon doors are the best thing it has going for it and I hate them.

And that dining room with the vertical blinds must also be destroyed. The pinky-beige/grey floral combo on the walls is unforgivable.

#

Paul from Saint Paul

on 14 Sep 2010 at 6:16 pm

And what the fuck is happening with the dining room ceiling?

Also, I want to take the globe/secret bar and smash it through the glass surface of the horrible pinewood table, then take the shards to tear apart the leather sofa and use the stuffing to cover up the tragic concrete-colored floor.

The blinds are the least of my concerns.

#

Jay

on 14 Sep 2010 at 11:12 pm

I love Paul's comments.

That kitchen Erica posted is a museum piece. No one mentioned the hearts and stars wallpaper border.

#

Jonathan

on 15 Sep 2010 at 10:44 am

To continue the kitchen-bashing, how about the faux-block wall-covering whatever? And the fucking collectible plates so neatly and evenly displayed above the sink? Gotta love the Bradford Exchange!!

Erica – if that photo wasn't part of an application for one of those "please makeover my kitchen – it's a disaster" shows, it should be. I'll even go half-ers on the postage. The only clue that it's 2010? The compact fluorescent bulbs in the track lighting!

Full disclosure though – we had those saloon doors when I growing up. I thought it was extra sweet to dramatically open the doors and announce to my not-amused mother that I wanted "whisky – straight up" and extra cool when I bonked my little sister with those sashaying doors. Then my mother woke up one day, realized it was 1986 and she ripped them down.

At least she had the good sense not to jump on the 1970's vertical blinds bandwagon. Although she did – and continues to – love those louver doors (they're now called the more classy "plantation shutter") on windows.

Awesome similie. So true.

#

Armand

on 13 Apr 2011 at 6:50 pm

These blinds can slide you know. Its much better than walking through a curtain too.

Um, OK thanks for that.