Sep 22 2010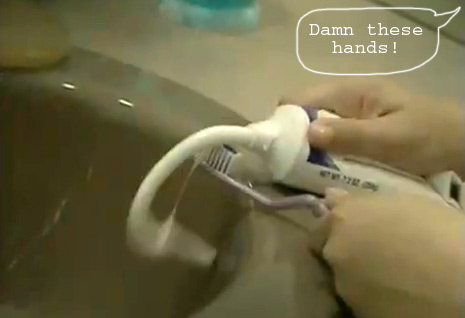 You squeeze. You smash. You stomp. You use a hammer, but still you can't manage the simple task of applying toothpaste to your brush!
There has got to be a less-reasonable way!
Your pathetic dumb ass is in luck. Introducing Touch-N-Brush, the magic toothpaste machine that does all the work while you do nothing more complicated than sticking something into something. It's so easy even an idiot like you can get the hang of it after only 30 or 40 tries.
Thanks to your new toothpaste robot, you will never have to clean the bathroom again! Sticky bathroom sinks are a thing of the past, unless you have a teenage son, because I promise you that kid is jerking off in that sink at least twice a week. Probably the kitchen sink too. What is wrong with that kid?
Did your husband throw you down the stairs for walking in front of the TV during Monday Night Football? No problem pretty lady, you can still use Touch-N-Brush with only one arm. One fucking arm! Can you fucking believe that shit?
Are your kids also too stupid to operate toothpaste? Fuck 'em, who cares about those little shits. If it wasn't for them you would probably be the world's most awesome and cool and most richest rock star. Those kids stole your dream, Steve, so let their little mouths bleed.
"But what if I accidentally put rat poison in my Touch-N-Brush, will the dang thing kill me and my family?" Yes, yes it will.
15 comments to "Touch-N-Brush!"
#

R-Bone

on 22 Sep 2010 at 9:11 am

Who the fuck uses yellow toothpaste as seen at :52? What flavor is that even? 1974?

Mustard?

#

Jeff

on 22 Sep 2010 at 11:02 am

Goddamnit, I want one those fuckers but I just spent my last $19.99 plus shipping for the ShoeDini telescopic shoe horn.

#

rachel

on 22 Sep 2010 at 11:07 am

listy. where do i begin? my (then) 4 year old lost his shit over this very thing every time the commercial aired. (he also wants the sun setter retractable shade) someone that loves him got him a Touch n' Brush for his birthday and he squealed and screamed about it for 5 minutes. probably the hit of the party. not only does this piece of crap NOT make putting toothpaste on a toothbrush any easier, nay, it is IMPOSSIBLE, the effer wouldn't stay stuck to the wall. several times in the middle of the night, we were awakened to a clamoring. my husband, armed with a bat, would do a walk thru, only to find that f*cking T n' B laying dismembered on the bathroom counter. to dash a four year old's dreams even further, the *free* electric toothbrush didn't work, straight out of the box.
i hate you, touch n' brush. I. HATE. YOU. i hate you.

Just think of the long-term savings if your kids don't brush their teeth? No braces, no cavities… No wedding expenses because who wants someone without teeth?

OH! That reminds me of something.

Did you know the toothbrush was invented in Kentucky?

If it hadn't been, it'd be called a teethbrush.

HAR HAR

#

Tommy

on 22 Sep 2010 at 11:37 am

Am I just a crazy idiot for wanting one of these? Plus the sonic 4x toothbrush? how can I lose!?

Rachel – I love that your kid wanted the Touch-N-Brush!

Is anyone else curious about the Pasta Boat?

I know it probably sucks in real life but still I'm curious.

#

Jonathan

on 23 Sep 2010 at 9:46 am

I just don't get it. Are factories in China running out of stupid shit to make for idiotic Americans?

And try not to think about how many germs you're spreading by wiping your mouth-moist toothbrush all over the lever of the Fuck N' Brush.

I do love how these infomercials make the simplest tasks seem like nuclear physics.

#

Erin

on 24 Sep 2010 at 1:47 pm

I have been sick with the flu for a few days and haven't been on here. Wow… I can't even believe something this useless actually exsists and the fact that people desire such a product. Once again I feel failed by mankind.

@Tommy – I think Rachel would be willing to hook you up with hers – slightly used, though, but a little hydrogen peroxide will clean up the brush as good as new…

Listy, you've got the disposable hand towel dispenser, the automatic toothpaste dispenser. Now I think we're ready for an automatic TP dispenser to finish out the trifecta of useless bathroom gadgets!

#

Sara

on 05 Jan 2011 at 7:33 pm

hey, maybe when we're married, our kids can use one of these things.

#

Sara

on 05 Jan 2011 at 7:33 pm

maybe that one was bordering on scary

Of course, I don't want a messy bathroom!

#

Sara

on 05 Jan 2011 at 8:22 pm

if at least ones a boy, a messy bathrooms inevitable