Sep 28 2010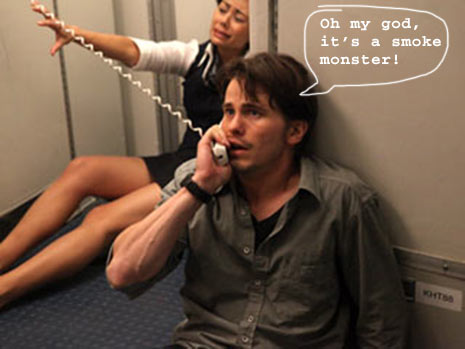 Speaking of Lost…
ARE-YOU-FUCKING-KIDDING-ME-WITH-THIS-BULLSHIT?
What the fuck is wrong with me? Let me count the ways… I hated the show Lost, watched it for 7 years, was so angry at the show's finale I almost killed myself for wasting countless hours watching time-traveling douchebags get chased in the jungle by smoke, and yet SOMEHOW I decided I should give NBC's "The Event" a try because it was supposed to be the next Lost. I am the biggest asshole that has ever lived. I honestly hate myself.
As the opening credits rolled on the pilot episode last week, I thought to myself, "Listy (I now call myself "Listy" in my thoughts) what are you doing to yourself?" But then I was like, "Shut up Listy, this time it will be different!" Then I put myself in a headlock and gave myself playful noogies until I cried out "UNCLE" and peed my pants.
Little did I know how bad it was about to get. To make a long story short, The Event is about… drum roll… wait for it… OMG… A DISAPPEARING COMMERCIAL AIRPLANE!
Ha ha ha NBC and ABC, I'm slow clapping because I now realize you have joined forces with the sole purpose of making me so crazy that I jump off the roof of the nearest Taco Bell. I mean how else do you explain the fact that the show that is supposed to be the next Lost, a show about a disappearing commercial airplane, just happens to be about a disappearing airplane?!? Fuck me.
27 comments to "The Event!"
#

Jim Jones

on 28 Sep 2010 at 5:21 am

Never watched "Lost" and damn glad I didn't. When you do lists such as this one, it should be in a public service sections of the site… thank you for telling us how shitty these shows are to save our minds the insanity that you had to endure.

#

Jeff

on 28 Sep 2010 at 5:51 am

I still can't believe you watched Lost after they traveled in time. I really thought you were better than that.

Who's the chick in the pic with the legs? I'll give her an event.

#

sara

on 28 Sep 2010 at 7:50 am

"I am the biggest asshole that has ever lived. I honestly hate myself." – shouldn't YOU make your list?

Screw this show, I already both read and saw "The Langoliers"

Jeff – I'm worse than that.

#

Erica

on 28 Sep 2010 at 10:22 am

Listy – I love that you call yourself that in your dreams…awesome! Now to The Event…WHAT….THE…FUCK. Are you seriously telling me it is about a disappearing airplane??? Seriously? Really, seriously? If this is true then we have reached the inevitable "media critical mass point". Nothing new and creative is now possible. We are folding in on ourselves!! Now I guess we sit back and wait for the new "I Love Lucy Show" and "The Honeymooners" to fill our nights.

I think I'd rather watch an all-day marathon of Three's Company (that's John Ritter's son) than one episode of this crap.

#

rachel

on 28 Sep 2010 at 11:57 am

1. i watched the pilot episode in hopes of glimpsing a shadow of my beloved John Ritter (rip). it blew. made me wanna ride my segway off a cliff. (too soon?)

2. am i to be congratulated for dubbing you *Listy* lo, those many blogs ago?..

#

caleb

on 28 Sep 2010 at 1:01 pm

best mystery tv series ever made – Twin Peaks

best sitcom ever made – The Andy Griffith Show

best reality tv show – Antiques Roadshow (because it's actually like, real)

best everything else – anything on the Food Network not involving GF, PD, EL, RR, GD (shoulders and up). and the discovery channel.

#

caleb

on 28 Sep 2010 at 1:02 pm

oh and should've also said anything on the Food Network not involving stupid baking / confectionary battles.

#

Tommy

on 28 Sep 2010 at 1:15 pm

Erica: it's not that nothing new or creative is possible it's that they don't want to take the risk. "This worked before, better get the mindless saps of america to watch it again".

Rachel – That was you? You son of a bitch! I was briefly referred to as "List Guy" for a while until you ruined everything.

Caleb – Hell yes on Twin Peaks. It was years ahead of its time and a lot of shows owe Twin Peaks a big thank you for breaking new ground.

However, the best sitcom ever is Arrested Development.

HM – Jason Ritter's best work…

httpv://www.youtube.com/watch?v=bqzUI1ihfpk

#

Dave

on 28 Sep 2010 at 6:31 pm

Listy-
Oh so correct on the correction for Best Sitcom!
Arrested Development was THE SHIT.
EXCEPT for all that British crap. WTF?

#

Paul from Saint Paul

on 28 Sep 2010 at 7:48 pm

Dave, are you referring to the Arrested Development story arc that brought us to Little Britain, where Michael dined in an American-themed restaurant? Where Dave Thomas portrayed a Steed-like Avenger, supervising supposed superspy Charlize Theron, who turned out to be mentally retarded? The arc even had its own theme: For British Eyes Only. I fail to find the crap in that.

Caleb, the best mystery series is one where mysteries are regularly solved by a competent detective, not dragged out and made more mysterious as the seasons progress. The winning title belongs to Murder, She Wrote, a show that gave more washed-up actors work than Love Boat. The series was remade as one very special episode in the early 1990s starring Listy as Sheriff Tucker. I have proof.

And speaking of Listy, I find you remarkably silent on the subject of John Ritter, considering how many times he's been namedropped here.

Paul – It's too soon for me to talk about John Ritter. As you know, I have a special place in my heart for that man. From the first time I saw him take a door to the face to the last time I saw him do a frog hop over the couch, he was my hero.

#

Sarah in Minneapolis; a tribute

on 28 Sep 2010 at 9:59 pm

You, as ever, are thoroughly correct that Arrested Development is best sitcom- ever. I'm sure you share my disappointment over the subsequent works of the stars…"Better off Ted"? "Running Wilde"? WHY???

#

Erica

on 28 Sep 2010 at 10:34 pm

Wait, Listy acted on Murder She Wrote? YOU TUBE CLIP PAUL NOW!!!!!!!

Listy – are you hiding a mysterious secret that involves the seductress Angela Landsbury (or as I always refer to her "Mrs. Pott")?

For the record, I can only DREAM of being on Murder She Wrote.

I recently rewatched the entire series of AD again TWICE, once from beginning to end and then from end to beginning. I have no idea why I did it that way but even after all that, I have yet to be sick of any of it. You catch SO many things rewatching episodes. Stuff like before Buster lost his hand to the loose seal, he wound up finding his hand chair at Lucille's housekeeper Lupe's house and he makes a comment about how he never thought he'd miss a hand so much. Hilariously clever and something that I just hadn't caught before.

I don't know if it's legit or anything but I saw a "movie poster" floating around in the internet for the upcoming movie. It's nothing all too thrilling, just a silhouette of them all but I'm really hopeful/excited/etc for it. I'll broken-heartedly eat my own foot if it sucks.

#

Paul from Saint Paul

on 29 Sep 2010 at 6:34 pm

Listy, for the record, and I have the video record, you WERE on Murder, She Wrote, albeit a fairly unscripted, very late-night produced episode of Murder, She Wrote with a drunken cast and Jessica Fletcher in drag. There was a fashion show and a murder. You portrayed the Tom Bosley character. I remember some sad attempts on other actor's parts to pronounce "Sheriff TuckAH" in the identical faux-Maine accent as seen on TV. Do I need to offer more to jar your memory? Some dreams have been lived and forgotten.

Paul, are you sure I'm in that one? I thought I was only in Showgirls. Was I super drunk, because I don't remember doing that at all.

#

Paul from Saint Paul

on 30 Sep 2010 at 7:08 am

Check with your editor. You both had small but pivotal roles as you arrived very late in the evening. I can't imagine that you were sober showing up at that hour to be in a film at my apartment.

Wow, I need to see this episode again.

#

Steve

on 13 Oct 2010 at 6:36 am

The Event just started airing in South Africa. I was never a fan of Lost and, for that reason, hardly bothered with it. The Event, on the other hand (after two episodes), is proving to have more pace than this carefully constructed paragraph.

I'm going to give it a chance before I knock it.

I'm going to continue knocking it.

#

Ahksehl83

on 01 Jul 2013 at 10:54 am

I never watched "Lost", something about the pictures of the long haired, eurotrashy looking male stars gave me huge red flags. I made the mistake of getting involved with "Twin Peaks" way backs when. One learns that when "mihhhhhhhhh-sterrrrrrrrrrrr-eeeeeeeeeee" and "aaaaaaaaat-mosssssssssss-pheeeeeeeeeeeee-er" are heavy, real plot and logical character development are slight or non existent. In the end, one has been sold a lot of drama over absolutely nothing. One held on for a payout that never came. "but I've invested this much time in the program, I've GOT to keep watching to find out how it all ends!". This is the whole point, to string you along so they can sell you alcohol and ultra processed "foodstuffs", or overpriced small packages of cleaning products.