Oct 20 2010
You proud of yourself, God? I bet you think you are king of the fucking universe right now, don't you? All high and mighty, sitting up there on your cloud, killing two beloved TV parents in the same week. As Christian Bale says, "OH, GOOD FOR YOU!"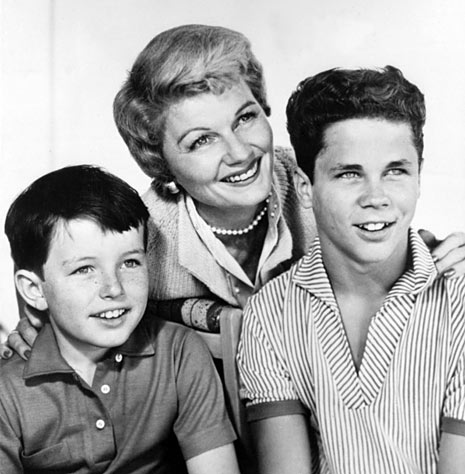 Well you finally did it, you made Wally and Beaver orphans. I know you have been dreaming of this day for a long time and now you can kick up your old man feet on some stupid cloud La-Z-Boy® recliner that's made out of clouds and smells like clouds and give yourself  a nice slow clap. I watched "Leave it to Beaver" every day after Junior High so I can't help but think some of this was aimed at hurting me.
Let me get this straight, God… Guy Fieri gets to wake up tomorrow and put on his favorite flame-covered bowling shirt but June fucking Cleaver is six feet under? Yeah yeah, don't give me this "she was 94 years old" bullshit, you're God, give unto her the ability to live forever! Dick.
Barbara Billingsley being awesome
And then this shit happens…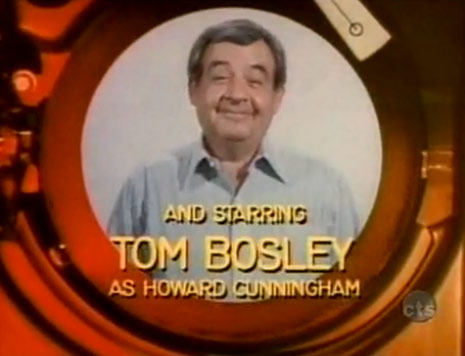 Sunday, Monday, Happy Days.
Tuesday, kill Mr. Cunningham?
What's wrong with you? Tom Bosley was Father Dowling, A FUCKING PRIEST, for your son's sake. Were you jealous that Bosley was on pretty much every classic TV show ever… Car 54 Where Are you, Get Smart, The Mod Squad, Bewitched, Mission: Impossible, Maude, The Paul Lynde Show, Love Boat, Happy Fucking Days, Touched by an Angel!?!
You wish your resume was that strong, God. Let's see, what have YOU done with your life? You created the Earth 6,000 years ago. BFD! I entered a video in Madonna's "Make My Video" contest on MTV in 1986 and they fucking played it on the air, TWICE, and said my name, but you don't see me going around bragging about it every two seconds.
Let me see if I understand this… Mr. C. is dead but right now, as we speak, Guy Fieri is buying a totally "money" belt buckle that looks like dice? It just doesn't add up.
I realize this Happy Days intro is from the time period when the show sucked and it started to look like the 80s even though it was still the 50s and Fonzie was a teacher or something, but I wanted you to see the super douche move that occurs at the 0:49 mark. Watch closely.
21 comments to "God, for killing Barbara Billingsley and Tom Bosley!"
#

Jeff

on 20 Oct 2010 at 4:20 am

Ah I forgot about your Madonna video. That and your jean jacket / skateboard cameo gives you two claims to fame.

I think that qualifies you for a Hollywood star these days

I concur with you on both counts. Barbara Billingsley was probably THE ideal mom of the 50s for kids of my generation, who grew up watching her in the 70s on reruns. Not only was she hot, she took care of her family and had dinner waiting for Mr. Cleaver when he got home. YES! And the passing of Mr. Cunningham is likewise sad.

#

sara

on 20 Oct 2010 at 8:29 am

Don't forget Murder She Wrote.

Jeff – That's all I've ever asked for. Thank you.

And here's your third…

http://today.msnbc.msn.com/id/39744024/ns/today-entertainment/

I was saddened by both of those deaths, especially Tom Bosley.

Did you read/hear about the convenience store owner on Orleans (in Chicago) who was gunned down in his store Saturday night? Tragic. This guy was the salt of the earth; he gave his down on their luck customers free diapers and formula for their kids, paid people's utility bills and wouldn't accept repayment. He went WAY beyond the call of duty of a store owner. He visited one of his customers in the hospital after she had heart surgery. So wrong.

Ken – I didn't hear about that. We live in a violent city filled with many soulless people. My atheism is reinforced every time I hear a story like that.

#

rachel

on 20 Oct 2010 at 2:05 pm

would you call it a "half wink"?

Rachel – I don't know what to call it but I feel like I'm being molested by a drunk uncle when I see it. CHILLS!

#

rachel

on 20 Oct 2010 at 2:10 pm

you know you love his basketball shorts.

Especially when they are nude colored. He literally looks like a Ken doll. I have to go masturbate, happy?

#

Erica

on 20 Oct 2010 at 2:33 pm

Listy – these old fuckers had to die sometime! Watching either "Leave it to Beaver" or "Happy Days" now is like swallowing glass and acid…really, really rough sit. But yes, there are other people I would prefer to see under…first on my list is everyone from The View and then Oprah. C'mon God, get your shit together!

Erica – Leave it to Beaver rules!

#

rachel

on 20 Oct 2010 at 3:36 pm

i bet he's got a "smooth spot" just like Ken.

that video may have just outed ted mcginley.

I don't have a smooth spot.

#

Paul from Saint Paul

on 20 Oct 2010 at 6:48 pm

Where's the love for Ted McGinley? Listy just wishes he could look so fine prancing around in the driveway in those nudie-colored shorty-shorts. Winking.

And what the fuck, you – again – have ignored Murder, She Wrote, which Sara reminded you of. I'm especially astonished because you portrayed Tom Bosley's character, Sheriff Tupper, in the late-night drink-fueled version of M,SW. I am going to have to bring the damn tape down to knock your memory back into place.

Note the spooky apparition of Heather O'Rourke at 0:22 in the Happy Days intro as the Fonz and Linda Purl are about to kiss. Maybe now that Mr. Cunningham has crossed over, she will stop haunting Hollywood and finally go to the Other Side:

http://www.ghostvillage.com/ghostcommunity/index.php?showtopic=24419

And thank you for the Airplane! clip. I had completely forgotten that Barbara Billingsley played the jive interpreter. The film that gives and gives.

I'm sorry for the Murder She Wrote omission, I couldn't list everything, his resume is simply too long and impressive. Now, are we POSITIVE I was in the drunken Murder She Wrote? I honestly have no memory of this. I will need to see video evidence.

#

Lauren

on 17 Nov 2010 at 12:32 am

I nevere got that whole 50's but really looked like 80's bullshit anyway I mean damn were they going to make it 1955 for fucking ever?!! Just stupid and so was adding those boring and vapid cast members FOX take note this is why good shows get out while the getting is good before it becomes THIS shit[I'm looking at you Simpsons]

'ar yes', tom bosley, a good actor, and possibly the greatest dad of them all on telly, and no dout lots of kids would have loved to have had a father like him when they were young, just like me, who had a really dopey dad, who only thought of himself, well, 'happy days' was the series back in the 70's, with the fonze, and all the others who made it possible, but the father of the show was a favorate to all back then, and if there is ever a good reason to praise such a great man, its now, so god bless him, and may we remember him for what he really and truely was, a lovely man in his life time, 'thanks',

'heyyyyyy', i forgot to say hi to the fonze, hi' henry, love ya' bro', please pray afew words for me when you think of tom, thanks,

[…] my improv group even though I like totally put flyers up all over heaven. Peter Graves DEAD… Barbara Billingsley DEAD… Leslie Neilsen… SEE YA! Look out guy who had the starring role but nobody knows […]