Oct 21 2010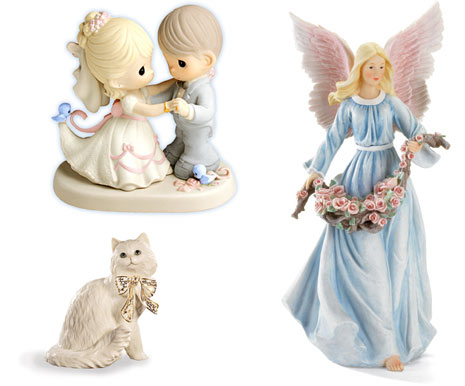 When I walk in to a house and see one of those awful display cabinets filled with little porcelain clowns and angel statuettes I immediately know two things… 1) I accidentally walked into the wrong house and 2) I am within 15 feet of a TV playing America's Funniest Home Videos… ON A VCR!
In general, I hate clutter and believe less is more when it comes to home decoration and nothing is more horrifically cluttery than a small army of Precious Moments figurines staring you down with their giant heads and soulless eyes. Get a room! I really don't need to have your filthy toddler love and under-aged romance shoved in my face. How do you think it makes me feel when I'm home alone, drunk, with no girlfriend* and no chance for sex in the near future but somehow these two children have managed to meet, date, fall in love, get engaged, plan a wedding, PAY for a wedding and go to Disney World on their honeymoon, all at the ripe old age of seven? What's so fucking Precious about that?
We'll see how long it lasts.
*Sorry ladies, I actually have a girlfriend.
31 comments to "Figurines!"
#

Fartface

on 21 Oct 2010 at 6:46 am

When I was eight my aunt roped me into the terrifying world of Precious Moments. She started my collection and then continued it with a yearly and special occassion addition to the collection. I had two very classy brass and glass shelves in my room displaying them and dreamed of the day I would arrange my room differently once I had enough money saved to purchase a back-lit glass cabinet to display my awesome collection. Did I mention that I was subscribed to Precious Moments magazine? God.

What happened, you ask? I started masturbating and my priorities changed. I told my aunt to shove it.

#

sara

on 21 Oct 2010 at 7:47 am

There's a MAGAZINE! We're not talking catalog here right? but actual aficionado type literature?!

#

Fartface

on 21 Oct 2010 at 8:30 am

Unfortunately, yes. Maybe my memory is wrong, but it was some type of magazine. There were ads. There were interviews with collectors. Wow, I just got chills…what I could have been!

#

Paul from Saint Paul

on 21 Oct 2010 at 9:05 am

Clutter is far too maligned. It has its own beauty and bleeds personality. Minimalist spaces are cold and empty, like their designers' souls.

And what kind of jab are you making at America's Funniest Home Videos – and VCRs? Elitist! I still tape my stories on a 1980s VCR and America's Funniest Home Videos is quite funny with the volume turned off.

Those Precious Moments magazine subscribers would now have a hit reality show for the superior beings to gawk at and deride if some mindless cable programmer had gotten around to looking in Auntie's spare bedroom.

Paul – I'm yuppie scum. Do people still say yuppie? Is there a new name for yuppies?

#

Jeff

on 21 Oct 2010 at 9:55 am

I'm surprised. I thought that figurines would fit right into your yard sale / ironic t-shirt lifestyle!

Listy-

Jeff's onto something. You need to start a "Filthy Moments" figurine collection, lewd poses and acts depicted in wholesome porcelain. I get 50% of the proceeds.

#

rachel

on 21 Oct 2010 at 11:41 am

*shivers* …my mom's house is COVERED in precious moments. she has an obsession and has no less that 2,000 of them. i can barely get in the front door. (she's also a HOARDER) and the only thing stopping me from sharing this on FB is that she would see it and cry herself to sleep tonight.

you hit a little too close to home on this one. poor mom.

Ken – I LOVE THIS IDEA!

Oh Rachel.

Figurines were the bane of my existense while working at Hallmark in high school (yeah, I know). You would be shocked to see how many seemingly normal people buy this crap. Not just octogenarians reeking of mothballs and jello…

#

caleb

on 21 Oct 2010 at 12:40 pm

Ken – 10 bucks says something like that is already on Etsy. it's gotta be. i'm going to do some research…

#

caleb

on 21 Oct 2010 at 12:53 pm

ok so i didn't find any filthy moments figurines, because very quickly i came across this –

http://www.etsy.com/listing/59528800/ooak-realistic-newborn-hand-sculpted-art?ref=sr_gallery_7&ga_search_query=figurines&ga_search_type=handmade&ga_page=4&order=&includes%5B0%5D=tags&includes%5B1%5D=title

and it completely sickened me so i can't continue with the search. Etsy is a freakshow. yes i know Listy, you had a post about these recently, but it still makes my eyes bleed. this woman i think, takes it to a new level by sculpting fetuses.

#

Erica

on 21 Oct 2010 at 1:21 pm

Caleb – what the fuck is that thing? When my children were born they DID NOT FIT INTO THE PALM OF MY HAND! Believe me, labor would have been freaking great if they did!!!!! (instead it is more painful/horrific than anyone will ever know)

Listy – my mother-in-law collects "Teddy Bear Figurines" and sent us this one last Christmas:

http://www.bears-n-friends.com/timetopray.html

Needless to say you would think she is some fucking nutter but she has a Masters Degree in Physiology for gods sake. This is definitely filed in the right place for "I Don't Get It"

My mother has a houseful of this crap. It was either given to her and she can't bring herself to get rid of it in case the person who gave it to her comes for a visit and would expect to see it in its own shrine OR she collected it so that her children will be thrilled to inherit it when she dies. Uh, Mom? I think we'd rather have you than the crap. (She is very sad that none of her kids turned out like her.)

#

sara

on 21 Oct 2010 at 2:39 pm

One of my best friends is a pot smoking wisky swilling rap listing potty mouth theif….and she LOVES this shit. Keeps them in a curio case next to her bongs

The Chapel isn't open on Easter or Christmas? That's not very religious is it.

This isn't a filthy moment, but one time on the Tom Green Show he made a huge sculpture (I think it was paper mache) of his parents – his dad had a louisville slugger in his hand (or similar) and his mom is cowering with her hands raised. Tom unveiled it to his parents and told him it was called "Where's my dinner, bitch?". I will never forget how his mom kept wailing "Oh, Tom!" and his dad kept saying "That NEVER happened". Now THAT was a precious moment…

#

rachel

on 21 Oct 2010 at 3:49 pm

Kathy- are we related?
Julie- i remember that episode, and LOVE tom!

#

caleb

on 21 Oct 2010 at 4:29 pm

didn't TG also have a mural of two lesbians having sex on his parents car? that guy! what a whippersnapper!

Caleb – BARF! It has a mini vagina!

Tom Green also made a snow sculpture of his parents fucking in the front yard and incorporated a running hose to simulate his dad jizzing all over his mom's back. Genius.

#

Erica

on 21 Oct 2010 at 5:29 pm

Listy – only you would notice the tiny vag on that thing! 🙂

#

Jeff

on 21 Oct 2010 at 5:46 pm

Filthy Moments – ha ha – but I think Jeff Koons beat ya to it…

and, of course

Jeff – Yeah sort of, but not quite it.

Erica – Come on, look at it, it's right in your face!

And because it's a Jeff Koons piece it literally costs MILLIONS of dollars and those aren't lewd enough. I want the everyman to have access to lewd, porcelain figurines. I want people to have entire houses (a la Rachel's mom, who's got it going on, by the way) of figures doing it.

#

Jeff

on 22 Oct 2010 at 12:11 am

Ah but Koons says a lot with a little.

(OK yeah he also took pictures of himself doing it with Cicciolina, but he was subtle with the figurines.)

#

Ben

on 22 Oct 2010 at 12:07 pm

Ben – Awesome, thanks.

#

Steph

on 23 Oct 2010 at 8:25 am

Ben, that was awesome!

#

Rebekah

on 01 Nov 2010 at 12:16 am

My mother has a whole armoire full of those Precious Moments figurines. I used to get dragged to Hallmark stores for her to buy those god-awful things.

Oh, that was ironic… 😉

#

grebbyele

on 31 Dec 2010 at 5:49 pm

Try these for filthy figurines, I hate all that Precious Moments crap but collected a good few of these!

Why is there a bear flat-ironing its wang?