Oct 22 2010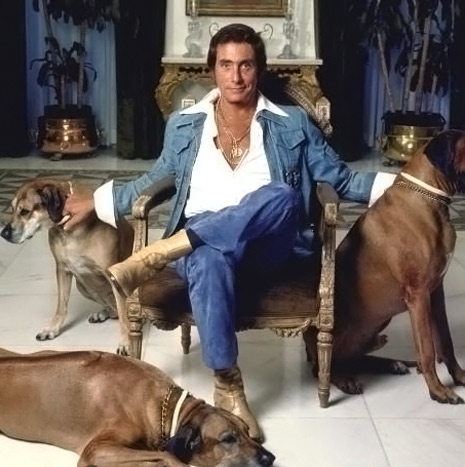 I'm sure all of you were equally destroyed by the news of Bob Guccione's death and, if you are like me, you will be taking the day off to mourn and reflect.
Rarely does mankind see greatness like Guccione. Playboy may have shown me my first glimpse of female pubes but Penthouse let me behind the curtain, so to speak. It was as if Bob Guccione himself was taking me by the hand and giving me an intimate tour of the female anatomy. Not too many grown men would do that for a 13-year-old boy and he deserves all the praise in the world for it.
Sure, it was scary at first, after all the first issues of Penthouse I saw were from the late 70s and early 80s when a woman's pubic hair extended 6 inches from her body. Once I worked through the fear it was an incredible journey filled with head bands, baby oil, tan lines, Venetian blinds lit by red and blue lights, naked women washing cars and, most importantly, girls having sex with other girls. My eyes are filled with tears as I type this.
I fear that Guccione's greatest gift to humanity will be lost. I am speaking, of course, of Penthouse Forum. Forum was better than the pictorials and it was nothing more than real letters from Penthouse readers telling real tales of getting laid. Yes, they were real and I don't want to hear any more about it! I couldn't wait to grow up because, thanks to Forum, I was under the impression young adulthood was going to be an endless parade of sex with hot housewives in their pools, sex in the woods with hitchhikers, sex in the grocery store parking lot, sex with triplets and sex that produced a minimum of 8 male orgasms. That son-of-a-bitch Guccione had me masturbating to words. WORDS!
Rest in peace sweet sweet Bob Guccione.
10 comments to "The Devil for calling Bob Guccione home!"
A sad day indeed. The Gooch (as I like to call him) provided me with countless hours of sexual self-expression. Please, don't let Larry Flynt be next…or I may just have to kill myself.

#

sara

on 22 Oct 2010 at 7:43 am

"mourn and reflect." = eat cheetos and masterbate

#

Erin

on 22 Oct 2010 at 7:52 am

Well this isn't really on topic but… I dreamt about you last night Listy, and it wasn't good! (Can you believe it!) You went all mainstream on us and became a regular contributor on The View… Yikes!!! Now onto more important things… I remember the first time I found my fathers porn stash… I was horrified, as a young girl I couldn't believe those things were going to happen to me one day! It looked painful and scary and the girls seemed to like it which really confused me… So unfortunately I took the mag to my mother to ask her "Why?" and she hit the roof!!! I think my father was in the dog-house for years over that! Sorry Dad. My Bad.

[…] […]

Sara – No Cheetos. Nobody wants an orange wang.

Erin – That's weird because The View DID contact me last week about taking over for Whoopi. Way to bust your poor dad!

#

Paul from Saint Paul

on 22 Oct 2010 at 9:32 am

The tags for this post are the best tribute this man could have hoped for.

#

Erin

on 22 Oct 2010 at 9:35 am

I am a bit embarrassed to admit it but I stayed home from work yesterday and watched The View… if you take over for anyone take the annoying blond chicks place! Ugghh… she is insufferable.

Dear YJMML,

I never thought I'd be writing this, but…my girlfriend and I have been dating for almost two years, and just recently she suggested to me that she wants to bring another girl in on our bedroom action. Only in this case said action is to occur in one of the change rooms of the GAP where she words, during business hours, with one of her bi-curious colleagues who is into whips and risky displays of prurient behavior in public. I said I would play along, but only if my girlfriend agreed to reciprocate by doing something I've wanted for a long time–shove a finger up my butt right at the moment of climax. She's hesitant, but suggested that her colleague can do this for me instead. What do you think?

Sincerely,
Waiting for a finger in Hoboken

Pete – "I never thought these letters were true until now. Last week I was getting a private tennis lesson…"

#

Sara

on 27 Dec 2010 at 5:57 pm

Pete.

you have the right to be with someone who is as giving in the sheets as you are. you are pushing beyond your comfort zone to do something she wants, and she should listen to some Savage Love podcast and get over the finger in the ass thing. it literally takes nothing from her.

hope that helps clear things up