Nov 03 2010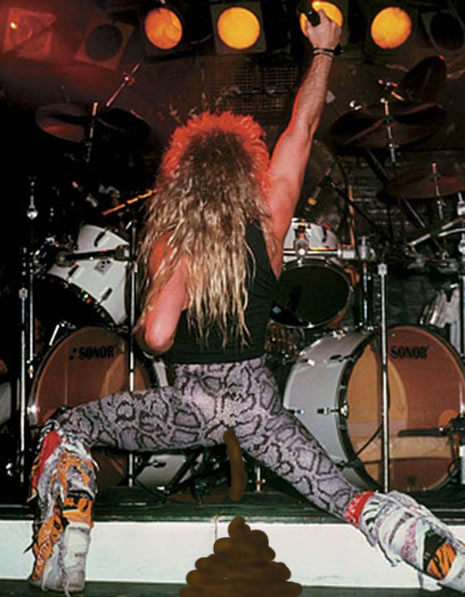 When will it end?
I have been waiting for Jon Bon Jovi and his hair to go away since 1987 but somehow, like a bland zombie, he keeps eating my brains.
WAIT! STOP! Fight that urge to tell me that 80s Bon Jovi is "awesome" because "Livin' On A Prayer" sucked then and it continues to exponentially suck now.
"But what about 'Wanted Dead or Alive?'" you ask. It is true that riding on a steel horse and leaving no face un-rocked has a certain je ne sais quoi but, much like what we see with the Areosmith formula, any awesomeness found within "Wanted Dead or Alive" is erased by 20+ years of faces being sprayed with the shit that spews from this ass's ass.
The summer before my senior year of high school I was super in love with this mysterious girl who moved to my town from another state, a Bon Jovi loving state. When I discovered she was a huge Jovi fan and not a fan of the flawlessly awesome music I listened to, I had to cut her loose.* Sorry baby, I've seen a million faces…
*She dumped me.
30 comments to "Jon Bon Jovi!"
#

8bithero

on 03 Nov 2010 at 5:15 am

He just started a new tour.

My wife loves him.

….I will be forced to attend.

#

Jim Jones

on 03 Nov 2010 at 6:33 am

There is a reason his kind of bands are called 80's hair bands; They belong in the fucking 80's! A decade that I am glad I don't remember much about, especially the music. Although there were a few good artists to come out of those decades.

#

cam

on 03 Nov 2010 at 6:44 am

"I have seen a million faces, and I rocked them all"
Worst lyric EVER.
Although, it still makes me laugh everytime I hear it.

#

sara

on 03 Nov 2010 at 7:19 am

cam: I can one up that bad lyric
"With an ironclad fist I wake up and french kiss the morning" from bed of roses

8bithero: doesn't she have some girlfriend or something? There may be a support group for Jovi fans in the area. I hope you at least get a blow job for your loyalty

8Bit – Fake your own death.

Jim – There was TONS of great music in the 80s, it was just never played on the radio.

Sara – Is that real? Good lord.

#

8bithero

on 03 Nov 2010 at 8:02 am

Another greeeeeat lyric:

"Remember when we lost the keys And you lost more than that in my backseat," from "Never Say Goodbye."

Hey Jon Bon, David Lee Roth called. He wants his pants and socks back.

Hey Jon, 15 dogs owned by hippies called and they want their bandannas back.

Well Listy, being one of the few to have known you for 30 years, I'm now wondering who the mystery lady was. Was it Angel or Roxanne, or someone else? Both OUTSTANDING Bon Jovi fan names, BTW.

Who is Angel? It was Grace. (Yet another great fan name!)

#

Jonathan

on 03 Nov 2010 at 9:57 am

THANK YOU!!! Bon Jovi's overrated cowboy-pop-crap is the worst! I also can't stand Bruce Springsteen. What is it about these two bands that evoke such passionate fandom? Their music is cheese-bag pabulum.

But…

Bon Jovi and Springsteen are goddamn Mozart compared to the worst abomination ever brought forth upon the music industry: Van Fucking Halen. Their music is just awful, ear-bleeding garbage, from the "shredding" guitar riffs to the juvenile lyrics. I'd rather listen to the Spice Girls.

Jonathan – I totally agree with you. Wait, no I don't!!! Van Halen (pre-Sammy Hagar) fucking RULES!

httpv://www.youtube.com/watch?v=7P1d8BVvY-I

Whoa, Jonathan doesn't like Bruce Springsteen OR Van Halen? Must be Canadian, or French, or maybe French-Canadian, which means he probably like Barenaked Ladies or Triumph, or both.

Triumph = Rush Jr.

#

Pete

on 03 Nov 2010 at 12:21 pm

Jonathan, you are mistaken about Van Halen.

Triumph suffer from being the SECOND most famous Canadian power trio but have had some moments.

#

Lilly

on 03 Nov 2010 at 6:50 pm

Oh god, I thought I was the one person who didn't love Jon Bon Jovi in a massive sea of.. people who love Jon Bon Jovi. I felt like Will Smith in I Am Legend. Thank you.

#

ALJBJ

on 04 Nov 2010 at 6:09 am

In the picture above…that´s not even him…I think it's Joey Tempest from Europe. However I'd been waiting since 1987 to attend a Bon Jovi concert, went to one last month and it was the best thing ever happend to me, they sound exactly like a record. Clearly you're going to say…the record sounds like crap…well you're wrong. There's a reason why they've sold over 120.000.000 million of them and still counting.

And there's a reason Sarah Palin is popular. It's the same reason.

Bon Jovi is one of my biggest musical guilty pleasures (the others being Meatloaf and Cher…. DON'T, I KNOW ALREADY) so this upsets me greatly. I've even driven past his house a few times hoping to catch a glimpse.

You give love a bad name, Listy.

#

Jonathan

on 04 Nov 2010 at 12:55 pm

Ugh…we'll have to agree to disagree. To me, Van Halen sounds like the music a strangled cat would make if it were playing the guitar with its asshole.

One thing I'm sure we can all agree on, however, is that no one rocks 80s feather-hair quite like the Ultimate Warrior.

#

jason

on 07 Nov 2010 at 2:12 pm

God, anything from new jersey sucks ass – springsteen is boring and bon jovi (the band, well, the guy too) is nauseating.

they werent nearly as creative and mind-bending as the long islanders (eg. Blue Oyster Cult).

#

Fred

on 10 Nov 2010 at 4:04 pm

"And there's a reason Sarah Palin is popular. It's the same reason."

Bon Jovi has a nice rack?

They both have cute vaginas.

#

Paul from Saint Paul

on 12 Dec 2010 at 12:48 pm

#

Tzzz

on 15 Mar 2011 at 1:03 pm

Bon Jovi are great. And in the pic is not Jon, he's Joey Tempest (Europe). Jon wasn't blonde in the 80's.

Tzzzzzzzzzzz – Bon Jovi are shit and I'm glad I can't tell the difference between Joey Tempest (douche) and Jon (also a douche).

#

Elliot

on 24 Jan 2012 at 9:48 pm

jon bon jovi's voice is the most sleazy, repugnant piece of shit wailing known to me. the fact that they are worshipped disgusts me and they're in my top 4 least fav (including poison, blink 182 and greenday).

Agreed, we feel the same over at tezini

#

fluggerschnunkie

on 01 Feb 2012 at 6:05 pm

"…this ass's ass…" I LOVE that!