Nov 09 2010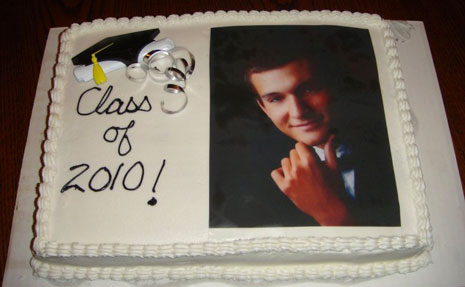 Congratulations! Now eat your own ugly face.
Yum, your black golf shirt looks delicious Dennis! Or would I rather have a slice of your Dockers? It's a tough choice, black and khaki are both such appetizing colors. I guess I could go for a piece of your beard, or maybe I should skip you altogether and just eat your golf cart. It's so hard to choose, your Chamber of Commerce networking event is so mouthwatering!
Fuck it, I'm skipping the whole thing and eating this.
13 comments to "Edible photo cakes!"
#

8bithero

on 09 Nov 2010 at 5:58 am

Would you be okay with this if it were, say, a photograph of female genitalia?

…or Guy Fieri? You could pretend you were consuming him to gain his pow…

Nevermind. Who the hell want's to have his "douche powers"?

Sorry, I just realized how stupid that sounds.

Friggin' Guy Fieri…

8bit – The only way I would eat a photo cake is if it had a picture of a better cake on it.

#

caleb

on 09 Nov 2010 at 8:34 am

i'll skip the cake and take a good homemade pie any day. pie beats cake always.

No kidding, cake sucks.

Cake is either insanely sublime (red velvet, Black Forest for starters) or just disgusting (vanilla sheet cake). For my 7th birthday, my mom made me an R2D2 cake, it was the best cake ever.

#

Jonathan

on 09 Nov 2010 at 2:29 pm

Hell yeah, pie > cake forever. Cake is just different varieties of sugar and thus insanely sweet, but pie is crust plus fruit plus awesome.

#

sara

on 09 Nov 2010 at 2:46 pm

There is this toothrotter of a pie the Amish make called "shoe fly" pie. Its mollasses topped with brown sugar crumbel in a shell.

My husband kills for the stuff.

They also have a delicacy called fasnachts which is a lard based dough which is then fried in lard and covered in sugar….people often eat it with mollasses

Ken – My mom made me an awesome Pac-Man cake when I was 13. Is that too old to be into Pac-Man cakes?

Sara – I like it best when sexy Amish girls go wild on Rumspringa!

#

Paul from Saint Paul

on 09 Nov 2010 at 5:40 pm

A Pac-Man cake for a teenager is a red warning flag. But it was the best cake ever, so it doesn't matter.

There is no reason to choose pie OR cake when you can have both.

#

elgati

on 09 Nov 2010 at 11:27 pm

This not a reply to the cake post, sorry but I couldn't find an email link.
Anyway here it goes:
http://gothamist.com/2010/11/09/its_aboot_time_canada_gets_its_own.php

My apologies in advance.

Elgati – I'm going to hunt you down and kill you. I liked not knowing this existed. HOW can this be real? The world is over. The end is near. I give the human race 30 more years.

My day is already ruined and it's only 7:40 am

#

elgati

on 10 Nov 2010 at 2:21 pm

Hey Listy,
If you got through the whole thing then you are definitely the stronger of the two. I had to quit at "The Czek," as I muttered "Why do I do this to myself? Why??"

#

kimster

on 04 Feb 2011 at 9:11 pm

I went to funeral where the cake was decorated with pictures of the deceased from birth to death. Now THAT takes the frickin' cake.