Dec 02 2010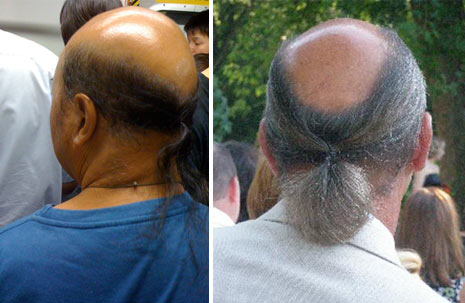 Sad. Look at your long, luxurious silken mane! Tell me young man, are you a model for romance novels? I honestly thought for a second that you were Fabio. Seriously, I'm not kidding, I saw you and… OH MY GOD, YOU'RE BALD! MY EYES! I WAS SO DISTRACTED BY YOUR BEAUTIFUL PONYTAIL THAT I HADN'T NOTICED! IT BURNS! Come on pal, do you really think those last few tragic strands of hair clinging for life on the back of your head are enough to distract from the polished orb that sits just above? I know you desperately want to tell the world "I'm fun! I own Bruce Springsteen's greatest hits!" but maybe it's time to throw in the hair towel and admit that Mother Nature is kicking your head's ass. I know you have a bit of a "rep" to maintain at the shoelace factory but maybe it's time to let that new guy in shipping be the "cool, easy-going rock dude" for a while. Nothing wrong with being bald, right? Maybe if you shave your head you will acquire an LL Cool J vibe, or better yet Bruce Willis! There, now we're talking, you want to be the new Bruce Willis in the neighborhood? I'll make you a deal, cut off that feeble tail, bury it in backyard and I will buy you a harmonica. I think Bruce Willis said it best… respect yourself.
25 comments to "Balding men with ponytails!"
#

Paul from Saint Paul

on 02 Dec 2010 at 7:34 am

I'm a bit surprised you didn't include this clip:

http://www.funnyordie.com/videos/eec0f64fc5/between-two-ferns-with-zach-galifianakis-bruce-willis

"Any plans to reboot the Grumpy Old Men franchise?"
"Women were much cleaner then."
[Arm on fire]: "What is that? Is that a wasp?"

Paul – Oh yeah, forgot about this. It's good but where's the harmonica? Willis without a harmonica is like Jesus without his magic tricks.

#

sara

on 02 Dec 2010 at 7:55 am

I'm not the typo police but
"WHAT to tell the world "I'm fun! "

with everyone pointing out slip ups lately I assume your either drinking and/or sleeping with your editor, hense letting it slide

sara – You sons of bitches are LUCKY I'm even finding the time to share my incredible opinions! Typos are cool, all the hipsters are into typos now.

#

Jonathan

on 02 Dec 2010 at 8:54 am

Listy, I can't believe you missed all of the mistakes in Sara's message correcting yours! "I assume your either drinking"…"hense"…painful!

Jonathan – I'm off my game. Yeah sara, what the fuck?

I'M STILL THE BEST!

#

sara

on 02 Dec 2010 at 9:19 am

"lucking" ?

Like I said I'm not the typo police, I would be unemployable if it wern't for spell check on Word

Listy is right though, typos are the new penny-farthings. Come to think of it drinking PBR causes me to make even more awesome tpyos!

I'M FUCKING BUSY!

I always thought the bald/balding guys with a ponytail were trying to get their ponytail hair to a length where they could do some kind of swirly upsweep to cover up the bald spot – you know, a la Donald Trump.

#

caleb

on 02 Dec 2010 at 11:50 am

i think all balding guys with ponytails should be required to play slap bass in jazz fusion bands.

#

Sarah in Minneapolis; a tribute

on 02 Dec 2010 at 11:54 am

Yes! They are like rat tails! Let it go. No need to hang on to those straggles to try to infer that you once had a glorious mane…can't anybody age with dignity anymore?

#

caleb

on 02 Dec 2010 at 12:16 pm

you know what i find somewhat odd also? old women with long hair. in my experience an old woman with long hair is either very wise or very crazy.

#

Diss Content

on 02 Dec 2010 at 12:59 pm

Where's the justice?

Bruce Willis makes a video with a pointing, Pointer sister midpoint through, as a counterpoint to a pointless existence filled with disappointment and… ahh…. umm… think I got lost in my own allegory.

Oh yeah, bald guys with pointy ponytails.

Typos are the balding ponytails of written work.

Just shave the shit off, already.

#

Paul in Saint Paul

on 02 Dec 2010 at 4:57 pm

I will pick up Diss's counterpoint, brilliant, but densely nested in an allegorical bald-ponytail:

Counterpoint: Samuel L. Jackson (balding, but not spit-shine bald) as Ordell in Jackie Brown. His screen magnetism skyrockets in correlation with the degree of his hairstyle awfulness.

He can even pull off a fucking beret.

#

starr

on 02 Dec 2010 at 6:10 pm

sam jackson is the shit

#

BeLL

on 02 Dec 2010 at 6:26 pm

I think the only thing worse than bald guys with ponytails, is bald guys who just wear long hair in the back.. You know, the "Larry Fine / Ben Franklin" look. I always find that be be the most pathetic (and annoying) "do" of all. No wonder Moe was always ripping out Larry's hair! LöL

#

Steph

on 02 Dec 2010 at 10:56 pm

Anyone that can pull off a beret is the fucking shit. I would do bad things to Sam if given the opportunity. By bad, I mean really goooooood things. He's a sexy motherfucker. Oh, by the way, If you're bald, shave your motherfuckiing head. Don't keep skeevie, nasty ponytails. Let your hair go. just let it go!

#

Steph

on 02 Dec 2010 at 11:00 pm

Amen.

caleb, I am an old woman with a long, glorious mane. I am both wise AND crazy.

#

Lauren

on 05 Dec 2010 at 8:50 pm

Fact is NO man should wear a goddamn ponytail balding or not case in point Steven Seagal.

#

Baron Emile de Rothshild the 643rd

on 21 Jan 2011 at 11:25 am

The only thing worse than a bald man with a ponytail is when he lets that tail out of its sorry bonds and it becomes a skullet.

[…] of hair way at the back of his head that was pulled into a long straggly ponytail, also known as a man pony. And beside him was a woman with the biggest helmet of hair frozen in place by no less than two […]

#

chris

on 03 Jul 2014 at 11:31 am

who cares what these stupid asses think. I am just some bald man with a ponytail and I get laid 2-3 times per day regularly. fuck man haters.

Chris – Masturbating with lunch meat does not count as getting laid. Yes, it feels incredible, but by definition it's not actual sex.