Dec 07 2010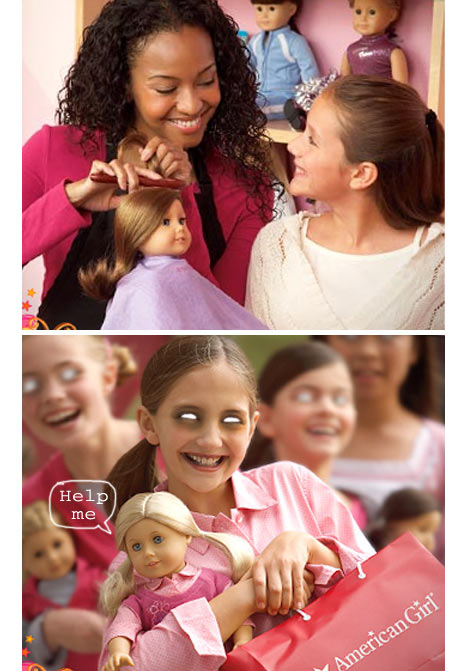 If you would like to climb inside my mind and get a better feel of my mental state when I think about The American Girl Store, I suggest you turn your speakers up as loudly as they will go, tape them to your head with duct tape, smash a habanero chili into your eyes, knock your teeth out with a hammer and play the video below.
I fucking despise The American Girl Store and the army of rich, white 8-year-old zombies they are grooming to take over the planet. If my daughter asked for an American Girl doll I would kindly ask her to pack whatever she could fit into a paper sack and then she and I would take a leisurely drive to the orphanage. The uncomfortable silence of the car ride would only be broken when I softly say, "You are no longer my child" from a rolled down car window as the nuns take her and her paper sack into her new home.
"What's the big deal, it's just dolls" you say. After I'm done throwing my beer in your face I will tell you what the big deal is. Here's the way it works… first you have to be a rich white girl. Second, you have to have a bat-shit crazy mother who is trying to compensate for her own fucked up childhood and thinks it perfectly normal to spend several hundred dollars taking you and your fucking piece-of-shit doll for a day of pampering most adults can only dream of. These soulless zombie dolls spend the day getting their hair styled, attending tea parties, buying expensive clothing, snorting top notch Colombian cocaine off a Huey Lewis and the News CD while getting jerked off in a 1993 Honda Civic in the Burger King parking lot near the airport. Wait, somehow that turned into my day.
The point is this, FUCK YOU and your fucking doll that's dressed like you and is an asshole like you even though you are only 9 and fuck your overnight stays at the Ritz for the low low starting price of only $430 "for a moderate room."
Take the pain away, Abominable Iron Sloth!
39 comments to "American Girl dolls!"
#

Fartface

on 07 Dec 2010 at 7:36 am

Thank you Listy, for making my panties wet every morning.

#

sara

on 07 Dec 2010 at 7:41 am

Jesus Christ I sell out tours to New York for these brats to get there dolls hair did. I actualy heard a little girl complain her friend couldn't come along and her mother said "These dolls are for girls of a certain……stature" Bitch

These are the little girls who grow up and expect….no DEMAND the 6 month salary engagement ring

Fartface – Thank you for making my panties moist.

Sara – Wait, you work for the Devil?

#

Jonathan

on 07 Dec 2010 at 8:54 am

I live in Stamford, CT, which is surrounded by Greenwich, Darien and New Canaan, three of the richest towns in the United States. I can't tell you how many times I've been riding the train home from NYC and seen little Aryan girls dressed like country club biotches toting giant American Girl bags. If American Girl dolls aren't on "Stuff White People Like," they should be. Despite being expensive as fuck, the whole thing is just so cheesy and generic, like the Cheesecake Factory.

Wow, I really wanted one of these back in the late 80's but thankfully my mom was not bat-shit crazy and spent the money on fixing my teeth instead.

#

sara

on 07 Dec 2010 at 11:47 am

The sad thing is even in Hell the receptionist still complains the office is to cold.

#

hodan

on 07 Dec 2010 at 1:16 pm

lol@ that video. i never understood the point of, as johnny rotten puts it, 'larynx rock'.
yeah i hate dolls.

#

Lawrence

on 07 Dec 2010 at 2:59 pm

If I had a daughter and she was insane enough to ask me for one, I'd buy it, then rape it and bury it in the back yard.

I hate those Beezlebub crafted status symbols as much as I hate the man-balls ornaments on the back of some inadequate assholes car.

Please, write about that Listy. Surely I can't be the only one.

#

Erica

on 07 Dec 2010 at 6:37 pm

Uh, we got this catalogue in the mail a few days ago:

Creepiest part is that you can buy the matching human clothing at a size XXL or 14-16 year old girl! Yikes. My Cabbage Patch Dolls looked nothing like a human baby…they looked like morbidly obese troll babies with yarn hair. Exactly as it should be.

#

Nikki

on 07 Dec 2010 at 7:36 pm

I used to want one when I was kid, but when a friend of mine that got one said she wasn't allowed to play house with it because it was expensive, I thought they were stupid. I now find them a waste of money – I was perfectly fine with my baby dolls that cost $5 when I was a kid, and I could actually PLAY with those.

#

sKara

on 07 Dec 2010 at 7:41 pm

changing subject to the ritz… they only allow 2 children.. i tried to book a room.. but i have 8 kids..fine ritz this place sounds like boresville anyway.

Erica – AHHHHHHHH MY EYES! I just looked at mytwin.com for less than 5 seconds and I'm seriously considering suicide.

Hodan – FYI, I fucking LOVE Abominable Iron Sloth! Seriously.

#

Erica

on 08 Dec 2010 at 2:48 pm

Listy – in my minds eye this doll looks the closest to what I would imagine you looking like if you were in drag as a toddler:

http://www.mytwinn.com/Vintage-Friends/Friends/Adopt-a-Friend_443

Merry Christmas from the proud makers of MyTwinnCreepyCreeperton.com

🙂

Erica – Close but I never wear pink, it's just a thing with me. Other than that, yeah, that's pretty much me.

#

Erin

on 10 Mar 2012 at 4:11 am

That's actually quite rude. I own 2 of those dolls, and my parents are not rich. I bought them myself with my own money. I haven't even been to the AGP. I'm in Australia.

OMFG THANK YOU for saying it out loud. I fucking HATE American Girl dolls. I managed to raise 13 to not ever ask for one, but 10 just saved up enough of her own money (it took years!) to buy one herself. I about puked while ordering it for her. The whole thing makes me sick and I will never spend one penny on any of it but if 10 wants to earn the money, I suppose it's slightly better than spending that $ on meth.

#

Red

on 23 Jan 2013 at 10:03 pm

Wow, a bunch of really angry people here…Women? Seriously? I thought this level of anger was reserved for jerky dudes. But then again, a few of you are men.

The "I'd buy it and rape it" comment above is the most disturbing of all. Lawrence, the fact that you wrote "if I had a daughter" made me breathe in relief. Sicko.

You should all take issue with violent video games before having a beef with girly dolls…But wait! Are you people the ones who love the violent video games? Yeah, that would explain it. There's a kid who just murdered his whole family and claims to love video games. How many mass murderers owned AG dolls?

And, oh yeah, one more thing…I have over a dozen beautiful, dreamy AG dolls, most wonderfully restored by me from eBay, my daughter loves them, and, no, I am not rich or from Connecticut. They are just dolls, people, overpriced, yes, but so is life anyway. Your childhood only goes around once and if you're lucky you get to keep a part of it inside you forever. Or else you turn into an angry, snarky fool who takes issue with toys.

I hate video games.

#

Rebecca

on 17 Apr 2013 at 12:44 pm

You people are SICK! If you don't like something, for goodness sakes just LET IT GO!! Anyone would think you actually WANT these the way you hype about them all the time. What kind of website IS this, anyway?!?!

#

Rebecca

on 17 Apr 2013 at 12:45 pm

Red, I totally agree with you. You go, girl! (Or man, not sure which)

#

Rebecca

on 17 Apr 2013 at 12:45 pm

And whoever makes these websites, I REALLY hope you don't have a kid. HATER!!!!

Rebecca – Perhaps you should follow your own advice and not comment on things you don't like. "LET IT GO!" Oh I'm sorry I forgot, YOU are allowed to complain about something YOU don't like (i.e. this amazing website) but I an not allowed to complain about something I don't like (everything).

P.S. Your doll hates you.

#

Kellie

on 08 May 2013 at 4:20 pm

I'm ten years old and love American Girl. I have 14 and they're not creepy at all!!!! The way you stated them above hurts my feelings. All doll lines show diversity!!!! Their motto is "Follow your Inner Star". They help girls build their self esteem, confidence, and give them a long lasting relationship with their doll. These dolls have nothing to do with fashion. And the picture of girls coming from the American Girl Place with zombie eyes is extremely inappropriate. The doll stating "Help me" nearly made me cry. I treat my American Girl Dolls with care. I love them and they love me back. If you wanna hate on a doll, please look at Barbie, Bratz, Monster High, Moxie Girls, or those rail-thin fashion dolls. But don't hate on one of the very few educational doll brands out there!!!!

Why don't I believe this was written by a 10-year-old?

#

Kellie

on 09 May 2013 at 5:41 pm

Dude!!!! First you hate on a perfectly education doll brand that I love then you hate on my age? Do you think I'm too old for American Girl Dolls? Ten year olds could play with them!!!! I hate this website!!!! I bet if you weren't so busy hating everything you'd be a happier person? If you have kids you seriously shouldn't. If I were your child I'd run away from home.

#

Kellie

on 09 May 2013 at 5:43 pm

I'm glad I have a nice mom who appreciates American Girl Dolls and their connection to history. She's an example of a good mom. On the other hand you're not. I'd only think of running away from home if I were your daughter.

#

Kellie

on 09 May 2013 at 5:45 pm

Otherwise I'd never think of running away from home. I love my amazing life and you seem to hate your life and surroundings. The only post on this website I agree with is Bratz cause THEY'RE the stupid dolls. American Girl Dolls aren't. So quit trashing things on this website, get out, enjoy the fresh air, and be a happy person!!!!

You are so silly. If you want to make people believe you are a 10-year-old child I would suggest speaking like one. Also, try using a fake email address next time so I'm not able to see other posts you have made (as an adult) on other websites.

Do you teach your children to lie too?

#

Kellie

on 19 May 2013 at 5:01 pm

Look Listy. The one thing children shouldn't say is profanity or mean words. Otherwise we're free to speak in any style we want. Yep I'm ten years old and won't be an official adult until 2021 which is the year I turn eighteen. I've never made a post pretending to be an adult cause I don't lie.

#

Amy

on 28 Nov 2013 at 9:30 am

What on Earth is wrong with you? I agree with the girl above, American Girl Dolls deliver positive messages AND you seriously need to get out and enjoy life! I know that I enjoy and LOVE my life, so do my three amazing daughters ages newly 11, 8, and 3. Life goes by too fast for the hate that you deliver on this terrible blog of yours.
Lastly, why do you use so much profanity?

Amy – Let me first say to you, grow the fuck up. Secondly, let me assure you that I get out and enjoy life at a level that would make your head spin.

What exactly is the positive message delivered by these expensive rich girl dolls? Is the message "millions of children go to bed without food every day but others can live a frivolous life filled with spa days for their dolls?" There could be no more perfect name than "AMERICAN Girl Doll" for this concept.

#

Amy

on 28 Nov 2013 at 6:21 pm

I get an email when someone replies to my post, and there was that lovely little email in my inbox justifying that you must LOVE to judge! Me and my daughters give back to the community, and AG Dolls don't say anything about spa days. They have historical dolls whose budget is anything but and they go through things that kids this age go through! The dolls are so worth it.

#

thealefamily25

on 28 Nov 2013 at 8:20 pm

I love you Listy. Your blog is the best blog in the history of ever and Amy, I love to hate and rant and cuss AND I hate American Awful Dolls. I have daughter Kim 11 and son Jay 10.

Amy – They don't talk about spa days? http://www.americangirl.com/stores/experience_index.php

thealefamily – Kim and Jay are obviously going to be awesome. Your love of me is appreciated and correct.

#

Amy

on 29 Nov 2013 at 8:32 am

It doesn't say the word spa days, and that's not the main focus.
Also, the dolls are meant to be heirlooms that could be passed down from generation to generation.

I can see from your IP address that you are commenting as two different people on the site, so I'm bored now.

#

Amy

on 29 Nov 2013 at 1:49 pm

Commenting as two people? If it appears so, which it shouldn't because I wouldn't ever do that (as it's a sign of irresponsibility) then there's something wrong.

#

thealefamily25

on 06 Dec 2013 at 8:48 pm

I HATE AG Dolls. I have a stupid daughter, Kim, 11, and stupid son, Jay, 10. There are no AG dolls on our stupid trashy one level New Orleans home, no AG books, no AG movies, no AG catalogues, and no AG magazines.I want to rip the heads off the creepy AG Dolls and inject poison into their creepy eyes. American Girl could stuff their.creepy, overpriced dolls where the sun don't shine.