Dec 15 2010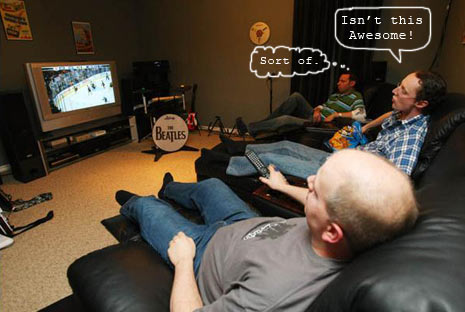 If you have to declare a sad little space in your basement as your "man" space, are you really much of a man? Do you even deserve a cave? How about this… the whole house is my God damn cave, deal with it Carol!
I know you had high hopes when you bought the poker table and the neon Miller Lite sign but I'm willing to bet you have never used that table for anything other than folding shirts. You hung your guitars on the wall dreaming of late night jam sessions with drunken bros but sadly most of your pals are simply too tired at the end of the day to come hang out in your dank basement and play Counting Crows songs. Your Xbox and Playstation sit under a layer of dust, your bar stays un-stocked and the fulfillment of your dreams remains hollow, just like the life-sized Stormtrooper costume that stands in the corner with a Jimmy Buffett hat on its head… watching you… judging you… feeling sorry for you. WHAT DID YOU EVER DO THAT'S SO GREAT WITH YOUR LIFE, STORMTOOPER?!? Fuck you Stormtooper!
Carol, will you play Guitar Hero with me? Carol?
22 comments to "Man caves!"
Being married, I've never understood this need for "man caves". Stop being a pussy, and take what you want. A friend of mine got married 5 months ago, and he's already been relegated to a tiny, dark, smelly corner of his basement. I warned him. But did he listen? Of course not…because "it's her house too". Now the poor schmuck can't even do what he wants with the garage. THE GARAGE!!!! The domain of all that is masculine! Cowboy up, motherfucker!!

Billmiguk – I hope your friend is getting used to his new vagina. That's the ironic thing about man caves, on the surface they are this macho thing but in reality they are about as manly as scrapbooking.

#

sara

on 15 Dec 2010 at 8:16 am

Isn't this just an expensive "play room". This whole Peter Pan thing is out of hand.
To be honest I'd realy miss my husband if he was relegated to the basement all the time. Even after 7 years I still enjoy playing video games and drinking WITH him.

If you keep beating your man down enough you end up with "Frank the Tank" and no one wants that….well, married to that at least.

sara – You should teach a "How to be a cool wife" seminar. I think a lot of couples learn how to interact with each other from sitcoms.

#

sara

on 15 Dec 2010 at 8:36 am

Tip #1-Refer to your monthly visitor as "Blow Job Week!"

But your sitcom wife thing may be a horrible truth. I can't tell you how many times I've caught my husband yelling at the TV when Debra from Everybody Loves raymond is bitching, which means she's onscreen.

Me: "Its OK Tim, she's not real!"
Husband: "Thank god…..thank god"

sara – God bless blowjob week.

I'll preface this by saying I do not have a man cave. But if what you're saying is it's only a man cave if it goes sadly underused, then I get it. I like Sara's seminar idea. I have a wife who just doesn't like sports nearly as much as I do, which is fine; I adore sports but yet, am not a Bro, Listy will verify this, we've actually attended a sporting event together. And I don't like The Real Housewives of Wherever, Glee or The View, so we need separate TVs sometimes, which is why the bedroom has one too. Me and the wife DO like to cuddle for DVR Guy Fieri marathons every week. ; ) (Just kidding, Listy)

#

Diss Content

on 15 Dec 2010 at 11:55 am

Is there such a thing as a woman cave? There seems to be a little overcompensation going on here. This is similar to radiation hazard or worthless piece of dog crap. Unless there is in fact safe radiation or canine leavings with some sort of commercial value that has escaped my attention, just 'cave' should suffice.

Even the cave will fall woefully short of any manly requirements. Oh, sure there is a big TV and maybe even a pool table or dart board but the single accoutrement that lets the world know this space belongs to man is always absent.

This of course being a urinal. Why is such a device available in every machine shop, casino and strip club but never in a home? Sorry but bidets don't count and never will. I want to see a cave with a urinal that has a man name like Eljer or American Standard and a gleaming chrome trip lever that you can hit with an elbow if a flush is even required. Nothing would be more welcoming and apparently unique.

To those men who 'think' they have been granted a 'man cave', you are likely the victims of some universal manipulation that women have secretly plotted while in group meetings in their restrooms. How can we be the Kings of our caves if we are not even a Colonel of a urinal?

#

sara

on 15 Dec 2010 at 2:14 pm

a urinal would seem like a welcome option to the woman who makes her man keep all his stuff in one dank room and I'm sure freaks when his drinking buddies use the "guest" towels. THOSE ARE FOR DECORATION!!

#

Paul from Saint Paul

on 15 Dec 2010 at 8:24 pm

Diss, I have a friend whose father is whose father is seven feet tall. He installed a urinal in his home bathroom that was set outrageously high on the wall, specifically for his tall frame.

However, this example of manhood may be marred by the fact that the urinal installation came at the urging of his wife, who had tired of the pee splatter:

I've often said if I ever become rich, I will install a urinal. I am not rich, yet but home for an eventual installation.

HOPE for an eventual installation, not HOME.

I always wanted a hand drier in my bathroom. Oh, and a diner-style commercial griddle in my kitchen.

#

caleb

on 16 Dec 2010 at 9:04 am

Hey Listy – it's no commercial grade griddle, but you may want to invest in one of these: http://www.williams-sonoma.com/products/1954023/?catalogId=56&bnrid=3154801&cm_ven=Shopping&cm_cat=NexTag&cm_pla=default&cm_ite=default

And while you're at it, get one of these: http://www.mangrate.com/

oh man… it's 9am and i'm craving a pork loin.

#

8bithero

on 16 Dec 2010 at 10:43 am

We use our finished basement as our sons' (ages 5 and 7) play area. It has all of their toys and all of my video game systems (they and their friends love N64 Goldeneye and some NES Contra).

My boys have declared that area their "man cave".

They can have it. Gives me and the misses privacy.

*wink wink nudge nudge*

#

Jonathan

on 16 Dec 2010 at 1:37 pm

Ken – you are my second hero (after Listy) because you attended a sporting event with Listy. I'm telling you, we should have ListCon and get together and drink and bitch about Celtic Thunder!

Jonathan – Hanging out with me is just about the greatest thing a person could do with their time. I am awesome, simply awesome.

Caleb – I might need the Man Grate. Santa?

#

Jonathan

on 18 Dec 2010 at 5:18 pm

Name the time and the place and I'm there!!

#

Lauren

on 27 Dec 2010 at 12:59 am

I'm with Sara it's a grown-up[supposed to be anyway] version of a treehouse only the wee wifey is now 'mom' who you need space from and yes my basement WILL be a woman cave damn what my man says. He shouldn't be running things anyway

#

Tom

on 13 May 2011 at 4:12 pm

I couldn't agree more!! I think we should ban the phrase 'man cave' from the English language

#

Diva

on 17 Nov 2011 at 9:53 am

Any wife who doesn't want to play WITH her husband possibly IN the stormtrooper suit is just missing what is best about having a man in your life: having a safe place to admit that all that girlie doilie lacy handtowel crap is awful and a waste of time. Who wants to be everybody's Mom? Now, IF you have a husband who won't play with you at all or at least almost as much as he plays with his bros, you made need to do a little gay porn check of the mancave, and/or a seriously trashy lingerie test intervention.
Sara I love your idea of calling your special monthly transformation blowgun week, god knows they deserve it.

Lastly, if you're a real woman no amount of man cave should ever be able to cancel that out. If you wanna test my theory put on your hot jeans and go to home depot or an auto parts store. They are so HELPFUL.