Dec 16 2010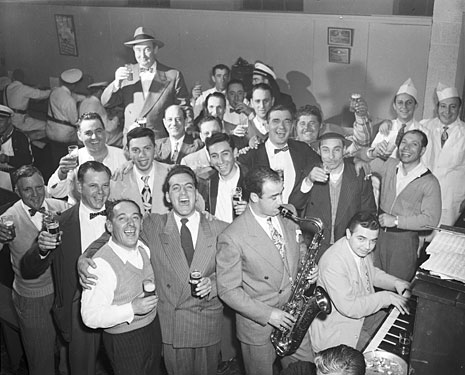 So there's no post today but it's not my fault. Last night was my office Christmas party and I'm surprised I'm even alive. I'm pretty sure I got someone pregnant last night but I don't know if it was Janet from accounting or Keith the IT guy. Let's just sum up the night with a list of things I witnessed with my own eyes… a woman throwing up into her own lap, a tow truck, a small electrical fire, 5 breasts, 1 penis (not including my own), my boss's daughter forcing me to watch her strip totally nude in the bathroom, shoplifting, public urination, a man eat an entire XL pizza in under 7 minutes and a dog wearing pants.
Also, none of that is true, except the boss's daughter stripping in the bathroom, that really happened but it was 12 years ago. Honestly, I was just too tired last night to write. My office party is Friday but I work with 3 people so the chance of crazy antics is low. I am sorry.
Shut up and watch this instead…
The original, in case you are not old like me
6 comments to "Don't blame me, blame the drunken office party!"
#

Diss Content

on 16 Dec 2010 at 11:57 am

One of the most surreal moments in television and on so many levels.

First is that painful introduction of stiff, staged and bland dialog so stuffed with cheese that it oozes out of every pixel of the picture and syllable of audio. But it added so much to the dynamic of strangers separated by four generations in age about to spontaneously sing a pair of asynchronous duets.

Of course my father recognized Crosby and said "Old Bing can sing circles around that guy you like".

Where did the old man get into his head that I listened to Ziggy Stardust? "Bowie is not a member of Lynyrd Skynyrd", I responded while trying to imagine Crosby's crooning version of 'Freebird' or 'That Smell'.

"Too bad" my father continued, "Bing won't be making anymore songs since he died last October." I was hit with a jolt of irony and responded, "Lynyrd Skynyrd died the same month". We both realized that there was some common ground between us in how we mourned their passing.

My dad raised his bourbon filled tumbler glass and said "Here's to a pair of great singers, Bing and Leonard Uhhh…" I spent the balance of the night watching the program in stunned, yet reflective silence.

#

sara

on 16 Dec 2010 at 2:14 pm

Nothing says holidays like Will Ferrell. I wish I could find a link of him as Goulet singing "Its the most wonderful time of the year" on the spinning platform that makes him sick, spraying puke as he goes around and around and around

Diss – I pray that is a true story. If not, I don't want to know.

Now I wanna hear the bosses daughter story.

Sounds awesome.

#

Lizzz

on 16 Dec 2010 at 6:51 pm

Greetings from Brazil. Very nice and cozy weblog. I feel at home… 🙂

HEY: THE BING-CROSBY / DAVID-BOWIE TWIN-VIDEOs PAIR IS AWE-SOME: MY HAT IS OFF TO YOU, MR. YOUJUSTMADEMYLIST !!
BTW: I WROTE YR SITE-ADDRESS DOWN SO I CAN GO THERE IN THE FUTURE: GOOD JOB !!