Jan 04 2011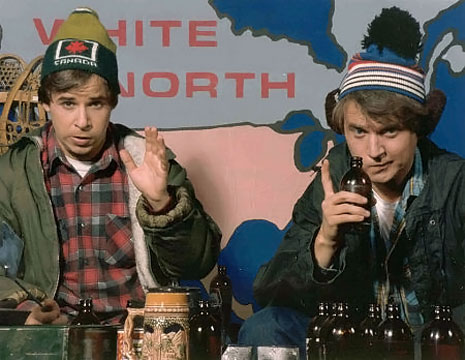 OK, before you get your hockey pants all up in a bunch, I will say that I also despise the accents of my fellow Chicagoans. And let me say this as well, I have been to Canada several times and always enjoyed myself. Any place with a chain of stores called "The Beer Store" has to be at least a little awesome. But those accents, eh?
Sure, Canada has exported some pretty important people who have made living on this godforsaken planet a little bit better… Neil Young, Rush, Pamela Anderson and, best of all, porn star and legendary "rope" shooter Peter North. I'm even willing to forgive you for Keanu Reeves and the Barenaked Ladies but I refuse to excuse those accents. Wait, I just remembered, fucking Nickelback* is from Canada. Thanks for shitting that one out of your country's butthole all over us, Canada!
Lets get back to collectively hating the Canadian accent. It's hard to really describe why I hate it so much. You might think it's the annoying way they pronounce "out" as "oot," or "sorry" like "soar-y," or instead of saying "process" like "pra-cess" they insist on showing off and saying "prooocess," but that's just the icing on the back bacon. At the core of their horrible accent lies something far more sinister… over e•nun•ci•a•tion!
Every precious letter and syllable is given its chance to shine and be a star. While the rest of the world mashes sounds and words into one flowing mess, Canadians talk-like-they-are-speaking-to-a-deaf-person-who-reads-lips.
It doesn't end there though. On top of this, Canadians end every sentence as if it were a question? "I'm going to the store? To buy some beer? If Bill calls? Tell him I'll be back soon?" What's with all the questions, Canada?
*I know, we gave the world George W. Bush, but still, Nickelback?
35 comments to "Canadian accents!"