Jan 10 2011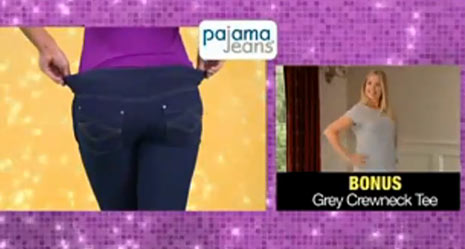 Do you have an important funeral to attend but you just don't feel like getting all dressed up in blue jeans for it? Have you been invited to a wedding and think it's unfair that you can't just wear your pajamas? I mean what's more important than YOUR comfort, right? For years women have suffered the inhumane torture of wearing jeans in public. What, is everyone supposed to be the Queen of England?
Introducing Pajama Jeans, you lazy piece of shit! Now you can wear your PJs to your mother's funeral and all the other dopes in attendance will think you have dressed up in jeans. Joke's on them, it's our little secret.
Pajama Jeans provide the best of both worlds… the laziness of wearing jeans every day, and the laziness of wearing your pajamas in public! Our patented stretchy material works for all shapes and sizes, so cramming your fat ass in there for a trip to Walmart will be a snap. The special interior "Dormi Soft" material is as soft as a baby's face. It's like rubbing your sweaty vagina against a cute baby's face, what could be better?!?
You can wear your pretend jeans with sandals, bare feet, Crocs, or if you have an important court date for your recent D.U.I. you can even wear them with flip-flops.
But wait, there's more! You can even work out in your magical fake jeans. I'm just kidding, we all now there's no need for you to work out, it's McDonalds' fault you are fat. You should fucking sue!
Order now and we will throw in a free T-shirt that you will most likely use to wipe Slurpee spills off your belly.
Finally, Americans have a way to dress casually! Order your Pajama Jeans NOW!!
16 comments to "Pajama Jeans!"
#

Jim Jones

on 10 Jan 2011 at 6:52 am

You should have done the commercial, I bet more people would buy them

#

Rebecca

on 10 Jan 2011 at 8:39 am

I saw the ad for these the other day and I thought of you! I figured you would have some choice words for this new "fashion" disaster. Ha ha ha.

I saw these as a futile attempt to make polyester pants more acceptable to the widening masses. Not to mention, they're ugly.

#

Ben

on 10 Jan 2011 at 9:03 am

Like a sexy second skin…?

#

sara

on 10 Jan 2011 at 10:45 am

I was at the Eagles game this sunday with my ditzy cousins who insist on wearing Jeggins all the time (while I was wearing themal underwear under my jeans) They were whining that no one has invented warmer jeggings "ya know lined with fur, Like Uggs!" I rolled my eyes, but I should have figured for every moron there is a market

I will forward this post imediately

#

Nikki

on 10 Jan 2011 at 7:32 pm

Dude, do I know you?
I went to Wal Mart today and ran into a friend I hadn't seen for awhile. She's a big girl, and was wearing these. I wanted to cry. They're skin tight, and it was so…ugh.
I remember that she would also wear short-shorts in the middle of winter, which is stupid enough by itself – it was just made worse by the fact that someone of her weight SHOULDN'T wear them…

I'm mean. 🙁

#

superslut

on 10 Jan 2011 at 8:44 pm

Do they make these acid-washed?

#

BeLL

on 11 Jan 2011 at 5:11 pm

I CANNOT believe I actually saw some girl wearing these today! I mean a young girl.. Not some middle aged woman that likes to wear those tacky "Mom Jeans".

What the Fu-K kind of redneck, trailerpark trash… Uggg! The world's coming to an end! :O

Bell – Time to build your underground bunker and stock up on food.

#

BeLL

on 11 Jan 2011 at 7:11 pm

Hey.. That's Sounds like a Really Great Idea right about now! 😀

#

Lily

on 12 Jan 2011 at 1:49 am

Ohhhh shit. Just.. shit.

That is all.

#

Creature of Habit

on 13 Jan 2011 at 4:23 pm

True story: I was watching Spongebob w/ the boys and this commercial came on. It's like a 10 minute commercial…. about 1/3 of the way into it, Milo looks at me and deadpans "this is the weirdest thing I've ever seen". And Fin said "And the longest!!!".

It was an awesome Christmas memory.

Those kids are wise beyond their years!

#

Stee

on 12 Jul 2011 at 7:44 pm

I am the girl in the commercial…purple shirt! PJeans are so comfy. I am a size 4 and don't have a weight problem. The inventor isn't crying that's for sure! They are really comfy and cute on! I don't get paid to say this…it's just the truth. Don't knock it till you try them on…you won't want to take them off weather you are skinny or fat!!!!!!!! LOL

Stee – Hey, as long as they are comfy who cares if you look like a complete jackass. How fucking casual do we need to be?

#

corp

on 28 Jul 2011 at 1:19 am

Is it really that hard to take off what you wear when you sleep (if anything) and put on a fucking pair of pants before you go out. Im not surprised since this is america, but this is still really fucking stupid. They may as well make pajama suits a tuxedos. Guaranteed a promotion at work and a unforgettable wedding