Jan 12 2011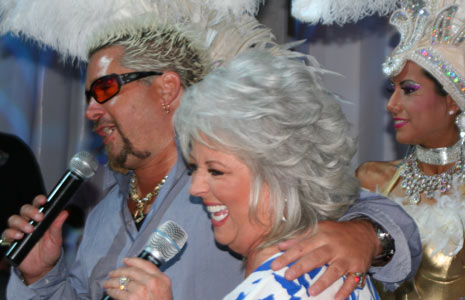 Because I'm awesome, I've been working 14 hour days… everyone wants a piece of my talent. Of course this means you, my flock, suffer. For this, I am sort of sorry.
Blah blah blah, Paula Deen, bacon, butter, mayonnaise, fat, loud, giant head, scary eyes, more butter… You get the point.
If you have ever doubted this woman's talent, just check out this advanced recipe for English Peas only a pro could come up with.
Fuck off, I'm going to bed.
16 comments to "Paula Deen and her English Peas!"
#

Ben

on 12 Jan 2011 at 4:58 am

Apology sort of accepted.

#

Jim Jones

on 12 Jan 2011 at 6:45 am

Shit, how am I going to get butter, the store is sold out because of this blizzard! What the fuck am I to do????

#

sara

on 12 Jan 2011 at 7:26 am

My mom plays this drinking game where you take a shot every time she says "stick a' budder!"

my moms an alcoholic

#

caleb

on 12 Jan 2011 at 9:12 am

"I can't wait to wrap my lips around this hog!" – Paula Deen

#

Melissa

on 12 Jan 2011 at 10:51 am

Paula Deen is rad.

#

Diss Content

on 12 Jan 2011 at 12:46 pm

Use 1/4 cup (1/2 stick) and a stick is 1/4 pound of butter so that makes 1/8 pound or 2 ounces using the avoirdupois measures or 1.5 ounces if the Troy system is favored is melted in a small pot.

Great Paula, all this higher math about the precise measures of butter and you give me 'small pot' to work with. Bitch. What is the international standard for 'small pot'? Crate&Barrel (don't judge) lists anything below 6 quarts as a pan with a 12 quart pot being the de facto small. OK, ready to proceed.

2 cans (14 1/2 ounces) English peas, drained. So is this 14.5 ounces total from the two cans or 29 ounces aggregate post draining? Thanks again for the succinct prose Paula, oh luv ya, just luuuuv ya.

oh, those scamps at the Food Network are demonstrating their culinary mastery again! I will be patiently waiting for her recipe for bread w/ butter — or if I have a dinner party and want to make something extra special — french green beans with butter.

In the meantime, I hope Paula can explain where to buy those half sticks of butter because I went to my grocery store and there were no half sticks to be found. So none of those fancy, canned English peas for me until then!

#

Diss Content

on 12 Jan 2011 at 4:35 pm

It gets worse; "cover over medium heat until warm."

What is medium heat? My stovetop has four settings and none of them say medium. Is one to assume a linear scale when heat is most certainly logarithmic with an exponential curve? What exactly is warm? 98.6 degrees perhaps?

Is there any accounting for the thermal transfer which will occur during plating and how will this be mitigated? Fawk. All Paula has done is create more confusion and discourse regarding the preparation of English peas and the most important element….. presentation.

I don't take peas lying down and haven't for a long time. Small pots, medium heat and warm are just a microcosm of this linguistic skeleton of an elitist recipe. What would Paula's instructions be for driving? Obtain a small car and go someplace near at a moderate speed. Gee thanks Paula, see you next Tuesday.

"We know a place in Lincolnshire, where Mrs. Buckly picks peas over the frozen snows of July–Do you really mean it?…" –Orson Welles, the best person for the job when it comes to English Peas.

/"Yes, always."

#

BeLL

on 13 Jan 2011 at 12:59 am

Recipe for Boiled Water:

– Ingredients: Water (preferably clean)

– Direction: Take pot (not the kind you smoke) and pure in desired amount of wet ingredient. Place pot on heat source. (remember, fire bad.. so no touchy). Let set until you see lots and lots of bubbles. Remove from heat then pour down pants. Enjoy! >.<

#

sara

on 13 Jan 2011 at 7:56 am

"Mrs. Buckly's country peas, full of country goodness and green peaness…. what?" – Orson Wells on Animaniacs

Listy, even your non-posts are worthy…

Keep on keepin' on. See you in San Francisco soon?

#

Jim Jones

on 14 Jan 2011 at 6:54 am

Just got my new Maxim mag in the mail and was enjoying looking at the pictures and then I went blind when I saw an article on that douche Guy Fierri or Fietti or what ever the fuck his name is!

#

PlateofShrimp

on 24 Mar 2011 at 11:54 am

Reminds me of this culinary masterpiece from Rachel Ray

http://www.foodnetwork.com/recipes/rachael-ray/late-night-bacon-recipe/index.html

#

PlateofShrimp

on 24 Mar 2011 at 12:44 pm

Haha, wow, well I'm new to your blog and apparently you already posted the bit about late night bacon. Nice work.

#

Anna

on 27 Jun 2011 at 9:37 pm

I'm English and no-one in recorded history has cooked peas in butter, it's lard or GTFO