Jan 13 2011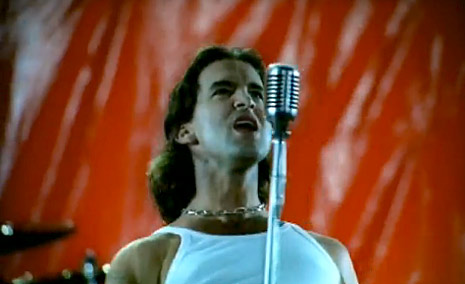 I already know that I'm the only person who cares about this so feel free to discuss any topic of your choice. I don't care, It's my list and I am sticking to my boring topic. Blogging fever, CATCH IT!
Dear Music Video Director Jerks,
Can you hear the slow clap I am currently performing in your honor? It's so slow that my first clap occurred on March 15th, 1993 and the next scheduled clap will take place on August 3rd of this year. This slow clap is so fucking epic that I don't anticipate the pace to pick up to its unstoppable fast clap ending until the year 2051. I have planned the culmination of my slow clap to coincide with the 100 year anniversary* of the microphone you love to use in every music video since the birth of MTV in the early 80s.
I get it, you think the Shure 55 series mics have more "presence" on film and make the singer look "sexy" when they inevitably wrap their hands around the mic and press their disease-ridden mouths up against it, but maybe it's time to move on to the next cliché. Hey, it's OK, don't cry! I'm sure if we work together we can find some untapped cliché to exploit. How about singers singing into giant, realistic dildos? If Justin Bieber was singing into a big, veiny rubber cock I might actually start watching music videos again.
So let's just put the wacky 50s microphones away and move on to big rubber dicks.
Thank you in advance.
Sincerely,
Listy
*I think it's about 100 years. If I'm wrong I don't need some microphone nerd telling me otherwise.
For the record, I had no idea if this Creed video actually used a Shure 55 microphone but I had a feeling. I was right. I'm always right.
Also for the record, I had no idea if any Alice in Chains videos used this mic but, once again, I was right. I should also point out that this song rules.
11 comments to "Music videos with "crazy" vintage microphones!"
#

Rachel

on 13 Jan 2011 at 10:25 am

methinks i spy a *choker* on Scott Stapp!!

#

sara

on 13 Jan 2011 at 3:15 pm

Scott's been making alot of appearances on this site, (LOVED the christmas card)

perhaps he truely his all that is wrong with the world

#

Lily

on 13 Jan 2011 at 4:24 pm

Does anyone even listen to Creed anymore? I haven't heard Scott Stapp's fucking annoying voice since 2004.

#

Piggdoor

on 13 Jan 2011 at 10:03 pm

You're right Listy but I gotta forgive Alice in chains.
On accounta they kick all possible ass.

IIIIIIIIIIIIIIIII'mmmmmmm the mannnnnnnnnn in the box.

why haven't these assholes made the list yet:

http://articles.moneycentral.msn.com/SavingandDebt/FindDealsOnline/article.aspx?post=ae283df4-94f8-451f-81bb-bd2e6e2b6fc2

#

Piggdoor

on 17 Jan 2011 at 2:49 am

I freakin hate that creed guy.

#

jason

on 19 Jan 2011 at 4:35 pm

layne probably was not going to sing (scream) over the intro music, but he saw the Billy Joel mic the crew set up for him, and then…..

#

BeeswaX

on 27 Mar 2011 at 11:06 am

AIC!

#

kev

on 11 Nov 2011 at 8:07 am

whats the AIC song you put up? its been taken down….
as for those mics….i agree with you 100%…..although, they do sound good in the studio…..its all just for show live.

#

soundboy3

on 11 Nov 2011 at 1:48 pm

maybe a Sennheiser 409 for a change??