Jan 24 2011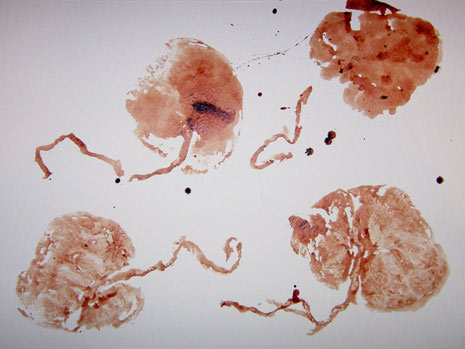 Come on, really? I mean… what? I don't need this shit, not today, not ever. Why?
25 comments to "Kill me! God, let me die already!"
#

Rachel

on 24 Jan 2011 at 4:28 am

if you haven't quit yet, don't give up now. just think… Jesse James is about to marry Kat VonD.

Oh, fuck me….Really?! As an artist, I might enjoy this if it were done in a more intellectual manner…but this shit has the artistic integrity of grandma's toilet paper cozies. This retard probably drank the cord blood too. "I'd rather have the detritus of this beautiful occasion inside of me, than allow those incredibly useful stem cells to help another child."

#

Fartface

on 24 Jan 2011 at 6:50 am

Remind me to save the embilical cord of my future children to save for the day my future children bring home their future boyfriend or grilfriend named Zyal or Fyor

#

sara

on 24 Jan 2011 at 8:46 am

What about tips on how to dispose of the placenta? I guess its medical waste and you shouldn't realy just throw it away, maybe you could eat it like Mathew Mcconaughey did.
Ugh.
I would throw up a little in my mouth every time I looked at my kid.

Do you hang this art up then? Like in their room next to the picture with their name written with letters that look like baby animals?

sorry about the bears dude. go stillers.

Mike – Meh. I hate football anyway.

#

Gimminy

on 24 Jan 2011 at 9:50 am

Thank you for ruining my Monday morning Listy.

#

sara

on 24 Jan 2011 at 10:52 am

Mike I was actualy rooting for the Bears (even though I'm from Pennsylvania)

I mostly wanted to see if they would show old SNL clips of the Super Fans, particulary Chris Farley coughing up a whole pork chop.

#

Lawrence

on 24 Jan 2011 at 11:10 am

Man…that's gross.

#

NerdyNerdenstein

on 24 Jan 2011 at 5:40 pm

Looking at the blood drops and picturing this horrendous process. *Vomit*

These poor children. Between the names and the placenta art, their childhood is going to be hard enough. But those two things indicate a childhood full a whole bunch of other crazy shit.

#

the diddler

on 24 Jan 2011 at 6:19 pm

dude, WTF! thanks alot! I knew I shouldn't have clicked that link before I ate lunch. You have ruined my appetite completely. I'm not even sure I'll be able to eat dinner as I cannot erase those images from my mind. Looks like its just gonna be bourbon for the rest of the day. Thanks again, jerk!

#

Lily

on 24 Jan 2011 at 10:08 pm

Just one more thing I wish I didn't know about.

#

Erica

on 24 Jan 2011 at 10:47 pm

Have you heard the bizarre story of the nursing student who was expelled for posing with a picture of a placenta on Facebook?

http://www.impactednurse.com/?p=2510

If I had known placentas were so cool/newsworthy I would have saved mine and sold them on eBay!!!

Erica – I'm on the school's side. Does EVERYTHING have to end up on Facebook?

#

Amy Louise

on 25 Jan 2011 at 1:19 am

gross

#

Jonathan

on 25 Jan 2011 at 11:00 am

As disgusting and just awful as placenta "art" is, Listy, on this day more than any other, I wish I had some way to send this to you in private so you could write a good rant about it.

http://ny.racked.com/archives/2011/01/24/_ahhhh_whats_that_we.php

Just fucking kill me.

Why didn't she also make a print of her bloody post-childbirth vulva? Makes about as much sense. Listen you stupid woman, if you wanted to do something special with them, how about donating them to stem-cell research and maybe . . . oh, I don't know . . . SAVE A LIFE?

Remember, if it's related to pregnancy or childbirth, it's art, so quit being so ignorant. She can hang these masterpieces up beside a lovely photo of her shirtless husband groping her naked belly.

Jonathan – People truly disgust me. I hope their house burns down and the die in that closet.

#

Tommy

on 26 Jan 2011 at 4:40 pm

Placenta stew, next best thing to fetal stew

#

Piggdoor

on 26 Jan 2011 at 6:31 pm

You're such a boner Listy.

#

Bobcats

on 02 Feb 2011 at 11:18 am

Mother fuck. I just read about this the other day. After the initial shock at the fact that some women are actually this fucked up, I told my fiance if I'm like this after we have kids to either punch me in the face or put me in a mental ward for some sort of post-pregnancy insanity.

#

Em

on 02 Feb 2011 at 3:40 pm

Wow! I actually threw up in my mouth a bit and I'm not just saying that.
Why do people suck?

#

ranter

on 23 Feb 2011 at 12:14 pm

God. She made multiple prints. Really, if you've seen one, you've seen them all. What a freak. I feel sorry for those children.

#

Bthing

on 26 Jul 2011 at 12:12 pm

@Sara, Matthew Mcconaughey did not eat his wife's placenta, they buried it under a tree. Still gross, but not quite as vom-worthy.

Not that anyone cares, old news is old; you just can't believe everything you read on the internet!