Feb 17 2011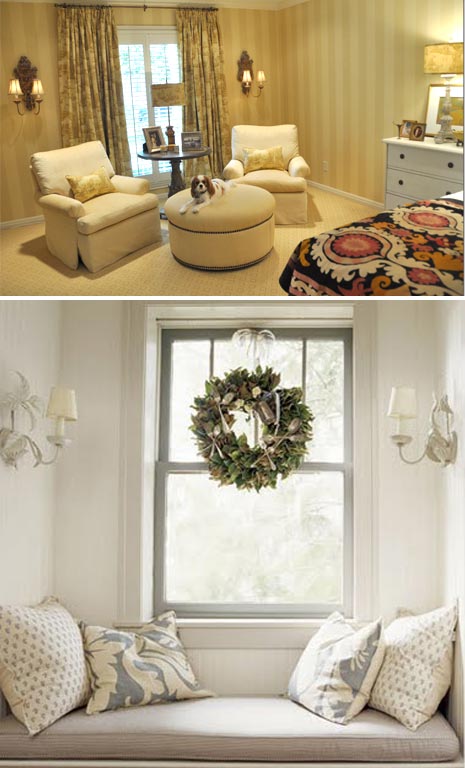 Yeah, you're going to sit in that window and read a book.
In the history of window nooks there have been exactly 3 people who have used them to relax with a good book. I also saw a study on these so-called "sitting areas" that said, and I quote, "It is our finding that no evidence exists to support the claim that any bedroom sitting area has ever been used for actual sitting. We are only able to find examples of sitting areas being used for laundry storage, the putting on of socks and several incidents of kinky birthday sex."
Give up the dream people, we are Americans and we don't know how to read words on paper anymore. We don't need to continue this silly charade! Nobody really wants to curl up with a book and a cup of tea in their window. Try a 2-liter of X-treme Nitro-Nacho Mountain Dew and 4 hours of Farmville on Facebook while sitting in front of the TV.
God bless us.
16 comments to "Bedroom "sitting areas" and window reading nooks!"
#

Andra

on 18 Feb 2011 at 10:28 am

I don't care what you say, my dream house is going to have a window seat and I am going to sit there and read classic literature while sipping earl gray tea. I have fantasized about that since I was a little girl and I am not giving it up.

Now, sitting areas in your bedroom, that is just stupid.

#

SanFran

on 18 Feb 2011 at 10:33 am

A friend of mine has a house on Nantucket Sound, and upstairs is what was once a little 'reading nook' that overlooked the water and beach. Being kick-ass and whatnot, he decided "wow, this would be a great place for the toilet!"

And so he did.

There is a toilet, facing a near floor-to-ceiling window, where you can sit, shit, and gaze.

I have to admit, the light is excellent in there.
Sorry for not having a photograph.

#

Magic Man

on 18 Feb 2011 at 5:03 pm

What are you talking about?! I enjoy my window reading nook with my TV, soda, farmville and cheesy puffs EVERY NIGHT. And I'll have you know that I even take the foil off the window in the winter.

#

Jackie

on 19 Feb 2011 at 12:03 pm

I want a window seat for the cat.

#

Dustin

on 19 Feb 2011 at 8:50 pm

Instead of a window nook, I would prefer a cannon nook. To shoot a cannon.

#

blauer

on 20 Feb 2011 at 4:35 pm

You are just upset that you can't afford a window nook. Lord knows I would love to pay for wasted space. The lady that wants a place for her cat really. I don't know who is dumber you or the cat with a view.

Wait, who's being compared to the cat, me or the lady? If I'm being insulted I at least want to be aware of it so I can bask in its glory.

#

blauer

on 20 Feb 2011 at 5:44 pm

The lady that will surely die alone with only her cat is being insulted. You my friend are just mad you don't you don't have a window nook to crawl into after a long day of reality.

@Blauer, who'll be laughing when Listy moves to Hawaii?

That would be Listy.

Yeah! I don't even WANT windows in Maui!

#

Jen

on 22 Feb 2011 at 1:52 pm

I'm not sure if I've ever commented but I just want to say thanks for your hilarious posts. I was having a pretty crappy day, but reading this rant somehow cheered me up. I have no idea how that is even possible, but it is true and I thought you should know. 🙂

#

blauer

on 23 Feb 2011 at 7:59 pm

@ sanfran read all the posts. For starters I stated that he was not being insulted. Second I don't give a flying fuck what he does or where he lives. I use this site for entertainment. Third if he moves I will just focus more time on regular entertainment examples would include porno, PlayStation, and your mom (over and over again). Fourth fuck off. Fifth your right I'm sorry.

#

Tom

on 13 May 2011 at 4:08 pm

I couldn't agree more!!

#

jane

on 10 Nov 2011 at 3:19 pm

Wow. DeesTees is a republican store.

#

jane

on 10 Nov 2011 at 3:21 pm

Wow. Clutch Tees is democratic. Hmmm.

Jane – Maybe it's because I got up this morning at fucking 2:30am to go look at a volcano, but I have no idea what you are talking about. I still love you though and would make-out with you for a minimum of 4 minutes.