Feb 24 2011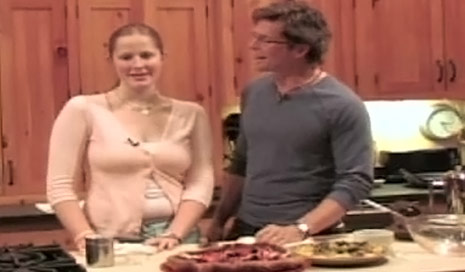 Shivers.
OK, before Rick Bayless tries to sue me, let me CLEARLY state, I DO NOT think there is anything sexual or technically inappropriate between Rick and his daughter Lanie… however let me also CLEARLY go on record and say ewww.
I mean come on Rick, you are obviously unable to see what everyone else sees. These two giggle and flirt back and forth worse than Jerry Seinfeld and Sheila on the "Shmoopy" episode. You hang up first. No, you hang up first. No, YOU hang up first. It's creepy.
What's that, you don't agree? Well try this one on for size… there is an episode of Chef Bayless' program "Mexico – One Plate at Time" where he decides to dig a fire pit in his yard while Lanie yucks it up inside, pretending to know what the fuck she's talking about. Rick strips down to his wife beater (a woman's wife beater, not the cool 'Raging Bull' kind) and gets all sweaty shoveling in the dirt. It's borderline gay porn. Meanwhile, Lanie is blabbing on about some bullshit in the kitchen and actually says "Speaking of hot, let's see how my dad is doing."
[the link has been found – 9:25 into this clip – It's 100 times creepier than I remembered!]
Take a moment to re-swallow your vomit.
Let's take the whole father/daughter sexual tension horribleness out of the equation and talk about the other thing wrong with this picture. Why the fuck am I listening to a 13-year-old tell me how to make salsa? You know what Lanie, thanks but I think I can take it from here. Aren't you missing a therapist appointment or something?
201 comments to "Rick Bayless, his daughter Lanie and their creepy flirting with each other!"
I watch the show and wondered if they were married or what. I see a wedding ring on his finger but not hers. So, I got to this page and got my answer. His daughter! Can't believe it. Where is his wife? I like his show and hate the fact that is his daughter. What is wrong with HIM!?