Mar 02 2011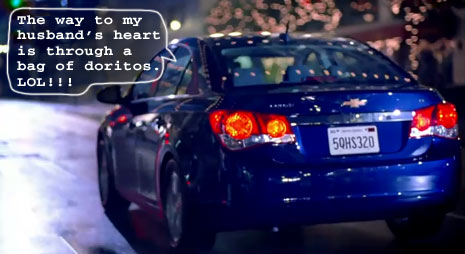 Finally Chevy has figured out a way for you to NEVER escape the incessant, meaningless blathering barfed out by all of your "friends" on Facebook. You never said more than two words to these people when you sat next to them in algebra 20 years ago, but thanks to the magic of Facebook, you now have an up-to-the-minute update of every dumb thing their fat kids do and say.
Well, guess what? Your once peaceful drive home from the adult book store is now going to be filled with wacky anecdotes about microwaved Legos and pancakes found under rugs. Good luck getting a boner after that.
I invite you all to take a look at your Facebook "news feed" right now and imagine what it would sound like to have it read to you by your car. For example, if I was driving right now I would learn that "After shopping all afternoon with my kids, it's safe to say I am NOT a 'shop till you drop' kind of person!!! LOL!"
Way to go society!
16 comments to "Chevy Cruze and its talking Facebook feature!"