Apr 06 2011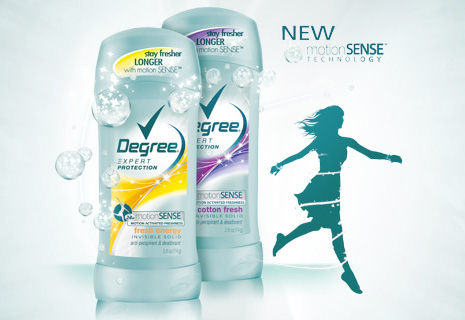 Guess what idiots, deodorant is now so smart it knows when you are moving!
You'd think technology as advanced as this would be used by the military or NASA, but instead it's used to keep your mom's armpits dry every time she suddenly darts in any direction. What a world we live in!
Next time you see some random woman walking into Hobby Lobby, take a moment to appreciate the advanced number-crunching that's taking place under her arms. She calmly walks in the store's entrance like it's no big deal, but her deodorant is busy calculating speed and velocity. It is at this moment that her magic armpit computer makes some important decisions: should it spring into action and release its sweat-defeating power, or hold tight and see how this whole scenario is going to play out? The Degree decides to wait and see, like a Navy Seal poking his head out of a swamp in the middle of the night.
Suddenly, without warning, Aunt Carol makes a mad dash for the last clearance sale foam pumpkin… alarms and buzzers start going off under her arms like a fucking WWII submarine! The Degree is like "Holy shit, holy shit, it's really happening! OK we can do this. We trained for this a thousand times. ACTIVATE! ACTIVATE! ACTIVATE!"
I'm curious about one thing though, what happens when you are driving? Does the Degree get confused and start trying to dry you? Shit, what about on the delivery truck? How does the deodorant know when it's the real thing? I kind of feel bad for the deodorant now, that's a lot of pressure for a chunk of paste.
Even the Degree spokeswoman can't believe the shit coming out of her mouth.
(watch at your own risk, you might get sued!)
42 comments to "Degree "MotionSense" deodorant!"