Sep 30 2008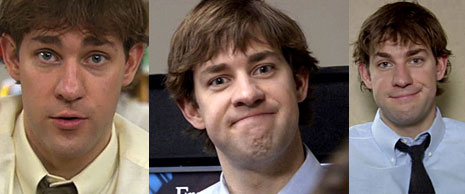 Yes, I am one of those annoying people who can't stop saying "how much better the original British version of 'The Office' is." That's not to say that I don't enjoy the American version of The Office, I just don't like it as much. I really love most of the peripheral characters like Creed, Andy, Kelly, Meredith and it's hard to dislike Rainn Wilson as Dwight, however I find the main characters to be much less interesting and I can barely stomach Steve Carell's performance as Michael Scott.
Blah blah blah, who cares about my opinion of every single character on The Office? Well it's my blog (God, I hate the word blog) so you will have to suffer through. ANYWAY, what do I hate most about the American version? The god damn "Jim look" that is shot my way every 30 seconds! WE GET IT, Jim is the only sane person in the office and he knows everyone is crazy and he's normal and all his coworkers are idiots. You know what, I can figure that out without such a blatant "aw shucks" reminder.
Should I care about something so insignificant as the world crumbles around us? YES YES YES! I have to care, it must happen! Every time Jim turns his head, looks directly at me and scrunches up his face as if to say, "gee whiz my coworker are dumb" I am forced to turn to the imaginary camera in my living room, scrunch up my face as if to say, "gee whiz I'm fucking sick of that guy's 'gee whiz' face."
I know there are people who love the "Jim look" but the difference between them and me is that I am right and they are wrong. Bow before my superior opinions!
This is dumb.

In case you care, here's a photo of Jenna Fischer's ass. You're welcome.
40 comments to "Jim Halpert (John Krasinski) and his stupid "camera looks" on The Office!"
#

LLG

on 30 Sep 2008 at 10:35 am

But how are we to know what's funny unless they repeatedly hit us over the head with "laugh here" signs?!? If it weren't for that "aw shucks" grin, we'd all just sit on our LazyBoys, staring at the screen, wondering when we're supposed to laugh. They've taken out that mechanical "crowd" laughter (sorry, I mean, totally realistic, shot in front of a live audience laughter), so we need special cues now. It's called Americanizing humor.

And it's not annoying to say the British version is better, dare I say funnier… it's accurate.

You know, maybe if we were treated to the Jim look once an episode I would be OK with it but he seriously does it at least once in every scene he's in. More Creed (not the band) and less Jim!

#

CDB

on 30 Sep 2008 at 5:37 pm

Yeah totally. I'm with you up to a point. I can't even stand the American version. The characters of the British version are done right, where as with the American version (as always) we are treated to the overdone version. On top of that, the British version ends at season 2 (plus 2 specials) and does anyone know why? Because the joke is over!! It can't get any funnier. The joke is over. Pack up your overdone show and write yourself a new one. It's not that hard, just watch more foreign TV and steal yourself a new idea.

P.S. – The one person on the planet that thinks Steve Carell is funny can eat a bowl of dicks, choke and die. kthxbai

CDB, I agree, that's the British way. Produce a couple killer seasons and end it before everything gets stale. I was actually kind of happy that Arrested Development was canceled when it was because we were all saved from watching a great show slowly turn into poo pile.

#

Paul in St. Paul

on 30 Sep 2008 at 6:03 pm

I confess to having enjoyed the season opener, if only to find out what Phyllis did after the genuine surprise when she wandered into the office in last season's finale to see some hideous desk-fucking. Focus on Creed and you'll get through. "It wasn't a tapeworm." All he needs is one line. I like there's just a little taste of Creed because it invites you to make your own backstory and doesn't ruin your version later.

#

Jay

on 02 Oct 2008 at 7:16 pm

I could barely stomach the whole Jim/Pam romance and was hoping that they would give that up. I found it as bad as the sentimental endings of Scrubs. The Michael Scott character gets too silly too often. The Creed moments keep it worth watching.

#

Frances

on 07 Dec 2008 at 2:48 pm

Awh, this? I'm not going to even bother going into which show is better. It doesn't matter. I love your list, but this is just about the only thing I do not agree with on it.

#

Chip

on 02 Nov 2009 at 6:25 pm

Jesum Crowfish, I thought this Guy could make stupid looking faces but the video just brings it all together! LOL!

#

Me

on 16 Nov 2009 at 6:29 pm

Well, The Office is a mockumentary, so it's supposed to have the feel of a documentary with real people, and the average person, probably would find it hard to not look at the camera, even if they know they're not supposed to, so this is just John poking fun at that kind of person.

Me – How dumb do you think I am?

#

Jim Halpert is Morally Bankrupt

on 11 Mar 2010 at 5:20 pm

Finally I have found others who share my distate for Jim. Unlike others, I thoroughly enjoy both the BBC and NBC versions of the Office. That being said, I loath Jim. Yes his stupid looks are completely unnecessary but they are more than just annoying – they are hurtful. Jim gives a stupid look to all in the office – he judges everyone.

Unfortunately, Jim seems to be gaining more airtime (no doubt to help Krasinski's career) so I will have to continue watching on my LazyBoy hoping he gets to close to the paper bailer.

#

Not a Jim Fan

on 26 Apr 2010 at 9:27 pm

Jim was hilarious in the first episode when he would slying place Cree's office supplies in the vending machine and otherwise thing of ingenious ways to torment his rival, but I see Jim as a terrible actor. He brings no energy or life to the performance. He just shows up, makes faces, andk just walks through the role. I don't see brilliant, charimsa, passion, focus, or intellect, just a lazy guy who got lucky. Why can't he at least clean up his eye brows and make an effort to look polished? Is he not making enough money to at least make an effort. He is just a lazy, very average actor. I am not clear why Hollywood is pushing this guy on us and trying to make us think he is star quality. The whole Office cast is rather mediocre.

lol i put in search on google "whats with Jims stupid face expressions?" and a link to your page popped up with this article…

thank god im not the only person that realizes this…. jims weird ass face expressions are really starting to annoy me…

it was funny when Karen pointed it out "its funny when ever jim looks to the camer, he does this [impersinates Jim]…..what is that??"

EXACTLY. WHAT IS THAT?!!

i'lll tell you what….annoying. 😀

#

hate jim and pam

on 23 Sep 2010 at 11:36 pm

christ I hate this fucking guy trying to watch the
seventh season first episode right now but he keeps
showing up and fucking pissing me off so much along
with his bitch cunt pam!

like fuck they didnt get enough fucking screentime
last season with hogging the fucking camera every
two fucking seconds they have to fucking hog this
season too?

fuck I wanna see the others for more then two fucking
seconds not fucking cunt jim and fucking cuntbitch
pam!

if they're gonna hog this whole stupid fucking season
then fuck it im not watching it cause I cant stand jim
or pam for more then one second and just want to
fucking rip them apart stab them shoot them or just
throw fucking boiling acid on their fucking inbred faces!

and I agree with anyone who hates these two fucking
cunttards cause they really do suck and im so pissed
right now im not even gonna finish watching this whole
jim and pam show!

grrrrrrr!

and hey if the cameraman loves jim and pam so
fucking freaking much why doesnt he just have a fucking
three way with them huh like fucking suck his dick alreadly
and fuck pam as hard as you can and get it the fuck
over with so you can film someone else for a fucking
change!

man I knew it would fucking suck and they're terrible
fucking actors as well cant fucking act and that bitch
jenna fisher or however you spell her fucking name
always looks scared shitless like shes a deer caught in
the fucking headlights or something.

so get the fuck off the screen before I throw my
fucking heavy glass of water at it or just cut your
fucking heads off so the show can go back to being
good cause the only way it will go back to being good
is if you two so called actors are fucking in the ground
and fucking dead!

fuck both jim and pam and they're stupid piece of shit
baby that I wanna fucking steal then throw against
the fucking wall then stomp on it till its fucking dead
fucking worthless fucking piece of shit baby cunt
and fuck the actors that play them!

OH YEAH AND FUCK ALL YOU FUCKING PATHETIC
JIM AND PAM AND THEY'RE STUPID FUCKING BABY
LOVERS YOU FUCKING CUNT ASSHOLES ARE THE
FUCKING WORST PEOPLE ALIVE AND YOU SHOULD
ALL BE FUCKING SHOT WITH A BB GUN OR JUST
HAVE FUCKING REALLY HOTT ACID THROWN ON
YOUR STUPID FUCKING FACE!

FUCK YOU ALL!

#

the amytville horror

on 09 Nov 2010 at 6:09 am

how fucking old is this douchebag supposed to be
30 or 40 and hes making faces like a fucking two or
three year old?

cant believe anyone thinks this fuck tard is hott cause
when he makes his stupid childlike face expressions
he looks just like a big baby!

at least none of the others make baby faces so they're
cool expect for cunt bag whispering eye pam!

my favorite is ryan and I was sure pissed when jim
the fuckface called him just to tease him when he
got arressted then was even more enraged when he
placed him in the closet all cause he wasnt working!

yeah forcing someone to work while jim never did any
fucking work he just sat there on his fucking dull hairy
fat ass watching everyone else work judging them
pullling fucking cunt pranks like a fucking 10 year old
making his punchable kick in the fucking teeth faces
and hes now pissed when they dont fucking work?

JUST FUCK THE HELL OFF JIM AND PAM AND HOPE YOU
FUCKING DIE IN AN ATTACK SOMETIME CAUSE THAT
WOULD JUST MAKE ME FUCKING LAUGH MY ASS OFF
THEN ID FEED YOUR STUPID FUCKING HUGE CUNT
BABY TO SOME WOLVES OR JUST A CANNIBAL AND
I WOULD JUST SIT BACK AND LAUGH.

man I cant wait for some sick maniac to come to the
office set with fucking grenades and a tommy gun or
just a normal gun and open fire shooting jim the cunt
rag in the fucking face and pam in the tits and face
as well.

I FUCKING HATE THESE TWO CUNTBAGS DIRTY SHIT
BAGS MORE THEN ANYTHING AND WANT THEM OFF
THE FUCKING SHOW AS SOON AS POSSIBLE CAUSE
THEY'RE BOTH FUCKING GLORY HOUNDS THINKING
JUST CAUSE THEY GOT HITCHED AND SHIT OUT A
FUCKING PUSSY PIECE OF SHIT KID THEY CAN TREAT
THEIR CO WORKERS LIKE SHIT HOLLERING AT THEM
AND PUTTING THEM IN CLOSETS!

ANYONE WHO HATES THESE TWO FUCKTARDS IS
FUCKING AWESOME LIKE THE GUY WHO MADE THIS
BLOG I CONGRAT YOU FOR BEING SO COOL AND FOR
HATING THE FUCKER DOG SHITTING CUNTBAG FUCKING
JIM!

FUCK THEM ALL!

Amytville – I agree that I am awesome, thank you, but you know this is just a show and these aren't real people, right?

(please don't kill me)

#

proud jim and pam hater

on 11 Nov 2010 at 2:10 am

heres a song about how much I fucking hate jim and
pam and they're stupid worshippers and pathetic as
shit lovers.

undead undead!

undead jim and pam you better get up out of the way
cause tommorrow we'll rise so lets fight today you know
I dont give a fuck what you kissasses think or say
cause we gon rock this whole place anyway.

now I see we love jim and pam motherfucking writing on
the wall makes me wanna start a motherfucking brawl
with jim and pam fuck all jam lovers you see cause I hate
that you breathe I see you duck you fucking jim and pam
lovers you little fucking disease!

I got fuck jim and pam tattooed on my arm the blvd
brass knuckles in the back of the car cause me and ryan
drunk drive cadillacs we never go far and when you see
us jim and pam lover motherfuckers better know who
we are!

I got one thing to say to punk cunt ass jim and pam
lovers motherfuckers dont know you better watch
what you say from this office loving fucks to these
jam loving faggot ass punks you dont know how easy
it is for me to become enraged with your loving bullshit
it fucking drives me insane!

im alreadly loud maybe its a little too late and im taking
off the heads of all the heads of all the faggots who love
jim and pam cause im a hater motherfucker theres a price
to pay get out my gun motherfucker to shoot jim and pam and the actors who play them without any success
or range its judgement fucking day!

undead jim and pam you better get up out of the way
cause tommorrow rises so we'll fight today you know I
dont give a fuck what you kissasses think or say cause
we gon rock this whole place anyway.

undead jim and pam you better get up out of the way
cause tommorrow rises so we'll fight today you know I
dont give a fuck what you kissasses think or say cause
we gon rock this whole place anyway.

im not getting used to this jim and pam nuisance of
jam loving fags who bad mouth every other character
on the show how fucking stupid and selfish are you
jim and pam to think you can do this you fucking pathetic
kissassing cowards you never will dont even try to
pursue me I took the chance I played the bill I nearly
died watching you guys take up every fucking scene of
the office then threw up all over my cocaine.

you wanna make me run around pullin my guns out and
shit shooting you to hell tempting looking into the
fucking camera every two seconds making your baby
faces how old are you ten running your mouth calling me
out on this shit bitches how ignorant you gotta be to
believe and love these two fuckcunts?
you jam lovers need to slit your wrists while jim and pam
can get pissed and go jump off a bridge or some shit.

what you cant see the sarcasm when I say the office is
a good show nbc keeps spitting up?
what you guys just got lucky not working hard for this
shit bitch you cant see that they ruined the show by
having a piece of shit kid?
that shit as worse as this show gets this verse is over
I fucking quit and I blew my load all over pams tits.

undead jim and pam you better get up out of the way
tommorrow we'll rise so lets fight today you know I dont
give a fuck what you kissasses think or say cause we gon
rock this whole place anyway.

undead jim and pam you better get up out of the way
tommorrow we'll rise so lets fight today you know I dont
give a fuck what you kissasses think or say cause we gon
rock this whole place anyway.

assholes with jim and pam tattoos we are laughing and
pointing right at you we are breaking everything that
has their faces on it rowdy like a fucking classroom panic
overrules cause we dont follow the fucking rules and
when your running your stupid office loving mouth our
razors come out.

but why are you pathetic jam lovers always pressing
and fucking defending them you know I never stressed
it with fucking micheal and ryan to my left dwight and
the rest who are down to rep the west I grew up loving
the best and shit.

so what the fuck do jim and pam know about being
a ganster and what the fuck do they know about being
in danger you jam lovers aint doing this so you know
you jam lovers are just talking shit mad at everyone
who doesnt fucking love them cause every hater is
a fucking hit and awesome.

undead jim and pam you better get up out of the way
tommorrow rises so we'll fight today you know I dont
give a fuck what you think or say we gon rock this whole
place anyway.

undead jim and pam you better get up out of the way
tommorrow rises so we'll fight today you know I dont
give a fuck what you think or say we gon rock this whole
place anyway.

undead jim and pam motherfuckin time to ride die
undead see you jam lovers duck when we drive by
undead jim and pam motherfuckin time to ride die
undead watch you jim and pam and jam lovers fucking
die and with me smiling holding an ak 47 just fucking
die undead!

#

the amytville horror

on 11 Nov 2010 at 2:19 am

yay I made your list!

that is so cool thank you its an honor to be here
thank you!

and yeah I know they're not real but just hate them
so much!

happy holidays!

shivers.

#

steele and balto

on 13 Nov 2010 at 10:13 am

saw an episode of csi where this stalker just rammed
his car into some actress he liked and killed her.

too bad I cant drive cause I would go to hollywood
wait until jenna or john is parked at a red light drive
right towards them at high speed then SMASH!

ugh jim and pam damn I just wanna strangle anyone
who loves them right now just wanna attack something
maybe its cause I slept all day or something.

hopefully the world will end in 2012(dont worry its not
its just bullshit)but if it did then they would die too
which would be awesome!

jim and pam quit poisoning the earth with your bad
acting ugly smug camera faces and just fucking die
alreadly!

oh yeah and I gave you shivers awesome means my
writing really is scary!

#

Claude Balls

on 18 Dec 2010 at 10:21 pm

I would rub steel wool on pams cunt and put an angle grinder on jims cock untill they both died from blood loss

Um, OK.

#

Rhiannon

on 30 Dec 2010 at 2:00 am

I can't believe how horrible you all are.
Jim is utterly adorable and lovely, he's hilarious with all the pranks he pulls on Dwight, and although a little more from the peripheral characters would be good, the show just would not be complete without the whole Jim and Pam thing.
I feel like I have experienced their journey with them, laughing and crying, and I'm not usually that sort of emotional pussy.
So yeah, just back down a little, they're only fictional but if anything, I'd wish them to be real, not brutally murdered.
Also, its Jim's looks to the camera that make the show (L)(L)

#

Amber

on 23 Jan 2011 at 4:28 pm

All you guys are losers JIM IS EXTREMELY HOT CUTE SEXY I LOVE HIM HE IS MY BIGGEST TV CRUSH AND JIM AND PAMS RELATIONSHIP IS WHAT MAKES THE SHOW BESIDES THE LITTLE FUNNY EVENTS THAT HAPPEN AROUND THEM DON'T BE MAD BECAUSE ALL UR GIRLFRIENDS AND EX'S WOULD TAKE JIM AND HIS FACIAL EXPRESSIONS ANYDAY PLUS I DON'T THINK HE CARES WHAT YOU THINK HE'S A RICH ACTOR MARRIED TO THE BEAUTIFUL EMILY BLUNT. WELL SAID ADIOS

Amber – Clearly you are 12 years old, so I will refrain from making any comments.

#

FUCK JAM

on 27 Feb 2011 at 2:27 pm

yeah emily blunts a real fucking winner for marrying the
disgusting butterface cunt bag jim john cuntinski.

she truly is a blunt if she fell in love with this fucking
loser.

what a stupid cunt bag AND THERES NOTHING WRONG
WITH HATING JIM AND PAM AND THE SO CALLED
ACTORS THAT PLAY THEM ALRIGHT WE'RE NOT FUCKING HORRIBLE PEOPLE SO JUST GO INTO YOUR
FUCKING GARAGE AND PUT A FUCKING 12 GAUGE
SHOTGUN TO YOUR FUCKING HEAD AND PULL THE
FUCKING TRIGGER IF YOU CANT FUCKING HANDLE IT!

JESUS FUCKING CHRIST IM SO SICK OF ASSHOLES
THINKING ITS SO FUCKING HORRIBLE TO HATE FUCKING
JIM AND PAM WE CAN HATE WHO EVER THE FUCK WE
WANT AND WE ALL HATE YOU COCKSUCKERS AND ITS
A FREE FUCKING WORLD SO JUST GET THE FUCK OVER
IT BEFORE I JIZZ MY CUM AND VERY HOTT PISS ALL
OVER YOUR FUCKING FACES!

FUCKING JIM AND PAM LOVERS FUCK!

That truly was a fuck jam.

#

Jim Sucks

on 23 Apr 2011 at 3:01 pm

That horse faced, no talent assclown is the sole reason I have stopped watching The Office. And now that they have a stupid fucking kid CC, Jesus tall about annoying! I mean is this what NBC has fallen too! Him and Jenna Fischer's characters have developed into a pair of horrible, horrible annoying people. If I was stuck working in an office anywhere near those two, I would show up to work with a shotgun and well, you know! I stumbled upon this blog by mistake, but I am very happy to know there are other people out there that are just as digested as I am with Krazinski's inability to act and are baffled as to who at the Network owed some agent somewhere a huge favor and put that dipshit on a National SitCom. Ugh!!

#

audrey 2

on 16 Jun 2011 at 3:40 am

JIM AND PAM AND THEY'RE STUPID FUCKING PIECE OF SHIT BABY SURE LOOK LIKE PLANT FOOD TO ME YEAH THEY SURE DO LOOK LIKE PLANT FOOD TO ME!

MY PLANT NEEDS BLOOD AND THEY GOT MORE THEN ENOUGH!

YEAH THEY SURE DO LOOK LIKE PLANT FOOD TO ME ACTUALLY EVERYBODY IN THE OFFICE AND EVERYBODY WHO WORKS ON IT AND WRITES FOR IT AND THOSE DINGBATS AT NBC WHO ARE TOTALLY AFRAID TO FUCKING GROW A PAIR AND CANCEL IT SURE DO LOOK LIKE FUCKING PLANT FOOD TO ME YEAH THEY SURE DO LOOK LIKE PLANT FOOD TO ME YEAH YEAH YEAH THEY SURE DO LOOK LIKE PLANT FOOD TO ME!

THEN GO GET THEM!

AND FEED ME CAUSE IM STARVING BABY!

#

kay

on 13 Dec 2011 at 5:55 pm

there, you said it, I fuckin hate his smile too, i thought i'm the only one, almost everyone on facebook was like "aww Jim and Pam are getting married, my best day ever <3 !!!", god i like the office show, but i hate Jim's face and the smile i'm not talking about normal smile or laugh. but that gay ass smile look that his lips are straight with close clips, trying to look innocent and shit but end up looking like a total dick….phuck !!!

#

A.J. Mcgee

on 23 Dec 2011 at 6:55 pm

I fucking cant stand those two self righteous biggot bitch fucks who spend every episode doing the same thing. Jim hits on dwight and acts like hes "playing pranks" he ibviously has a crush on him. He doesnt "prank" any one else does he? And angelas is supposed to be the office slut, but doesnt pam do the exact same thing (kiss a guy while engaged)? and angela wasnt fucking here fiance, she apparently didnt even get nakes for him and pam kissed a guy while shes engaged and flirts with him. Theyre both stupid characters and the show would be so much better without these two. Jim is a bitdch who cant stand up for pam, and hits on an engaged girl and gets afrai of roy. And he has no personality. Everyone else has a personality except him on the show. Think about it. And pam is so full of herself, she has a dog face. Go get really drunk, and drive really fast through a rainy slippery street you two peices of shit. Jim is obvously dating the guy who directs the show. and Pam might have a dick. Fuck off you two. and for the people who play them in real life, fuck you too.

#

FUCK JAM

on 23 Dec 2011 at 7:07 pm

Jim and pam are ruining the show for me. I dont know how much longer i can look at their smug fat faces. I find myself fast forwarding every scene that they are in, which is ALL the time and i'm tired of it. Pam is a cheating whore and jim is little queer bitch. This is why siblings shouldnt have sex. You might get a Jim or a Pam. They're NOT funny, it's like they needed to find time to waste in the show. Cici is a fat faced little bitch too. Who cares about your bastard kid??? who knows who the father really is. Maybe kevin. Or Dwight since she said in the first season she should do that. and then tried to play it off as a joke but that slut was serious. i feel violent when they show up on the screen. The proof of all of this is season 8, it SUCKED. because it focused entirely around jim and pam. i only watched part of the wedding episode hoping they would get into a car accident driving to niagra falls. They did not. That made me sad. I agree too i think Jim is a attracted or has a crush on Dwight. I wonder if jim likes tasting roys dick..? i wonder if pam likes tasting dwights dick..? If you know these people in real life you have an obligation to put them out of their and our misery. Thank you

#

James

on 27 Dec 2011 at 7:19 pm

Christ, Jim and Pam have gotten on my fcking nerves for years, I mean how much time has been spent on these two…makes me wonder who john krasniski blew in hollywood to get that gig with clooney, leatherheads it was called, cock gobblers was more appropriate….
on a related note I think Melora Hardin should havebeen brought in to replace Micheal, she was great as Jan and would have been better than Andy, oh, I also thought Dwight and Angela went on about a thousand years too long….Ellie Keefer is talented and hot….Amy Ryan may have been nominated for an Oscar, it couldnt have been for comedy, lame
Thank you for the picture of Jennas ass, MUCH appreciated

#

James

on 27 Dec 2011 at 7:22 pm

and merry christmas too, hopefully the Office will get better, cuz we all want it too…BRING BACK JAN AND WALLACE

#

graveyard sleeping

on 31 Jan 2012 at 6:15 pm

the guy looks like a fucking date rapist who locks the

doors and beats the shit out of you ripping your cloth

es or your dress in half just so he can climb up on

you and stick his worthless small dick inside you and

beat you again.

my mom said the other day how much she hates him

and shes like hes got a nose on him the size of a

fucking car just so fucking gross and fugly.

ugh.

and he also ruined that new whale movie that I might

of liked to watch but no he has to be in it fucking ass

clown.

lets hope one of the whales eats him or drowns him

after somebody pushes him in the water cause they

cant take his stuck up ass kissing fucking making

faces attitude anymore.

JUST FUCKING DIE ALREADY YOU FUCK YOUR

RUINING THE OFFICE FOR EVERYBODY ELSE AND OH

YEAH JENNA FISCHER FUCK YOU TOO AND FUCK

YOUR STUPID WORTHLESS BABY TOO!

UGH!

and when pam was crying in pain all cause had a little

contraction from her stupid kid I said oh shut the

fuck up..try getting a lobotomy or something you

stupid bitch!

hell give them both lobotomies and they're stupid

worthless kid too then they can get taken to the men

tal hospital then we can watch the office in peace.

fuck they piss me off more then the fucking pussy

twilight cast..oh dont even get me started on that

fucking movie!

GROOOOOOOWWWWWWWWWWWLLLLLLLLLLLLLL!

#

Matthew

on 18 Jun 2012 at 3:02 am

If you don't like the American version, why did you keep watching till season 7? I don't get it…
I think Steve Caroll is hillarious once you get used to his comedic style. His timing is perfect, and what can I say? He's a comedic genius. Maybe not for everyone and of course some people won't like it but that's ok. I crack up every time he burns Toby. Seriously. The episode "Goodbye, Toby" was probably the funniest thing I've ever seen in my life.

#

Joe g

on 19 Aug 2012 at 8:36 pm

I also hat this two fucks.. I hat jim and his stupid jokes. And love it when roy wanted to fuck him up. Just love d i t. Loved it when the new boss hate on jim, and jim trying so hard to kiss his ass.. Hahahaha loving it…

#

The Spotted Dog

on 11 Jan 2013 at 5:10 pm

I really hate jim and pam!

we're supposed to hate characters like Dwight

and Angela but jim and pam are so damn annoy

ing!

especially pam since she's gotten with jim she's

just an asshole now.

Dwight should of punched that asshole in the face

by now….or at least push him down the stairs.

#

horses are fucking stupid

on 08 Mar 2014 at 12:58 pm

jim and pam and your stupid baby and all the
fans, don't let the door hit your ass on the way
out.

oh what the hell, hope you fall down the fucking
stairs too.

#

Mick Taylor

on 26 Jun 2014 at 7:01 am

John cuntinski lays on his back on the floor as Mick Taylor from "Wolf Creek" chops his shit stained fingers off with a huge hunting knife. Mick:now what they would do to get information out of the enemy in world war 2 is they would ram a knife in their spine they could get information out of them but they couldn't move, you with me? John gets up screaming but Mick shakes him hard and even head tuts him. Mick:THATS FOR WRECKING THE FUCKING OFFICE YOU BITCH! now, this little procedure is called making a head on a stick… Cause once your spines severed right… (He rams the huge hunting knife into the back of his spine causing paralysis he falls to the floor stunned and unable to move) and that's what you are hey, head on a stick, haha!