Oct 09 2008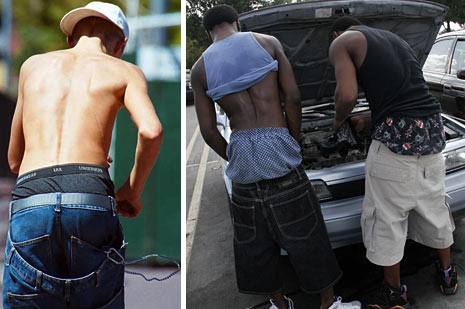 Honestly I have had a little too much to drink and the last thing I feel like doing is writing about these douchebags but I just HAD to start a blog didn't I? There is a good chance this will be brief and incoherent.
First of all, if any of you think I'm being racist or attacking hip hop culture please understand I hate all of these people whether they be white, black, hip hop, emo, goth or simply fat and lazy. I don't care who you are, I don't need to see your soiled underwear as you attempt to walk around the mall in your over-sized baggy pants around your ankles. You look like a fucking IDIOT holding your crotch in an attempt to… in an attempt to what? I really don't know. I just know that you suck and your pants suck and your crotch sucks and you look like a nerd who just got pantsed by the varsity quarterback.
Why do I have to be the smartest person in the world with the greatest opinions ever? It's a burden to tell you the truth. Having this much knowledge and taste is difficult when there are so my dip shits surrounding me in their huge pants. Why? Why Am I so great when everyone else is so dumb? Can there be a bright future for this planet when adults are willing to walk around with their pants around their ankles?
I miss the good old days when rappers wore these pants.
I will also forgive this.
13 comments to "People who wear stupid baggy pants and let their underwear hang out!"