Oct 23 2008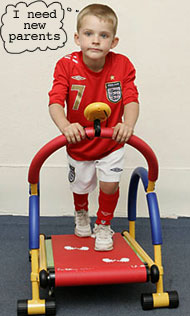 Seriously? Huh? Not possible! NOT POSSIBLE! Someone wake me from this nightmare!
If you buy a treadmill for your child DCFS should remove them from your home and you should be immediately sterilized by a brutal smashing of said treadmill to your baby maker.
Just like when I discussed baby helmets, I am only referring to people who put normal, healthy kids on a treadmill. If they need baby-sized treadmills for some sort of physical therapy that's fine, but if you would rather see your dumb kid taking a walk in your living room rather than playing outside like a normal human then there is something wrong with you and soon there will be something wrong with your child.
If my child asked me for one of these contraptions I would make them live outside in the wild for a week as punishment. Think of all the exercise little Bobby would get foraging for berries and building rudimentary shelters. Perhaps he will have to run from a family of rabid raccoons, I don't know but that kid is going to lose at least 8 lbs without the aid of a god damn treadmill. Problem solved.
21 comments to "Treadmills for children!"