Nov 05 2008
I'm very tired and far too happy and optimistic to complain about anything tonight so let me just say congratulations to Barack Obama for his amazing accomplishment. He campaigned with honor and dignity and I can not wait to watch his progress as President. And congrats to the American people for giving a shit about their future again and voting! It's an exciting time to be American.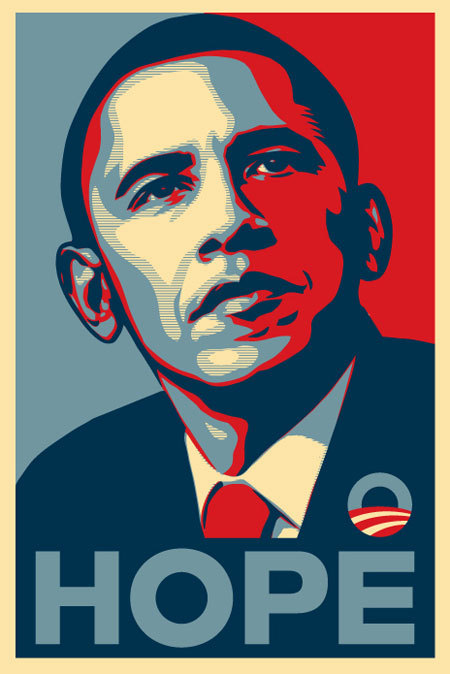 15 comments to "Barack Obama, you just made my list. My AWESOME list!"
#

AlexandraJade

on 05 Nov 2008 at 2:07 am

I know I'm British, but I sat up watching the results because I just so wanted Barack to win!
I'm so pleased for America firstly because you've had to put up with some right bullshit the past 8 years, but I'm also glad because the American president has always greatly effected this country also.
All I can say is:
Yesssssssssssssssssssssssss!

#

SanFran

on 05 Nov 2008 at 2:35 am

I shed a few tears tonight out of pure joy for what is to come… I'm tired now though after partaking in the outpouring of joy in the streets of the Mission District here in San Francisco… So many happy people – the energy is just amazing.. and THAT is what this election is all about – the collective positive energy that occurs when people unite.

Also, kudos to John McCain for not only fighting a good fight, but also speaking from his heart during his concession – I think it was the best speech of his campaign, and not because of what it symbolized, either.

Tonight in San Francisco, I imagine, harkens back to the 60's.. Here's one of my favorite quotes on the subject:

"… has it been 5 years? 6? It seems like a lifetime. The kind of peak that never comes again. San Fransisco in the middle 60's was a very special time and place to be a part of, but no explanation, no mix of words, or music, or memories can touch that sense of knowing that you were there and alive in that corner of time in the world. Whatever it meant. There was madness in any direction, at any hour, you can strike sparks anywhere. There was a fantastic universal sense that whatever we were doing was right, that we were winning, and that I think..was the handle. That sense of inevitable victory over the forces of old and evil. Not in any mean or military sense. We didn't need that. Our energy would simply prevail. We had all the momentum. We were riding the crest of a high and beautiful wave. So now less than 5 years later, you could go up on a steep hill in Las Vegas and look west and with the right kind of eyes you can almost see the high water mark. That place where the wave finally broke….and rolled back."

-hunter s. thompson

#

Munchies

on 05 Nov 2008 at 5:41 am

🙂

Booooo!!!…

#

T-Rav

on 05 Nov 2008 at 10:51 am

I was at work nervous about how the election was going,but as soon as I got off at 7,I hopped in the car,turned the radio to KCBS to hear what has happening,and once I heard Obama was ahead by a large margin,I was thrilled!And as soon as I got home,I ran in to see what was happening on MSNBC.It's just an awesome thing to see that we will be having our first African-American president in our country's history.I get to tell my future children about November 4,2008 and where I was that night that Barack Obama was elected.What a wonderful time this will be in our land.I congratulate President-Elect Obama and Vice President-Elect Joe Biden,they will bring and return a sense or honor and dignity to the Oval Office.America needs a breath of fresh air,and these two men will give us just that.

#

T-Rav

on 05 Nov 2008 at 10:55 am

I should also note that I went to school yesterday seeing so many young people like myself with stickers noting that they voted,and the main question on campus was "Did you vote?",or "Will you be voting?".That was a wonderful sight to see and I'm glad to see that young people actually do care about who's running and the issues that matter most to them!

Grats for not fucking it up, Americans! Too bad, in a way: I would've looked forward to meeting you all when you braved the cold (we got our first snowfall in Alberta last night) in your brave northward exodus!

Now I just have to hope that Obama realizes that traditional Democratic isolationism is not going to fix the economic crisis (although it will ruin the Canadian economy).

#

Neish

on 05 Nov 2008 at 1:53 pm

Canadian economy gets ruined either way. Dollar up, production halts, things still cost double in Canada. American economy fail, production halts, we cry and dollar down, things cost triple!

You know what helps economic slumps? War!…oh wait…damn it >.<

You know what else would help economies? Legalize pot and have government grown shit! Lots of money!

My other plan is Canada should make their own brand of Ikea stuff to sell to young hipsters who have no sense of real style so depend on a whole store to make them look posh.

Thanks for all the kind words from around the world everyone, it really means a lot! The last 8 years were a hard time to be American and we have been through a lot. I feel hopeful for the first time in a long time.

#

we're not all stupid

on 05 Nov 2008 at 8:27 pm

This is the greatest thing that has happened that i have ever seen. I can think of no other event which could even come CLOSE .Thank you to Barack Obama for breaking ANY and ALL boundaries in order to get to the top. The politics of fear and character assasination ARE OVER. The people have spoken. The TRUE radicals are PISSED because them and their VIOLENT ideas about the world ARE OVER!!!!!!!!!!!!
AWESOME!!!!!!!!!!!!!!!!!!!!!!!!!!!WOO HOOOOO

#

j

on 07 Nov 2008 at 3:06 am

Finally something good happened. It's so refreshing.

I can honestly say I do not know enough about Obama. What are some of his plans to fix the economy if you dont mind responding…

Joe,
Honestly if you have not already heard his plans which he has gone over in detail over the last year in extremely public forums like Presidential debates and if you turn to my stupid blog for this answer you might want to reconsider your sources for news and information.

Casually asking me to quickly respond to something so complicated is a little odd and I'm not going to copy and paste because i hate that.

Go to his website if you want details, that's how I learned about his plans. It's all there.

#

Tax Slave

on 31 Oct 2010 at 12:37 pm

Still happy? Obama sold you morons a bill of goods.

Tax Slave – What an insightful comment. Thanks for keeping the American tradition of intelligent debate alive!