Nov 21 2008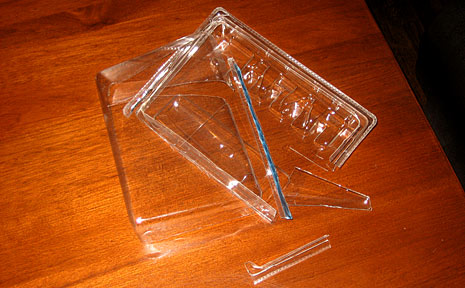 I purchased a new "personal groomer" last week to prevent my "personal" areas from looking like a 70's porno. Like a lot of items these days, it was sealed up nice and tight in a clear plastic clamshell package. I took one look at this packaging and realized it was going to be a while before I started trimming the yard.
By the way this thing was sealed shut you'd think it was a time capsule containing all the secrets of mankind meant to be shot into space. Without exaggeration, I would estimate that it took me about 13 hours to get it open.
Can you believe how hard my life is?
12 comments to "Clamshell Packaging!"
#

Stephanie

on 21 Nov 2008 at 8:28 am

Those things can be painful, too. That plastic stuff is sharp.

dude… was that the Mangroomer???? I bought one of those like 2 weeks ago and just about cut my finger off… after about 30 minutes of trying to get into that thing!!!

It isn't a Nangroomer, it's some Norelco thing. Isn't the Mangroomer for hairy backs?

#

Dan

on 21 Nov 2008 at 9:39 am

Nail on the fucking head…I hate that stuff, the most bemusing of packaging. I just stab the bastard with a knife and then get a pair of fat scissors to it. Never make an attempt to open it with out tools. Evil stuff.

#

kaotiksymphony

on 21 Nov 2008 at 10:22 am

You need one of those
http://www.dynamic-living.com/product/openx-plastic-package-opener/

I've never had any trouble with just using scissors on these things. You've got to work it to get past the first edge, but once you're through it's like butter.

Actually, the Mangroomer does have a Back hair thingy… but the one that I got is for me personal area… and armpits if I ever became an Olympic swimmer. They also have an ear and nose trimmer. Don't ask me how I know all of this stuff, I just do!

#

rx

on 21 Nov 2008 at 7:36 pm

is that what it's called? i never knew, but i hate it too.

happy manscaping!

#

Bobcats

on 23 Nov 2008 at 12:54 pm

Some of my best Christmas memories are trying to open my neices and nephews toys for them. I always love trying to pry the packaging open with my hands, only to slice my hand open fifteen different times…and hearing their cries of terror when they realize Auntie's blood has stained their brand new Dora doll/Spiderman lunch box.

#

ttb

on 23 Nov 2008 at 10:13 pm

I have a big super-size box cutter just for this, I go just inside of the point where the seal is and cut all the way around. Kind of like giving it a trim all over. But what I hate most…that they made me think about what to use and how to use it.

#

natalie woods

on 26 Nov 2008 at 4:59 am

Your website sucks from every angle. The content is less interesting than watching paint dry, which you could get away with if your writing wasn't so godawful. You could have gotten away with both if you were even slightly funny. I do not appreciate you wasting my time with your shitty website and you can consider this comment my revenge. Fuck you and all the people who e-suck your dick by making retarded comments beneath every horribly written paragraph about some inane non-issue that you've just managed to suck all the potential humor from.

Natalie, Thanks for checking out my blog! It's nice to hear from fans.

I'm going to have to agree with almost everything you said. Blogging sucks and I hate it. I hate myself for doing it. I hate the word "blog." I am a terrible writer who has nothing to say and it makes writing every post feel like a trip to the dentist. I'm sure reading my blog feels much the same.

I have to disagree with you on one point though. Don't you think I'm "slightly funny" sometimes? Not laugh-out-loud funny but possibly in interior "that was kind of funny."

I would suggest starting a blog called youjustmademylistyoujustmademylistguy.com where you can blog about how much you hate me. It feels good to embrace your hate. Give into your hate Natalie. Let it fill your veins and course though your body. Try to imagine me making out with your mother while kicking your childhood dog. Yes, yes, make love to your hatred for me. Let it in Natalie! I suggest WordPress, it's the best blogging software.