Dec 01 2008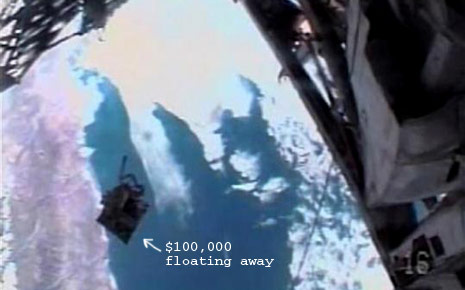 I'm back from my little Thanksgiving break and ready to complain!
I hate the International Space Station. I don't understand why we need it and I don't want my tax dollars paying for it. Do my tax dollars pay for it? I don't know, probably. If not, I still hate it and want the sun to melt it.
I love all space exploration and soak up anything that has to do with the space race in the 60's. I understand why we wanted to go to the moon and I appreciate all of the technological advancements that came from conquering space and landing on the moon. I wish more than anything that I could have witnessed the first moon landing. As much as I love science and space exploration I think it might be time to go ahead and hit the pause button for a while. What is the point of pumping billions of dollars into the International Space Station when we have more than a few crises to deal with here on planet Earth?
Perhaps I am missing something and this rinky dink floating double-wide trailer is going to solve global warming or stop space aliens from probing our butts but is it? I have never heard anything that would indicate that. It seems to me that this space station is like a tree house for various space programs around the world. It's fun to build and have sleepovers in but other than that it serves no real purpose.
It certainly doesn't help me fall in love with the project when A) they start letting crap float away and B) when that crap costs $100,000. I will never be convinced the tools in that bag were worth $100,000. Here's an idea, give ME $100,000 and I will go to Home Depot and put together a super kick ass set of tools for NASA and for my trouble I will keep the change.
13 comments to "The International Space Station and astronauts who lose $100,000 tool bags!"