Jan 05 2009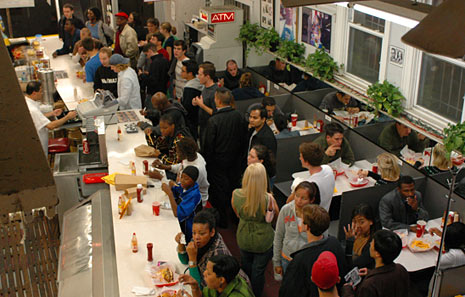 Let me set the scene for you…
You are waiting in a long line at a restaurant. Well, actually more like a local hot dog or burger joint that is always busy. It's a long line that holds more people than the amount of seating in the restaurant. To the untrained eye, the eye of a selfish prick for example, it seems almost certain that you will get your food but will be unable to find an open table at which to feed your fat face. So it looks like you have a real problem on your hands. Oh my god, what should you do, WHAT SHOULD YOU DO?
I'll tell you what normal people do, they wait in line, get their food and sit at the table that inevitably opens up just in time. Now the amateur, or "asshole," will choose a different path, a darker path. They will rip apart the fabric that holds society together. These jerks will send a member of their group to save a table although they still have a good 10 minutes of line to wait in. I have two words for these people… go-fuck-yourself-you-table-saving-buttholes.
As soon as you jump the line to save a table you throw the entire symbiotic relationship of the people waiting and the people eating. In these types of restaurants the crowd generally eats quickly and leaves which means by the time you get your food a table will be waiting for you. But these selfish jerks fuck it up for everyone. They create panic and discord in the herd. They need to be stopped.
The real reason this gets me so red in the face is not so much that I am worried I will not find a table, rather it's just another case of my fellow man acting selfish and remaining unaware that other people exist. Just wait your turn like everyone else.
20 comments to "People who save tables!"