Jan 14 2009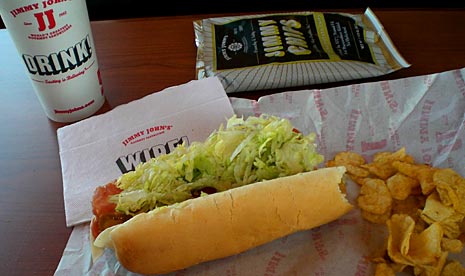 Have you ever seen someone and in less than a second you just know they are a tool? It's a subtle observation because they basically look normal but maybe it's something about their hair or their choice of tie that clues you into the fact that they suck. You just don't like the cut of their jib!
Well this happened to me while waiting in line today at Jimmy John's. From the beginning it was destined to be an annoying event. I walked in and stood behind a guy who was obviously in line. I mean, when you stand in front of the register at the "order here" sign it means you are in line, right? Turns out not always. After I realized this guy wasn't doing shit I asked if he was, in fact, in line. He turned and looked at me as if I had just asked if I could fuck his wife and said "noooo" like I was an idiot for asking. Strike one. Then his douchey friend emerged from the back (probably pooping and not washing his hands) and I just knew instantly that this guy was trouble. Both of these guys looked "normal" in their Dockers and sensible hair cuts but I knew some shit was about to go down. Literally.
Like most Jimmy John's this space was small and echoey so nobody had to strain to hear these guys discussing raw sewage and poop. It wasn't so much that this discussion of human waste grossed me out (it obviously did a little), it was really more that I don't understand jerks like this who have zero awareness of the world that exists 3 inches past their fat faces. How do you not know to move out of the way after you order? How do you not notice the humans standing behind you who obviously think you are in line? How do you not know that the lunch crowd does not want to hear about how your family's smelly shit is backing up into the yard?
How did I get to be the smartest person on earth?
11 comments to "People who talk incessantly about raw sewage in line at Jimmy John's"