Mar 12 2009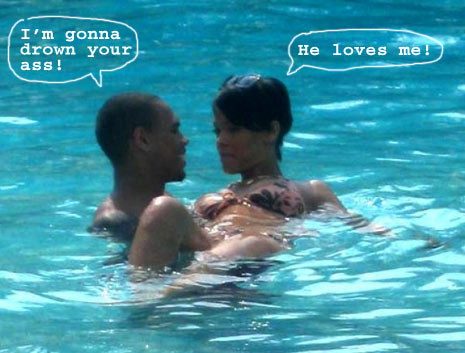 I tried to resist talking about these two but they are making it impossible! Chris Brown is obviously a huge, steaming pile of donkey turd. Who the fuck is he anyway? Is he a rapper? I can't tell anymore, everyone looks like a rapper. Do I even need to go into detail about Chris Brown's epic level of douchebaggery? Let's move on.
What's even more insane is that Rihanna is prancing around with this asshole acting like nothing happened. They're living it up in Miami on jet skiis, partying with Puff Diddy and even working on a song together. Does she remember when he was beating the shit out of her and trying to THROW HER OUT OF A MOVING CAR? If I forget to take the recycling out I hear about it for a week.*
I honestly don't know who I'm more disgusted with in this scenario. They are both such great role models. I'm burning my Chris Brown and Rihanna CDs! Do they still make CDs?
*this is an exaggeration in an attempt to make this post more awesome and hilarious. I actually only hear about it for a couple hours.
15 comments to "Rihanna and Chris Brown!"