Mar 20 2009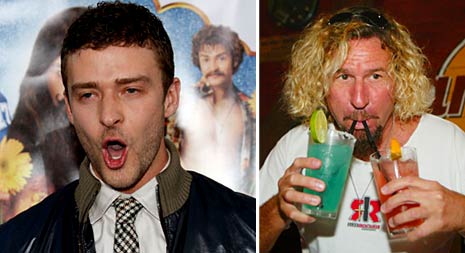 When Sammy Hagar started his Cabo Wabo tequila brand I thought, "Well, that makes sense, he's a hard drinking rock star." You know, honestly I didn't think anything when I heard Sammy Hagar was starting a tequila company. It's not really one of those moments we all remember collectively and share over beers. "Where was I when I heard the 'Red Rocker' was starting Cabo Wabo? I will never forget that day. I just finished my fourth helping of bread sticks at Olive Garden when our server, Dakota, said 'yo ya'll hear-ed Tammy Hanger takilla company maked?' It was a very powerful moment."
Sure, Sammy Hagar took one of the most awesome bands ever, ripped its dick off and made it suck dog ass, but I can at least picture him throwing up enough tequila to cover the floor of a mid-sized bathroom. Justin Timberlake, on the other hand… what the hell is he doing launching his own brand of tequila? I could see Timberlake wine coolers maybe, but tequila? I just hate him so fucking much!
16 comments to "Celebrity tequila!"
#

Yours Truly

on 20 Mar 2009 at 5:23 am

Justin Timberlake brand tequila? Are you sure you didn't mean Justin Timberlake brand tampons?

Additionally, what happened to hard partying rock stars? I want my rock stars to snort up and drink away all their millions. Not invest and development and brand themselves into more riches. Party rock stars, PARTY!

Creature – GREAT point. There are so few real rock stars left. Everything is so calculated and planned out now.

#

rachel

on 20 Mar 2009 at 8:35 am

what about Puff-Douchie-Brand-Vodka?

He's a d-bag.

S, it's okay to swear on Listy's blog.

#

Fucker

on 20 Mar 2009 at 12:28 pm

I fucking love swearing

#

Christine

on 20 Mar 2009 at 12:48 pm

I've actually met Sammy Hagar numerous time. He has a house not far from mine. He's every bit as oily and gross and jerk-ish as you would expect, but, yeah, he's the perfect person to start a tequila company. But Justin Timberlake . . .there is no way that wimp wouldn't pass out after one shot.

#

jason

on 20 Mar 2009 at 1:30 pm

You guys are being just a bit hard on JT. Just because he was a mousketeer and Just because he was dating Britany in a celebit relationship and Just because he's so super nice and sooooooo super doesn't mean he wouldn't be a great spokesman for tequila. I mean this guy is the white Micheal Jackson except that he doesn't need Jesus juice for his dates. I mean, sure he doesn't have Diamond DLR's propensity for cocaine or alcohol and he really isn't into whores at least he's not into the ones that are open about it.

When you think about it this is exactly what the beer companies have been onto for a very long time. When you see a beer comercial they never show some slut with a large beer belly and some sorry looking jailhouse tatoos. It's always some smoking Hot Fire Ass chicks(if they show chicks) and a bunch of dudes hanging out.

BTW just kidding about being hard on JT. I hate that MutherFucker!!! I really do believe he is the anti-MJ though. I mean think about it.
1. MJ wants to be white, JT wants to be black
2. MJ dates younger, JT dates older
3. MJ had a couple of sex scandles, JT had one non-sex scandle(the Britany thing)

Jason – Very nice theory about JT and MJ. Was this your college thesis?

#

SanFran

on 20 Mar 2009 at 6:09 pm

I hate tequila, Justin Timberlake, and Sammy Hagar.

Individually, they make me want to puke.

#

MalaSuerte

on 20 Mar 2009 at 6:39 pm

sanfran, it's a trifecta from hell….

#

Buckykatt

on 20 Mar 2009 at 9:55 pm

Given his obsession with Sammy Hagar, it's just a matter of time before the fucktard Guy Fieri launches his own line of tequila.

Buckykatt – You are so right. Guy will no doubt call his tequila "Bad Boy Tequila" because literally refers to EVERYTHING on his cooking show as "these bad boys." Salt is a bad boy, meat is a bad boy, ice is a bad boy… good lord I hate that guy. I hope I die in my sleep tonight.

#

Buckykatt

on 23 Mar 2009 at 9:39 am

Yeah, the bottle would probably have fucking sunglasses printed on the back label.

Bucky – HA HA! Don't give him any ideas!