Apr 02 2009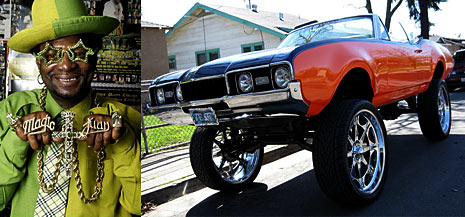 Since I tricked all your sucka asses yesterday I'm giving you a double post (sort of) today!
OK, let's get into it. I am sick of the term "bling," I'm sick of actual bling, and I'm sick of people who say and/or own bling. I'm extra sick of the full use of the saying "bling bling." As soon as your mom knows a slang term it's over. I heard a news anchor say "dissed" a few months ago and I nearly set my TV and my own ears on fire. I'm glad the world economy is collapsing because maybe it will put an end to this ridiculous diva attitude everyone walks around with. Actually, now that I think about it most of the idiots obsessed with blingy crap are already poor. Fuck, bling is here to stay.
And while you're at it, take your 22″ rims and shove 'em up your bling hole. Why is it 98% of the time I see a car with "fancy" rims it is painfully obvious that those rims cost more than the blue book value of the piece of shit car they are attached to?
We have such wonderful priorities don't we? When I say "we" I mean not me.
14 comments to "Bling and your stupid fucking rims!"