Apr 14 2009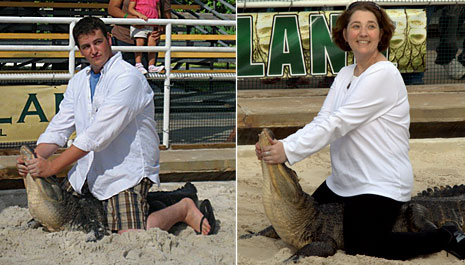 Well, aren't you just king of the fucking jungle? That's right alligator, Brad owns your bitch ass just like he rules at medium level Guitar Hero and beer pong. That's right, shut your pussy mouth, gator, Carol is in control now, just like she's in charge of the motherfucking office lottery tickets every week. HOW YOU LIKE ME NOW?!?
What kind of a pathetic turd do you have to be to take pleasure in fucking around with some poor animal in a misguided attempt to look tough? Are people going to see the photo on your fridge and think it was taken in the wild and you are not the douchebag they secretly always thought you were? I don't care if it's an ant or an alligator, if you enjoy tormenting another living creature you are a grade-A piece of shit.
My honest desire is for every jackass who poses for one of these photos to have their heads torn off by these awesome, prehistoric killing machines. I want to see them eaten whole and I want to be there when the gator poops out little scraps of J. Crew and, ironically, Crocs. I want their families to watch as a fed up alligator grabs Daddy by his fat face and drags him underwater leaving only his soiled denim shorts and NASCAR hat behind. Ahhhhh, let me take a moment to daydream about that a little longer…
These clips are like porn to me. Go get 'em gators!
20 comments to "Alligator "wrestling!""