May 11 2009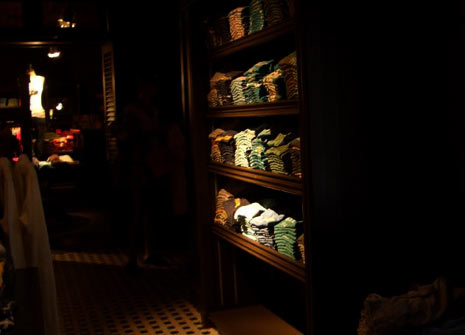 I try to avoid the mall. Not because of some great protest against consumerism or because I think I'm better than mall shoppers, it's really just that I don't shop very often.
The last time I visited the mall I made the mistake of walking into a Hollister store, or maybe it was an Abercrombie & Fitch, and thought that I had accidentally walked into a haunted house or possibly that I had a stroke which rendered me blind. Have you been in these stupid pieces of shit? They should hand out fucking night vision goggles at the door because you can't see a god damn thing! Apparently the easiest way to show that your store is cool(?) is to turn the lights off and watch your confused customers bump into each other like blind mice in a maze. Maybe this is a sign of being "old" but I can't spend more than zero seconds in one of these dungeons without feeling like I am part of a sadistic experiment.
What's the appeal of their clothing anyway? Why is everyone so happy to wear a shirt that simply says "Hollister" across the chest? I don't fucking need to know where you purchased your shitty shirt, I can already guess. Oh, and another thing, not only can you not SEE in these stores, you also can't BREATHE! I'm not sure if it's the Axe Effect oozing from every douchebag in the store or if they pump in some mind controlling chemical that turns you into a dcouchebag, but either way you will find yourself crawling in the dark desperately trying to find the door.
66 comments to "Dark stores at the mall!"
#

Nicki

on 21 Apr 2011 at 12:37 am

lol @ Fiona

Stop your complaining about people complaining. Everyone does it. Not just the older people! I bet you've complained about stores before, heck, most people I know who shop at places like Hollister and all that complain about places like Hot Topic and what not where all the "weird emo kids go to shop". I'm turning 19 in a month, and I've been in both shops, once. For a friend. I sat in Hollister for half an hour waiting for her to try on clothes and sure I could see but it wasn't great, I felt like I was supposed to be in some sultry restaurant with a date or something. It's rude people that ruin the image of my generation DX

Though I will disagree with the fitting room part, we were stuck in both stores for half an hour because of someone trying on clothes… I don't know how she managed to take half an hour for one pair of shorts…

Fiona & Lauren – You need to stop defending stores as if they are family members. You should hear yourselves, you're acting like I just called your grandmother a cunt.

"Half of you people are probably complaining because you are either too poor or too fat to buy their clothes." With intelligent comments like that, it's hard to believe people hate your stupid favorite store. Grow up.

Nicki – "Stop your complaining about people complaining." Thank you so much for being the voice of reason. I love the way people all of a sudden forget they have opinions as soon as someone else disagrees with them on something.

#

Lauren

on 21 Apr 2011 at 11:49 am

Trust me I probably dislike the company more than any of you. All I am saying is get the fuck over it, if you don't like it then don't go in. Stop talking shit about people that do then get mad when they voice their opinion.

Lauren – Have you ever heard of the word "irony?"

#

Miranda

on 23 Apr 2011 at 8:09 am

I recently heaed that the reason they spray so much cologne is so that when you taje your new purchases home, they smell like the store. that also means that when you physically walk walk into the store and leave, you smell like it too. ugh.

#

person

on 23 Apr 2011 at 10:31 am

I totally agree with Katie when I was in middle school all the females looked the same to me because they always wore the same type of clothes (and put their notebooks n bags) that had a name brand on them. THey would almost always wear uggs in the winter with various types of jeans and in the warmer months they would wear reeeeealy short shorts which always bothered me because they were 14 at the oldest and it definetely wasn't following the school dress code. I obviously am not one of these. Oh and now in highschool it's not as bad but they are listening to music all the time.

#

Dboutch

on 23 Apr 2011 at 11:03 pm

They do this for a reason.

The want to encourage people to steal clothing, and showcase it on the street.

Its Gorilla Marketing.

#

LG Chick

on 24 Apr 2011 at 5:01 pm

Hang on. "They want to encourage people to steal clothing"? What are you,
nuts? I find that really hard to believe. Really hard. I do find this whole conversation very entertaining, though. Listy, one thing you must admit – girls are passionate about their clothes, Yo! They find it really hard to be criticized. They are in the very vulnerable youth stage. They want to be attractive to guys, but aren't sure if they are. If we hurt their feelings too much, they will be upset – Waaaaaa! This is pretty funny. LOL
Hey, Listy, do you think if I tweet their marketing dept, ( a la Char),they might fill me in?

#

LG Chick

on 25 Apr 2011 at 9:43 am

Dboutch –
I couldn't buy what you said about "gorilla marketing", so I checked with A&F customer service. Here is their reply:

"Thanks for emailing in to Abercrombie & Fitch. The lighting, combined with our music, fragrance and marketing, are all a part of the casual, relaxed lifestyle experience we strive to offer every customer within our marketing..

With that being said, we never encourage people to steal our clothing, or any other company's merchandise, to market the lifestyle we enjoy. A&F does everything possible in our reach to promote our Brand Protection".

Gorilla Marketing is like placing an apple computer logo in an obvious spot in a TV show, something like that where it is obvious to the viewer that they are being marketed to. In a way, putting logos on t-shirts is another form of it, but encouraging people to steal definitely is not.

#

Trav-ski

on 25 Apr 2011 at 10:36 am

I work there and it literally isn't as bad as you say it is. Yes their clothes are REALLLLLY shitty, but we DO have dressing rooms, we DONT play music very loud, and we spray the store once a day and it IS NOT on every article of clothing. Our sizes are NOT that different. I wear an XSmall in every other store, but i wear a Small at Hollister. The reason why Hollister, Gilly Hicks, Abercrombie, and Abercrombie and Fitch are so similar is because they are owned by the same company. Yes the clothes are ugly and terrible quality, but it really isn't dark, loud, or smelly. Its called sucking it up. If you don't like it-don't go.

#

Hatin' on Stores like Hollister

on 25 Apr 2011 at 10:38 am

I'm definitely within Hollister's demographic and I'd never set food in one EVER again. As a young teenager in High School, of course I tried to fit in and so I did buy their clothes. Mostly online, though. I always hated going into their stores because, as mentioned, they SUCK.

Anyway, anyone who says Hollister has quality clothes must be out of their damn mind. Their shirts are practically see through and the jeans last about a minute due to their stupid "destroyed" look.

Hollister markets their clothing toward people with money who are stupid enough to believe that buying their merchandise will put them in the "cool" bracket.

Trav-ski – Yeah, you're right, I should suck it up and say more positive things about the "REALLLLLLY shitty" clothes that are also "ugly" and "terrible." I guess I'm just not cool enough to get it.

#

A.T. surf

on 02 Jun 2011 at 11:02 am

being butch I tend to lean toward function more than form. my wallet says the same thing. I choose AE, Merrell etc. it has to last because im very tough on clothes, I dont really care for Hollister or A&F because they're quite drab. I need something interesting, comfortable, true to size and useful. But not everyone is into the same things I am. so, they do what they want. it doesn't make them less intelligent or (stupid) its their opinion versus your own. live and let live. peace love and a bar of dove.

I've only been to Hollister once and that was enough. Basically it was generic looking clothing with a hefty price tag. If I'm going to splurge, it's going to be on something high end and has great quality.

#

Jena

on 28 Aug 2011 at 7:12 pm

Reason number 76 to hate Hollister – they attempt to give off a "casual, relaxed" vibe by browbeating the managers and workers into doing everything "just so," from the lights to the music to the spray.

#

darrell lucas

on 12 Jan 2012 at 3:04 am

I went in for some swimming shorts. I asked the girl where the black shorts were? She told me there wasn't anything black in The whole store! Maybe and employee but that's it.