Jun 18 2009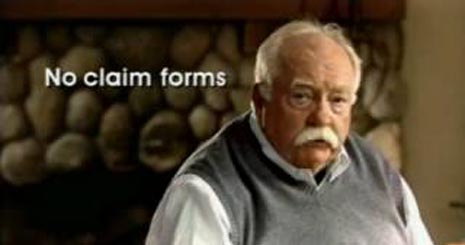 Wilford Brimley scares the shit out of me. Actual shit comes out of me when I see him.
Why is he SO angry all the time? Although I am not elderly and do not have "diabeetus," I still called Liberty Medical and ordered 5 years' worth of supplies just because Wilford looked like he was going to jump out of the TV and wipe that smile off my face, punk. I probably got diabetes from all the fucking Quaker oatmeal the son-of-a-bitch instructed me to eat in the 80s. OK, I don't think excessive amounts of oatmeal gives you diabetes, but Jesus Christ, Wilford Brimley has some sort of creepy control over me. I feel like my dad is yelling at me when I see one of his commercials.
I will admit that Wilford was a total bad-ass in John Carpenter's remake of "The Thing." Of course he was playing a scary old man, so it wasn't much of a leap for him.
Wilford Brimley doing what he does best… yelling at you to buy things.

Buy some crap, and GET OFF MY LAWN!

"This little shit eats peaches & cream every blessed, god damned morning."

8 comments to "Wilford Brimley!"
#

Mr. Kickers

on 18 Jun 2009 at 9:10 am

What is scary about Wilford Brimley is that he has been playing an old man for like something over 50 years. I remember his line in Cocoon – "You won't ever grow old, and you won't ever die.". This has come true. He may be immortal. The only way to find out would be to decapitate him.

#

joe

on 18 Jun 2009 at 9:39 am

diabeetus guy reminds me of that brunette bitch in those lifealert commercials i wanna kick the shit out of. old cunt looks like she deserves a roundhouse kick to the dentures.

#

Tommy

on 18 Jun 2009 at 6:51 pm

i want to see a death match between wilford brimley and james earl jones…who would win?

#

Jen

on 18 Jun 2009 at 7:03 pm

LOL at Mr. Kickers! There is indeed something strange about Wilford.

Wilford Brimley is awesome!!!

[…] sound like Wilford Brimley and I think I like […]

[…] me the cranky antics and mispronunciations of Wilford Brimley any day over this grinning rube. Awwwwww, does it hurt your little finger to test your glucose […]