Jun 25 2009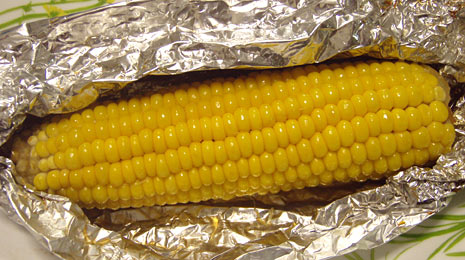 Oh, hi corn, it's nice to see you again. I haven't seen you since the BBQ. Did you enjoy your trip through my body?
Remind me again why I even bother eating corn-on-the-cob. I don't even like the way it tastes that much and I hate the way it gets stuck between my teeth. Then, corn has the audacity, the arrogance, the fucking GALL to just scoot right through me without doing shit. Literally! Ooooh, I get so mad when I see those perfect, little, yellow kernels glaring up at me from the toilet. I can almost see their tiny middle fingers raised high in my direction.
Guess what corn? FUCK YOU!*
*popcorn not included, popcorn is awesome.
20 comments to "Corn!"
#

SanFran

on 25 Jun 2009 at 4:46 am

we don't eat corn…

we borrow it…

#

jason

on 25 Jun 2009 at 5:03 am

Corn is the BEST! How else are you supposed to know how long it takes to digest stuff? Don't even get me started on sweet corn, O Lord, hush my mouth! Corn is wonderful and lets me know nothing is wrong with the pipes. Vive el Corno!!!

#

Pete

on 25 Jun 2009 at 6:31 am

So true. I always discourage my wife from serving corn with anything (not that she cooks very often). When she asks why, I say "Because I can't fuckin' DIGEST it!!" Really, what's the point of corn unless it's popped or made into bread?

#

rachel

on 25 Jun 2009 at 10:05 am

i effing love corn. and i swear, i chew it. i have made my peace with "the corn people" that live in my belly and reassemble it.

#

Tommy

on 25 Jun 2009 at 10:59 am

corn? really…nice start to year two

Tommy – Yeah, CORN! You fucking heard me! Considering I started this blog to complain about dropping my keys, I think it's fitting to start year 2 with my hatred of corn.

Leave me alone.

Wait, I put corn in my yummy pasta… do you pretend to LOVE my yummy pasta? You've never breathed a word about this! I don't think I can ever serve you yummy pasta again.

#

hodan

on 25 Jun 2009 at 12:00 pm

lol corn.i hate to love it.

#

joe

on 25 Jun 2009 at 12:03 pm

u pice of shit

Noodles – I have said everything I need to say about corn.

#

Patrick

on 25 Jun 2009 at 2:50 pm

In dekalb, we have the "Corn Fest"…You should stop by….

Well, if you really want to know why your corn "appears" whole in the toilet, I can describe the process that occurs in your intestines in some graphic detail.

Or not.

#

Paul in Saint Paul

on 25 Jun 2009 at 8:37 pm

Considering how much you hate pooping, I believe you are spending way too much time sifting through your solid waste eyeballing for undigested yellow kernels. Corn's resistance is one of its greatest merits. You MUST attend the Corn Fest in Sun Prairie, WI this summer. It is the summer event of the greater Midwest: http://www.sunprairiechamber.com/Sweet-Corn-Festival-2009.69.0.html
C'mon, there's a huge beer tent plus more corn than you could ever hope to shuck and shit out in a lifetime.

Kathy – Do tell.

Paul – I bet the sewage treatment plant is clogged with corn for days after the festival.

#

blades runner

on 02 Jul 2009 at 4:08 pm

I love the taste of corn on the cob, one of those flavors of summer I look forward to.

And I agree with Paul, stop looking at your poop! Flush before standing if you have to.

Stop looking at my poop?!? Are you insane? You have to make sure all is well before you say goodbye to your little brown friend.

#

Chrissy

on 31 Aug 2009 at 12:19 am

I love you man! You are fucking hilarous~

Chrissy – I agree

#

Baboon

on 24 Oct 2009 at 10:13 pm

Yeah DeKalb has corn. plenty of it. what's worse is Corn Fest….

#

patrick

on 17 Mar 2011 at 4:13 pm

jfjg hi i dont like corn