Jul 17 2009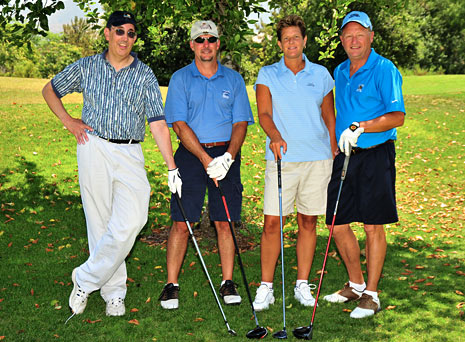 Want to do something horrible? Search Google images for "golf outing" and prepare yourself for approximately 10,000,000 photos that look exactly like the one above.
If I ever see you wearing shorty golf socks, prepare to have those socks filled with my pee. Oh my God, I am officially the worst "writer" ever. That was possibly the dumbest thought ever expressed on the internet. Moving on… keep your short, doll-sized, pee-soaked socks away from me.
I actually like to play golf but the whole culture surrounding it sucks. The "sport" is filled with douchey white guys who live to tuck their shirts into various forms of pants (i.e. slacks, shorts, Dockers, jeans, etc.) and they still think it's "money" to smoke cigars.
It's not easy being better than everyone. Just kidding, it is.
14 comments to "Golf fashion, especially short golf socks!"
#

Sara

on 17 Jul 2009 at 6:56 am

Hey douch on the left, tie your shoes lace! You dont want to trip and break your clip on sunglasses.

To quote Lewis Black "Golf is a sport where you can only aspire to be less then shitty."

#

FFAF

on 17 Jul 2009 at 7:52 am

Wow, definitely agreed. Golf would be fun if people would leave their snobby attitudes at home. And of course…."If I ever see you wearing shorty golf socks, prepare to have those socks filled with my pee," there is also that issue.

#

Jeff

on 17 Jul 2009 at 8:51 am

I'm changing my facebook photo to my golf outfit and I'm going to twitter it all over yo' ass.

Get with it – you're hitting 40, women don't find you attractive any more, and you're never going to be good at anything that requires natural skill – so you might as well take up golf.

#

SanFran

on 17 Jul 2009 at 9:17 am

Golf: a good walk spoiled.

Clothing: Real men don't wear outfits.

With that said, I fucking love golf – not the rent-a-cart-to-haul-my-pimply-white-ass-around being doted on kind of golf, but walking a not-too-fancy public course with a good friend or three, trash-talking and having a generally good time. Usually, I forget to keep score – in part because we're just not that competitive, and in part because my math skills are lacking after four big Sapporo beers, stuffed discretely into our bags where most people would keep fancy golf shoes, matching wind-breakers and who knows what else.

We go on weekdays, too – when it's not crowded.

I should tell you about the time I hit an outhouse with my drive, some 280 yards away from the tee, and there was a dude, dressed as the photo above shows, in there… It was my one brilliant moment in golf.

OK, coffee is brewed which means the likes of me has to go.

Jeff – Your golf outfit is totally acceptable. I'm a little worried about your posture in that photo however.

SanFran – Agreed, golf can be a great time if you don't take it too seriously and just have fun with your friends. I hope you caused that guy to pee on his short socks. See, it always comes back to pee on socks for me.

#

hodan

on 17 Jul 2009 at 10:22 am

i hate golf. the only good thing that's ever come from it is Caddyshack.

#

SanFran

on 17 Jul 2009 at 10:44 am

I smell vermin poontang…

#

Paul in St. Paul

on 17 Jul 2009 at 11:00 am

I second hodan: the only redeeming thing about golf is that it brought the world Caddyshack. I was forced to play golf as a child and was subsequently expelled from the course for deliberately hitting the ball into the ponds, which reminded me of the swimming pool I would rather have been at. I shudder to think of the bottomless boredom of the greens.

#

Sara

on 17 Jul 2009 at 11:27 am

Hodan,
Would you like a fresca? mmmm mmmm?

agreed. its so weird seeing folks my age (20's) dressing in dockers (shorts or slacks) with a tucked in polos. it makes want to puke. you're 24! why are you raiding my stepdad's digs?!

I looove golf. If I could be anything it would be a professional golfer. easiest job ever. and you can be a pro like into your 60's.

My golf attire:

Cut Off jeans. that's right, Listy cut offs are the only acceptable form of Jean shorts.
V-Neck Tee
Vans with non sissy short socks.
Wayfarers
Hand-me-down golf set, don't give those sissy gigantic Grandpa Drivers. Golf is supposed to be hard.
six pack of Fat Tire

#

SanFran

on 17 Jul 2009 at 2:54 pm

Mike… can't say I'm with you with the cut-offs, the v-neck, the vans (not enough arch support for me), what the fuck are wayfarers?

Golf set: I finally bought a new-to-me set of clubs last years after decades of hand-me-downs… Blades it was though because I couldn't agree more: golf ain't supposed to be easy. No fairway drivers for me, or anything hi-tech. Me still gots me circa 1988 golf bag though. Lots of room for beer.

#

hodan

on 17 Jul 2009 at 5:49 pm

young folks that dress like that have old man syndrome.

wayfarers are classic raybans. as for the vans, i toss some gel supports for strenuous activities such as golf. ha!

San Fran, good choice on the clubs and vintage bag.

hey, How bout Happy Gilmore's awesome golf attire?

#

Joe

on 19 Jul 2009 at 6:46 am

golf