Jul 20 2009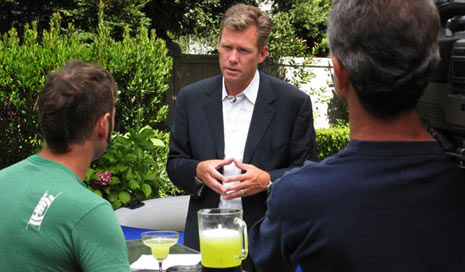 Has there ever been a bigger cock blocker than Chris Hansen? Sure, he always has a plate of cookies and cold tropical drinks at the ready, but other than that, this guy is a dick!
Actually, my real complaint with Chris Hansen is that pretentious, annoying way he talks. I actually start to root for the perverts at some point. Is there a chance he actually talks like this when the cameras are off? If so, is there a chance he has even one friend who isn't deaf? Seriously, he's creepier than almost every guy who walks in the door with a box of condoms and a 4-pack of Mike's Hard Lemonade.
Hey perverts, here's a little advice, if you go to meet a 14 year-old who you just chatted with online and the first thing he/she says when you walk in the door is "Hey, come on in and have a cookie and a margarita, I'll be right back I just spilled something on my jacket," just turn around and get the fuck out of there.
Remember, teen + cookies + frozen drinks = Chris Hansen!
15 comments to "Chris Hansen!"