Aug 12 2008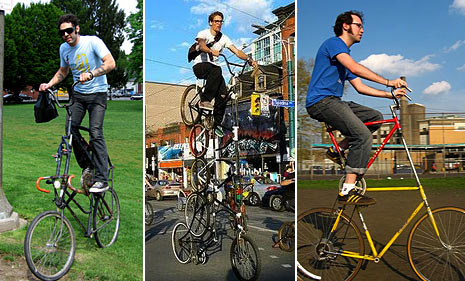 You know how I know there is no God? Every time I see a dirty hippy on their tall bike I pray to God and baby Jesus they will fall. I don't want them to get hurt (maybe a little) but I do desperately want them to tip over. This is the only thing I ever pray for and when I'm praying for it I'm praying hard. Here's God's chance to prove his existence but nothing ever happens. I'll tell you this, if God is on the side of the tall bikers I don't want any part of his lame ass.
Does your city have these assholes? Here's an idea, spend a little more time in the shower and a little less time forcing two bikes to fuck each other for all of eternity. You already have a hilarious, ironic mustache, guy, how much more attention do you need? Are you really that desperate to be noticed? Is it because nobody ever goes to your drum circle even though you put like a million flyers up all over the place? These urban clowns are like the smelly, poor version of these jerks. "Look at me all the way up here. Love me. Think I'm different. Me and all these other tall bike guys are different, right?" These guys are really stickin' it to the man with their outrageously tall bikes, if the man is a normal human being who showers more than once a month.
In summation, fuck off and quit hoggin' all the bikes!
15 comments to "Tall Bikes and the smelly hippie turds who ride them!"