Aug 12 2008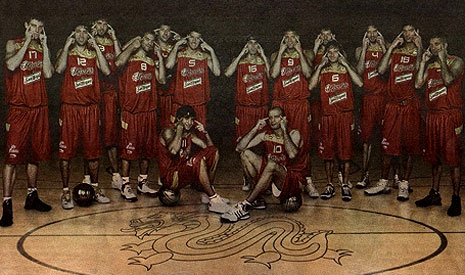 I am not a fan of "political correctness" but come on, you would have to be a fucking IDIOT to pose for this photo without understanding why it's offensive and racist. Don't most people outgrow making "slanty eyes" around the 4th grade?
The part of this story that really confuses me is that this photo, and another identical photo of the women's team, was used in an advertisement for one of the team's sponsors. How dumb are the Spanish and how bad are their ads? I'm starting to think I could be the president of an advertising agency in Spain. I guess I always assumed they were cultured people who spent their days in white linen suits sipping sangria on the shores of the Mediterranean Sea.
Think of how many people must have been involved with this ad and not a single person said "Esto es estúpido. Esto es una idea muy mala."
Too bad Spain is currently making a bid for the 2016 Olympics. How's that working out for you Spain?
8 comments to "The Spanish Olympic basketball teams and their racist team photo!"