Aug 10 2009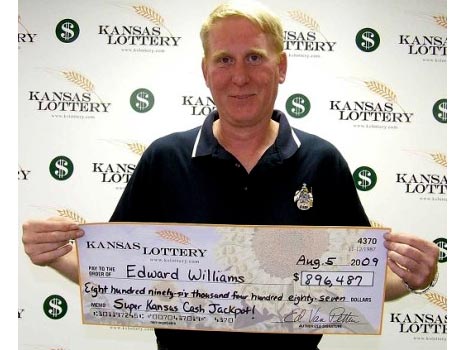 I know I should be happy for guys like Edward Williams who won big in the Kansas lottery TWICE this year, but all I can think when I see his, or any winner's smiling face, is fuck you. Take that giant check and shove it up your money hole. This turd won $75,000 in September playing a scratch off ticket and just last week he won nearly $900,000 when he matched all the numbers in the "Super Kansas Cash" drawing. Once again, fuck you.
My level of jealousy for these people is sickening. I cannot play any form of the lottery because the second I buy my ticket I am CONVINCED I am going to win. There is no doubt in my mind I will soon be purchasing 4 white tigers (to eat) and a solid gold suit of armor that I will exclusively wear for no apparent reason. I don't consider for a second that I might not win. I mentally prepare myself for all the begging and groveling my soon to be ex-friends will do at my feet and the various ways I will tell them to eat shit. Of course all my fantasies of delicious tiger sandwiches and diamond-encrusted toilet paper disappear as I realize, one by one, that I have not hit a single number.
So to all you big winners out there, let me be the first person to say, go fuck yourself.
13 comments to "Lottery Winners, especially multiple winner Edward Williams!"
#

Joe

on 10 Aug 2009 at 7:06 am

dont be hatin

Oh, I'm hatin

#

T.J.

on 10 Aug 2009 at 11:29 am

I'm hating along with you,List Man! As someone who's been longing for some time to catch a break,I'm pissed at anyone who catches a break because that's what I've been looking for.I don't like my job,I don't like going to it but since nobody else is interested in giving me a chance to prove myself elsewhere,I'm stuck there making next to nothing and feeling worthless as the days go by.It's not that I'm jealous of the folks,I just wish it was me.

#

Joe

on 10 Aug 2009 at 1:16 pm

you should get a job where you're paid to talk to people and watch tv. its a pretty good gig.

You've really come back to form with the last few posts.

I hate the player and the game. Fuck'em all.

#

Neish

on 10 Aug 2009 at 5:19 pm

If I won big money I'd hire like 50 people to go have a shit on my exboyfriend's lawn. Maybe that's a sign of the kind of person I am but I like to think it just shows that I'm down to earth and my money won't change me. I won't waste my money on a gold statue or a douche-y-sized mansion.

HAHA, that is exactly how I am, too. When I have a lottery ticket, there is no doubt in my mind that I'm going to win. I find out how much the cash opt out is and I start divvying it up in my head. 50 thousand here, a million there. And then I wind up not even matching one number, and I want to die of disappointment.

I hate people who win multiple times. Fuckin' greedy!

Neish – What do you pay for lawn-shitting? I might be up for a little freelance pooping.

Amanda – We should probably just get married now.

#

T.J.

on 11 Aug 2009 at 12:55 pm

Joe,I just might do that.Thanks!

I'm into that idea!

#

Casey

on 12 Aug 2009 at 2:15 am

i'm already picking out my bridesmaids dress..

#

benjpurj

on 25 Oct 2011 at 3:41 pm

This guy is a ex marine – two purple hearts – way to go my brother… you deserve it

[…] el oxxo, y también, como casi siempre que compro uno, gané. Nunca he ganado el gran premio como este bastardo que incluso ganó dos veces la lotería de Kansas, ¡el mismo año!, y quizá nunca lo gane, pero […]