Aug 14 2009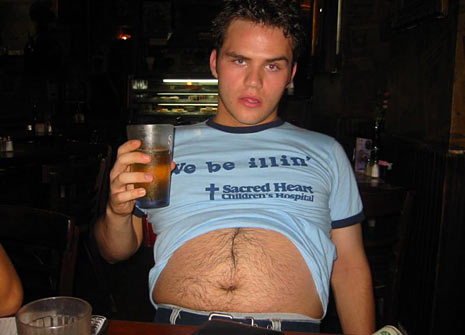 Just when you thought hipsters had run out of ways to be ironic, those geniuses figured out a way to tap into one more ridiculous trend… the beer belly. According to The New York Times, looking like a fat tub of shit is now cool. The New York City dump is about to be flooded with useless skinny jeans.
I see a problem though. The fat trend is not going to work very well with the trend to be vegan. Then there's smoking, a habit many hipsters use as a way make their body odor even worse. Smoking has been the skinny hipster's friend for many years but it could really slow the transformation from cool heroin skeleton to beer-guzzling bubba. I'm thinking a new industry will have to grow around this trend. I'm going to start a "diet" magazine called "Brooklyn Gut" for hipsters looking for tips on weight gain and beer belly shaping. My first article will be titled "Critical Mass Won't Give You That Critical ASS: Time to Give Up Your Bike."
SHIT, what will happen to American Apparel? They are going to be working day and night making XXXL ironic shiny disco pants and satin jackets! Luckily their employees are so well-paid and have the best working… SHUT UP!
Is this why Kevin Federline is so fucking hugely fucking god damn fucking fat now? Is K-Fed a trend-setter?
14 comments to "Hipster beer guts!"