Aug 24 2009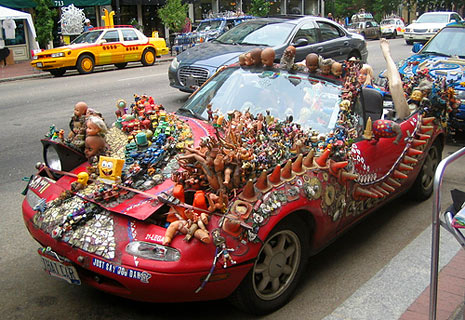 Yeah, I know, why can't I just enjoy wacky art cars like everyone else? Shut up hippie, don't you have some armpits to not wash?
While you are excitedly posing for a photo with these cluster fucks, I shoot hate lasers out of my eyes at you. You can't feel it, but from my point-of-view, it's pretty devastating. I can't decide who I hate more, you for liking these dumb cars, or the hippie turd who spent the last 5 years gluing doll heads and action figures to his mom's car when he could have used that time showering. It's such a sad cry for attention, even more so than blogging.
The thing is, there is no art involved in the creation of an art car. Sticking dirty toys to something is not art. These lazy hippies can't even come up with an idea more original than doll heads and Happy Meal toys. Does anyone like hippies? I don't even think hippies like hippies.
I'm tired. This post sucked. It sucked, but not as much as art cars, you hippie.
14 comments to ""Art" cars!"